News
Digital Marketing Agencies in NewYork City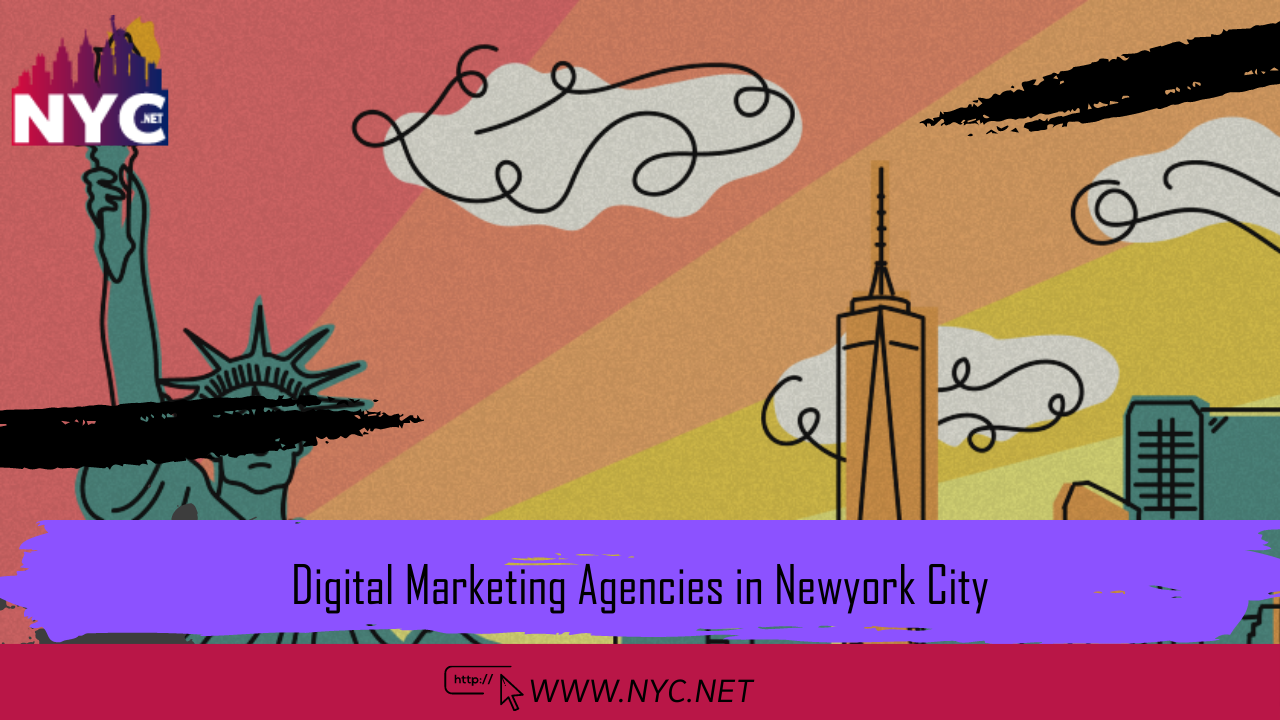 Digital Marketing Agencies
Discovering the best marketing agency in NYC may be a significant issue when you have marketing demands that go beyond your team. However, in a city like Manhattan, the alternatives are limitless, which is both exciting and difficult.A digital marketing agency is a firm that offers services to assist businesses in increasing their income. These marketing companies provide services such as market research, marketing strategy formulation, and marketing campaign implementation. Here's what you should know.
Marketing strategy for individuals that want to improve their SEO rankings and conversion rates. This collection of incredible destinations is always changing and developing, so please return frequently. These are the Best Digital Marketing Agencies defined below; please check them out.
1- Aumcore – Digital Marketing Agency NYC
About: Aumcore is a worldwide corporation with global resources. They are located in New York City and have global support offices and services, including Omnie Solutions technology, which is their sister company. They are a group of experienced, business-minded individuals who realize that your company's ultimate goal is to increase sales while creating and promoting your brand.
Services: Mobile Search engine, Voice Recognition, User Experience Design, Communications, Social Media, Particular Undertaking, SEO, Pay – per – click, Research, Brand Strategy, Graphic, Video, Photographers, Copywriting, Brand Identity, Print Design, Creates, User Interface, Backend development, e-commerce solutions, Digital Asset Management, CMS, Embrace New, Platform Development, and Mobile App are among the services provided.
What sets them apart: Aumcore performs well in budget management, giving stability, strategic thinking, and performance.
2- Path Interactive
About: Path Interactive is a digital marketing performance agency headquartered in New York City with locations in Nashville. We manage successful, timely digital campaigns that target the appropriate customers using powerful data and ROI-driven methods.
Services Offered: Their staff has extensive experience in a wide range of result-oriented marketing services, including PPC Management, SEO, Social Media, and Display/Digital Media Ads.
What Sets Them Apart: Interactive Path is honored to be recognized as one of Crain's Top Places to Work in New York City for the fifth year. They were also named one of the top places to work by 2020 AdAge and Inc.
3- Fishbat Media, LLC
They assist their clients in making headlines. Their digital marketing firm in New York, NYC focuses on increasing their customers' exposure, impact, and bottom line. They may go further into your strategic planning and develop campaigns that simplify tracking key performance indicators, allowing you to see clear and quantitative outcomes. Your brand will not only sparkle on the surface with new approaches that compel consumers to act, but it will also create tangible results.
Branding, Social Media, SEO, Online Rep Management, Influencer Marketing, Website Design, Content Marketing, Email Marketing, and B2B Digital Marketing Programs are among the services provided by fishbat Media LLC.
What Sets Them Apart: They focus on what counts, such as outcomes and customer service, so that your company may grow.
4-WebFX Digital Marketing
About: WebFX is a full-service Internet marketing firm in New York with years of expertise in delivering exceptional customer results across a wide range of sectors. They have over 25 years of expertise in digital marketing and a proven track record.
Services Offered: WebFX offers a wide range of services, including social media marketing, site design, search engine optimization (SEO), and pay-per-click advertising (PPC).
What sets them apart is their team of award-winning designers, developers, and Internet marketers. It's not simply a job for them; it's a driving passion. And this excitement helped to produce some of Web FX's greatest work.
5-Digital Marketing NYC
About: Jason Heiber is the founder of NYC digital marketing. Jason is a Google expert speaker who has advised multiple Fortune 500 firms on digital strategy throughout the world and grew up with various businesses.
Services Provided: They assist businesses with their digital paid advertising strategy in order to increase sales and profit. They specialize in all social networks as well as the Google network.
What sets them apart: The digital organism they are creating, artificially intelligent, rampant, and scaling, is unlike anything they have ever seen.
6-Chatter Buzz
About Chatter Buzz: Via views, insights, and technology, Chatter Buzz enables organizations and brands to grow through innovative and effective digital integrated marketing. Their staff is dedicated to producing measurable and quantifiable marketing and advertising results. Yes, students like being creative as well, but we are more concerned with knowing that it produces outcomes.
UI UX Experience Design, Custom Web Design & Development, Express Websites for SMBs and Start-Ups, Web and Mobile Application Development, WCAG ADA Compliance, Drupal Web Development, Managed Cloud Hosting, Website Maintenance, Integrated Marketing Campaigns, Conversion Rate Optimization, Search Engine Optimization (SEO), Local SEO (GMB Management), Amazon SEO Services & Product Optimization, Media Management, Email Marketing, Email Lead Nurturing Automation, Media Management, Email Marketing, Email Lead Nurturing Automation, Media Management
What Sets them Apart: Chatter Buzz is also linked to the most competitive CMOs and CTOs. The group provides consultants, important authors, and collaborators. Their mission is to transport your business to the BEST strategists.
7- Taktical Digital
Taktical is an internationally recognized digital marketing agency. Taktical clients have had tremendous sales success in e-commerce and lead generation development, with an obsessive focus on maximizing ROI.
Among the services provided are Facebook Ads, Snapchat Ads, Amazon Marketing, Pinterest Advertising, Twitter Advertising, Organic Search, and Email Marketing.
What sets them apart: They are respected partners on all major advertising platforms and provide a high level of support to the agencies in these networks, ensuring that the business has the best tools and minds available regardless of budget.
8-Vab Media Digital Agency LLC
Vab Media Digital Agency assists organizations and people in expanding their expertise and equity in order to expand the reach, demand, and size of possible market prospects.
Website Design, Content Marketing, Local SEO, Landing Page Optimization, PPC Management, and Google Analytics Services are among the services provided.
What sets them apart: With more than 10 years of unique digital expertise assisting businesses in a variety of sectors, you can be certain that you are in excellent hands with Vab Media Digital Agency LLC. They examine the larger picture before delving into communication, strategy, and innovation.
Why Should You Hire a Marketing Agency?
There are several reasons why you should hire a marketing firm, but here are a few:
Expertise: Marketing organizations employ a team of specialists that are well-versed in all aspects of marketing. This means they can provide you the greatest advice and assistance to help your business develop.

Low-cost: Marketing firms may be quite low-cost, especially when used for long-term initiatives. This is because they typically benefit from economies of scale, allowing them to provide lower costs.

Timesaving: Hiring marketing agencies can save you a lot of time because they will handle all aspects of marketing for you. This includes developing campaigns, designing materials, and managing your social media accounts.
How to Grow your Business through a Marketing Agency?
A marketing firm may assist you in reaching your target audience via various marketing channels such as advertising, public relations, internet marketing, and events. These firms will understand your company's goals and objectives and will assist you in developing a tailored plan to help you accomplish them. Here are five ways a marketing firm may help your company grow:
Raise brand awareness: If you want to attract new consumers and build your business, or if you want to advertise a product or service, employing a reputable marketing firm is a fantastic idea. They will assist raise awareness of your brand through advertising, social media, and public relations.

Lead generation: A smart marketing firm can produce leads for your company via various digital channels such as email marketing, pay-per-click advertising, and SEO.

Increase conversions: A marketing firm may help you increase your conversion rate. Marketing disciplines include content development and administration, as well as digital initiatives. Marketing specialists can help you generate high-quality content, optimize your website for conversions, and conduct efficient lead generation campaigns to help your business expand.

Increase revenue: The primary purpose of every business is to generate a profit. Marketing services will assist you in increasing your income by planning and implementing an efficient marketing strategy.
Conclusion
These are just a handful of the many excellent digital marketing firms in New York; there are hundreds to select from! When narrowing down your possibilities, make sure they've done the sort of marketing you're looking for and check if their style matches your vision for your company.
Marketing organizations are sometimes overburdened with duties. Pitching, campaign management, and creative production are a few examples. Not to mention juggling a slew of shifting deadlines and budgets. DotYeti specializes in developing engaging marketing materials for busy teams with a large number of brand profiles to manage. Our professional graphic design team effortlessly supports the whole creative operation, allowing agencies to spend more time with their clients.
Frequently Asked Questions
What is a well-known marketing advertising firm in New York?
BBDO, Grey, and Ogilvy are just a few of New York City's major marketing firms.
Who is the digital marketing king?
Content is king in digital marketing and SEO for those who understand its potential.