News
Orange County flooding leaves 1 dead amidst rainfall on Hudson Valley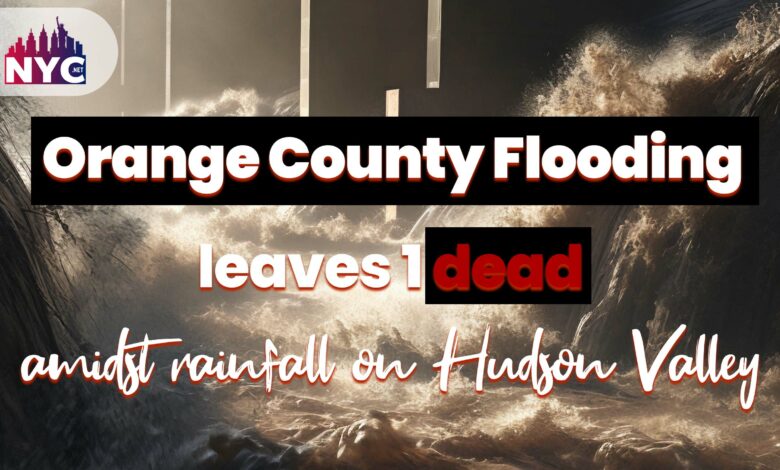 Orange County flooding 
Severe flooding caused by heavy rainfall has recently hit Orange County, located in the beautiful Hudson Valley region of New York. The downpour has wreaked havoc on the area, leading to the unfortunate loss of one life and causing significant damage to homes and infrastructure. This article aims to provide a detailed overview of the Orange County flooding, shedding light on;
its causes,

impacts,

and subsequent efforts to mitigate the damage.
Hence, let's go:
Orange County Flooding
First and most importantly, let's shed some light on the unfortunate incidence of the Orange County Flooding. 
Hours of heavy rainfall caused life-threatening flash flooding across Hudson Valley, NYC. Hence, sparking flash flood warnings and a rare flood emergency on Sunday
Unfortunately, a person lost their life in rushing floodwaters in Orange County.
Furthermore, Numerous roadways consisting of State Route 9W and Palisades Interstate Parkway experienced heavy flooding and washouts.
Cause of Orange County Flooding
Moving ahead, the persistent heavy rainfall that has engulfed the Hudson Valley in recent days can be attributed to the flooding in Orange County. A combination of factors, including a stalled weather pattern, atmospheric instability, and an influx of moisture from nearby weather systems, led to prolonged precipitation in the area. The rainfall exceeded the capacity of the local rivers and drainage systems, resulting in widespread flooding.
Other Major Impacts of Orange County Flooding
Unfortunately, we didn't just lose a life due to this heavy flood. The state went through major changes such as:
The Palisades NB was closed from exit 14 to Long Mountain Traffic Circle. Furthermore, flooding and a fallen tree across the tracks near Cortlandt have led to the suspension of Hudson Line service between Croton-Harmon and Poughkeepsie in both directions.
Moreover, Flooding closed roads throughout the area, and many roads are slick and underwater. Even if certain roads are passable, authorities urge drivers to exercise extreme caution.
Many videos on social media capture how parked vehicles are completely drowning in water.
Therefore, Rockland County Executive Ed Day urges the residents to stay indoors in a safe place until the weather passes. 
He also extends his thanks to the emergency responders who risked their lives for families and tackling the flash flooding. We are all grateful for their services. 
Other Details
The National Weather Service reported a portion of US 6 near Fort Montgomery, in Orange County, New York, collapsed west of the Palisades Interstate Parkway on Sunday evening.
Flooding on Sunday devastated Highland Falls, claiming the life of a woman in her thirties in the rushing floodwater. The authorities have not yet released her name.
Fortunately, according to Neuhaus first responders have managed to successfully rescue dozens more people from life-threatening situations,
Also, Governor Kathy Hochul of New York issued a State of Emergency in response to the conditions throughout Orange County.
Lastly, Emergency management officials in New York City issued a warning that heavy rain into Monday could cause rapid, life-threatening flooding to basements. They urged residents to prepare to move to higher ground if needed.
Conclusion
The recent Orange County flooding has resulted in significant devastation and the unfortunate loss of life. The affected communities have experienced severe impacts, including:
property damage,

disrupted transportation,

and emotional distress.
However, through prompt emergency response and relief efforts, the resilience and unity of the community have been demonstrated.
As the recovery process begins, it is essential to prioritize the safety and well-being of residents. Meanwhile, also focusing on long-term solutions to mitigate the impact of future flooding events. By investing in infrastructure improvements and implementing proactive measures, Orange County can strengthen its resilience to extreme weather and ensure the safety and security of its residents for years to come.