Events
All You Need to Know about the Shakespeare in the Park in NYC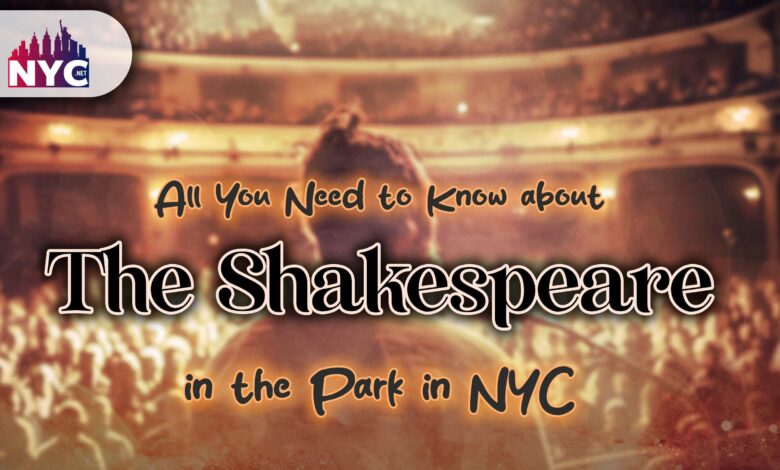 Shakespeare in the Park in NYC
Shakespeare in the Park is a beloved summer tradition in New York City that brings the timeless works of William Shakespeare to life in a vibrant and accessible way. Founded in 1962 by Joseph Papp, the Public Theater's Shakespeare in the Park has become a cultural institution, attracting theater enthusiasts and casual spectators alike. 
This article provides a comprehensive overview of the Shakespeare in the Park experience, including its:
Hence, let's get into it right away.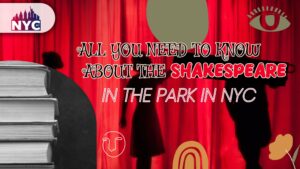 What is Shakespeare Park?
It was created by the late Joseph Papp in 1962. Hence, now the Public Theatre's series offers free and large-scale productions of work by the legendary William Shakespeare. Not only this, but this great production offers many great actors for the series. Moreover, Past casts have included:
Meryl Streep, 

Kevin Kline, 

Al Pacino, 

Philip Seymour Hoffman, 

George C. Scott, 

and Denzel Washington.

History and Significance:
History
Furthermore, Shakespeare in the Park has a rich history deeply intertwined with the development of New York City's theatrical landscape. Joseph Papp envisioned making Shakespeare's works accessible to all, establishing the Public Theater and the free Shakespeare in the Park series. The inaugural production, "The Merchant of Venice," took place 1962 in Central Park's Delacorte Theater and set the stage for decades of memorable performances.
Performance This Year
If you are wondering what is being performed this year, we have you covered. 
Shakespeare in the Park this year is staging only one production. Still, fret no; it is one of the best you will come across. It's none other than Hamlet. 
Kenny Leon, the director of A Soldier's Play, is directing this version. Additionally, Ato Blankson-Wood, known for his role in Slave Play, will be playing the title role.
When is it Happening
Further ahead, This year, Shakespeare in Park continues from June 6 through August 6, 2023. Moreover, the performances are typically from Monday to Saturday at 8 pm. However, a few exceptions can be expected. 
How to Get Tickets?
On the day of the show, they distribute free tickets through both in-person and digital lottery methods. This year, they offer six different ways to obtain tickets. To access a comprehensive guide on the rules applicable to this year's Shakespeare in the Park production, please refer to our complete instructions on how to get free tickets for SITP.
Waiting in the Queue
However, joining the queue can be an adventure for those who opt for same-day tickets. Aspiring theatergoers often camp overnight in Central Park to secure their spot, creating a vibrant community of theater enthusiasts. The camaraderie and excitement among the waiting audience add an extra layer of anticipation and shared experience.
When Should You get there?
Firstly, try and Shoot for the first week of performances if possible. It is cause seats are always in more excellent supply early in the run of a show before reviews and word of mouth push up demand for tickets. Moreover, Increase your odds by attending on days when bad weather is predicted. (You may find the standby line your best bet for tickets that day.) However, The Public hates canceling Shakespeare in the Park, so the show will continue even if it drizzles. 
Often, performances take breaks if it gets too rainy, then resume when the downpour subsides. Please remember that we do not allow open umbrellas during performances, so make sure to bring a poncho instead. Note that tickets for rained-out shows are not exchangeable.
COVID-19 safety measures
Lastly, and Unfortunately, covid-19 is stuck with us like a parasite. Therefore, to enter the Park, you may require vaccination proof. However, masks are encouraged but not required. 
Conclusion
Shakespeare in the Park remains a cherished cultural institution, bringing together the magic of Shakespeare's plays, Central Park's natural beauty, and New York City's vibrant spirit. Through its commitment to accessibility and artistic excellence, the Public Theater's Shakespeare in the Park continues to captivate audiences and foster a love for theater. Whether you secure tickets through the digital lottery or join the queue for same-day tickets, attending a Shakespeare in the Park production is an unforgettable experience. 
Hence, As the sun sets over the Delacorte Theater, the timeless words of Shakespeare come to life, transporting audiences to a world of passion, tragedy, and comedy.