News
Exploring NYC's Hidden Gems: Scenic Routes and Back Roads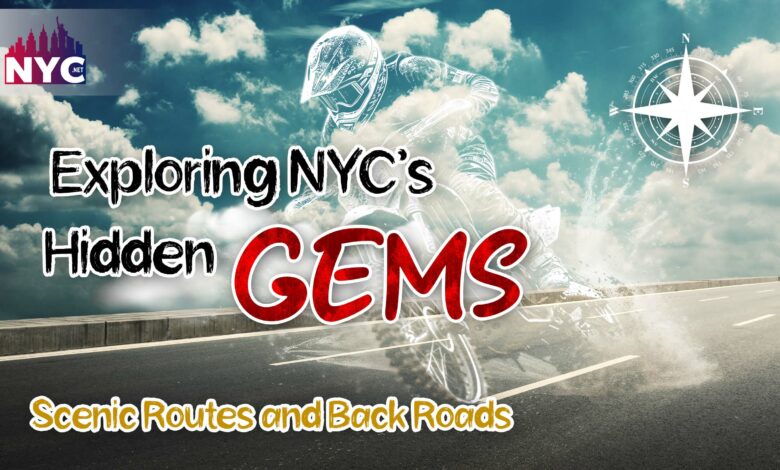 NYC's Hidden Gems
Are you ready to explore NYC's Hidden Gems with us? Hop on to the ride. It's going to be a fun one. 
New York City is renowned for its bustling streets, iconic landmarks, and vibrant culture. While these aspects of the city are undoubtedly captivating, a lesser-known side to the Big Apple lies off the beaten path. 
Many people must be aware of NYC's hidden gems, from enchanting scenic routes to charming back roads waiting to be discovered. 
Therefore, this article will explore some of these secret treasures, offering a refreshing perspective on the city that never sleeps.
We hope you are just as excited as we are to discuss it. Let's go:
NYC's Hidden Gems:
NYC is a city full of exquisite energy and perfect sceneries. It is known for its infamous landscapes and skyscrapers like;
Empire State Building

Times Square

Madison Square Garden

Central Perk

Brooklyn Bridge and more 
However, many of NYC's hidden gems need to be talked about. These gems are breathtaking and worth exploring. Therefore, These NYC hidden gems are for you if you prefer places with less crowd and awestruck beauty.
Hence, Here are some of these gems: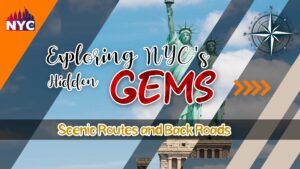 The High Line: A Tranquil Oasis in the Concrete Jungle
The High Line, an elevated park created on a former freight rail line, sits above the bustling streets of Manhattan's West Side. This one-of-a-kind green space stretches about a mile and provides tourists with a peaceful respite from the city's hectic pace.
As you stroll along the tree-lined pathways, you will also be treated to spectacular vistas of:
the Hudson River, beautifully groomed gardens, and thought-provoking art pieces.
Moreover, the High Line is a tribute to the transforming power of urban design. Hence, observing the city's architecture from a different angle is a fantastic vantage point.
Snug Harbor Cultural Center and Botanical Garden: Staten Island's Hidden Oasis
The Snug Harbour Cultural Centre and Botanical Garden, located on Staten Island, is a hidden gem that offers a calm respite away from the city's hustle and bustle. A lively cultural destination has converted this huge 83-acre facility from a retirement home for sailors
Hence, Visitors can:
wander through the beautiful botanical gardens, 

observe the stunning architecture of the Greek Revival-style buildings, 

and take in the complex's numerous art events and performances. 
Therefore, Snug Harbour offers a pleasant respite to nature and culture within the city limits.
City Island: A Quaint Seaside Village in the Bronx
Furthermore, to NYC's Hidden Gems, we have City Island. 
Escape to the charm of a New England-style fishing village without leaving New York City by visiting City Island. Nestled in the northeastern corner of the Bronx, this hidden gem is a haven for seafood lovers and those seeking a peaceful coastal ambience. Stroll along the island's picturesque streets, lined with colourful Victorian houses and quaint seafood restaurants. 
Also, enjoy fresh catches of the day while taking in the scenic views of the Long Island Sound.
Hence, City Island is a delightful surprise, offering a unique glimpse into the city's maritime heritage.
Green-Wood Cemetery: An Enchanting Historic Sanctuary
While visiting a cemetery may not initially sound enticing, Green-Wood Cemetery in Brooklyn is anything but conventional. Established in 1838, this large cemetery is a National Historic Landmark and the final resting place of many famous figures in New York City's history. Walking the twisting trails, you'll come across magnificent mausoleums, grand monuments, and tranquil settings filled with blossoming trees and vivid flowers. Green-Wood Cemetery provides a calm respite from the city's turmoil and allows visitors to reflect on and appreciate the city's history.
Arthur Avenue: The Real Little Italy of the Bronx
While Manhattan's Little Italy is the more well-known Italian community, Arthur Avenue in the Bronx is a genuine find. This colourful suburb is a culinary haven with many Italian delis, bakeries, and restaurants. Stroll through the lively streets and savour freshly prepared pasta, speciality cheeses, and delectable cannoli. Immerse yourself in the local community's rich traditions and warm hospitality, and you'll feel transported to the heart of Italy itself.
Fort Tryon Park: Upper Manhattan's Mediaeval Oasis
Fort Tryon Park, located in Upper Manhattan, provides a calm respite with a touch of mediaeval beauty. The Cloisters, a component of the Metropolitan Museum of Art dedicated to mediaeval art and architecture, is the park's crowning jewel. 
Hence, Take a leisurely walk through the park's winding paths, marvel at the meticulously manicured gardens, and enjoy panoramic views of the Hudson River and the Palisades. Fort Tryon Park provides a serene refuge where history and nature intertwine.
Roosevelt Island: A Hidden Residential Retreat
Situated in the East River between Manhattan and Queens, Roosevelt Island is a peaceful residential enclave that often goes unnoticed by tourists. Reachable by tram or subway, this narrow island offers breathtaking city skyline views and is perfect for a stroll or bike ride along the waterfront promenade. Visit the picturesque Franklin D. Roosevelt Four Freedoms Park, a memorial dedicated to the former president, and appreciate the island's serene atmosphere away from the city's hustle.
Jamaica Bay Wildlife Refuge: A Nature Lover's Paradise
You should get away from the city and immerse yourself in the natural splendour of the Jamaica Bay Wildlife Refuge. This sprawling animal sanctuary in Queens spans over 9,000 acres of wetlands, marshes, and islands. The refuge has documented over 330 bird species, including
herons,

egrets,

and ospreys. 
Therefore, you must:
Explore the gorgeous pathways that run through the varied habitats,

watch wildlife in its natural home,

and take in the stunning bay vistas. 
The Jamaica Bay Wildlife Refuge is also a hidden jewel for nature lovers, providing a calm reprieve from the city's frenetic pace.
Wave Hill: A Botanical Oasis in the Bronx
Wave Hill, located in the Bronx's Riverdale neighbourhood, is a gorgeous public garden and cultural institution that showcases nature's beauty in an urban context. The 28-acre estate has perfectly kept:
parks,

forests,

and breathtaking vistas of the Hudson River and the Palisades.
You can also do a lot of fun stuff here, like:
Stroll through the garden walks,

join a garden workshop,

or find a quiet area to rest and take in the calm. 
Therefore, Wave Hill provides a tranquil haven where art, nature, and breathtaking views coexist.
Little Red Lighthouse: A Charming Landmark Underneath the George Washington Bridge
Moreover, The Little Red Lighthouse, tucked beneath the towering George Washington Bridge, is a quaint and sometimes missed New York City icon. This lighthouse, located in Fort Washington Park along the Hudson River, has a rich history and represents endurance.
In addition, stroll down the trail leading to the lighthouse and learn about its intriguing history. You can do so while admiring the views of the bridge and the river.
Hence, It's a hidden treasure that catches the imagination and provides a unique look into the city's maritime history.
The Morris-Jumel Mansion: Step Back in Time in Washington Heights
Discover the Morris-Jumel Mansion in Washington Heights, Manhattan's oldest mansion. This historic site, built in 1765, was George Washington's headquarters during the Revolutionary War.
Hence, Step inside and experience a journey back in time as you tour the wonderfully restored chambers.
 You can also immerse yourself in the period furnishings and delve into the mansion's illustrious history.
The estate also hosts various:
events,

exhibits,

and guided tours that explore the city's colonial history.
Hence, It's one of NYC's hidden gems that takes you on a fascinating tour through New York's early days.
The Noguchi Museum: A Serene Haven for Art and Sculpture
Lastly, Visit the Noguchi Museum in Long Island City, Queens, instead of Manhattan's congested museums. Dedicated to the works of renowned artist Isamu Noguchi, this serene museum and sculpture garden displays the artist's inventive and thought-provoking creations.
Explore the galleries packed with sculptures, ceramics, and drawings, and wander through the tranquil outdoor garden, where Noguchi's works are showcased amidst peaceful surroundings.
Hence, The Noguchi Museum is a peaceful, contemplative location where art and nature coexist.
Therefore, You will not regret going to such an artistic place.
Conclusion:
New York City is full of surprises, and exploring its hidden gems is a rewarding experience for residents and visitors. Whether you're seeking a tranquil oasis, a cultural retreat, or a unique culinary adventure, these scenic routes and back roads offer an opportunity to discover a different side of the city. 
So, step off the well-trodden paths and venture into the unknown. The Big Apple will reward you with unforgettable experiences and a deeper appreciation for its multifaceted nature.