News
How to Plan the Perfect Road Trip in and Around New York City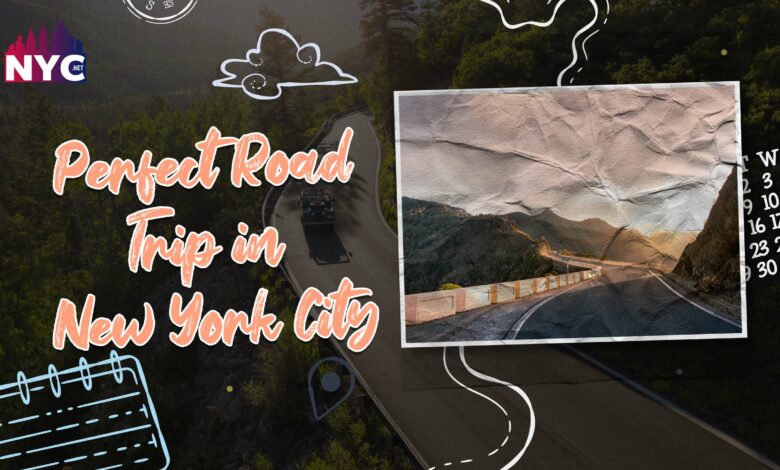 Perfect Road Trip in New York City
Are you looking to plan the perfect road trip in New York City? Look no further. You have come to the right place. 
We have everything you need. From the best places to a detailed guide, we will help you with it all. 
New York City is undeniably a dream destination for many. People are eager to bathe in its stunning beaches and walk through the skyscrapers. It is home to many magnificent landscapes. Moreover, its soil is full of rich history. Hence, it is a trip you will not regret taking. 
However, a perfect road trip in New York City is only possible with proper guidance. Therefore, for your advice, we have this comprehensive guide. Walk with us to learn how to plan a perfect road trip in New York City. 
The Best Places to Visit in New York City:
Before we dive into the planning details, let's explore some of the best places to visit. As mentioned above, NYC is home to unbelievable beauty. Consequently, people need help to narrow down a few best places. 
Therefore, we take it upon ourselves to help you. Hence, here are some of the most worth-watching places in New York City. Your trip is incomplete without visiting these places: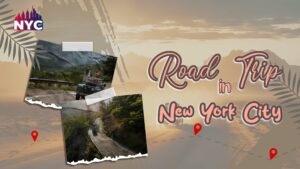 New York City:
Times Square:

One cannot help but visit Times Square. It is known for its dazzling billboards, Broadway theaters, and bustling atmosphere. It is a place must go for a thrilling experience. 

Central Park:

If you want to escape the city's hustle and bustle, this expansive urban oasis is your place. It features picturesque landscapes, walking paths, and recreational activities. It is a place for every age.

Statue of Liberty and Ellis Island:

Take a ferry to visit the iconic Statue of Liberty. Along with this symbol of freedom, explore Ellis Island. It is known as the gateway for millions of immigrants.

Empire State Building:

Enjoy breathtaking panoramic city views from the observation decks of this famous Art Deco skyscraper.

Metropolitan Museum of Art (The Met):

Discover a vast art collection worldwide. Spanning thousands of years, it is one of the world's largest museums.

Brooklyn Bridge:

Lastly, Walk across this iconic suspension bridge to enjoy stunning views of the Manhattan skyline and the East River.
Niagara Falls:
Another great place to visit is the Niagara Falls. It IS Located on the border of New York and Canada. You will live in a breathtaking natural wonder that attracts millions of visitors yearly. Hence, you must witness the powerful cascade of water and take a boat tour to experience the falls up close.
Hudson Valley:
Furthermore, just north of New York City, the Hudson Valley offers a mix of natural beauty, historic sites, and charming towns:
Hyde Park:

Tour the Franklin D. Roosevelt Presidential Library and Museum and the Vanderbilt Mansion National Historic Site.

Storm King Art Center:

Discover an open-air museum featuring large-scale sculptures and installations amidst rolling hills and woodlands.

Dia:

Beacon: Explore this contemporary art museum housed in a former Nabisco box-printing factory, showcasing works by renowned artists.

Walkway Over the Hudson:

Walk or bike across the longest elevated pedestrian bridge in the world, offering panoramic views of the Hudson River and surrounding landscapes.
The Thousand Islands:
Lastly, thousand Island is a must for a perfect road trip in New York City. It resides on the border between the United States and Canada. The Thousand Islands region is renowned for its scenic beauty and historic castles:
Boldt Castle

: Explore this magnificent island castle built at the turn of the 20th century, surrounded by the picturesque St. Lawrence River.

Thousand Islands National Park:

Take a boat tour or kayak through the beautiful islands, enjoying the stunning views and abundant wildlife.
Plan Your Perfect Road Trip in New York City:
Now that we know some of the best places to visit, it is time we plan the trip. Planning a trip could be both exciting and frustrating. It all depends on the way you do it. While looking ahead to all the excitement is fun, clumsiness can ruin things. 
Therefore, be open-minded and vigilant when planning your perfect road trip in New York City.
If you follow the guide below, you will find it much easier. 
Decide on the Duration:
Before you embark on your road trip, determine your available days. You must know when to leave, how long to stay, and when it comes back. The majority of it will largely depend on your budget. However, still, many other factors can contribute. Ideally, allocate a week to enjoy the sights and experiences fully. 
However, you can tailor your stay accordingly if you have less time. Whatever you decide, make sure you analyze all the factors beforehand. We don't want you draining your money.
Plan Your Route:
The next step would be to plan your route. You must know the following before leaving:
What places to visit

Where to stay

Allocate days to each place

The budget for each place
Here are some ideal places to check:
Explore New York City: 
Begin your journey by exploring the vibrant neighborhoods of New York City. Visit iconic landmarks like:
 Times Square, 

Central Park, 

Statue of Liberty, 

and the Empire State Building. 
Moreover, Experience the diverse culinary scene and immerse yourself in the city's rich cultural offerings.
 Head North: 
Furthermore, your perfect trip to New York City is complete with heading north. 
Hence, as you leave the city, consider driving north to experience the natural beauty of the Hudson Valley. Visit charming towns like:
 Sleepy Hollow, 

Beacon, 

and Cold Spring. 
In addition, explore the majestic Hudson River, hike in the scenic Catskill Mountains, and discover the historic sites.
Discover Long Island: 
Drive east to Long Island, known for its stunning beaches and quaint seaside towns. Once there, you must explore the spectacular views of:
 Hamptons, 
Montauk,
 and Fire Island.
Moreover, if you have enough budget, enjoy the pristine beaches, visit wineries, and savor fresh seafood at local restaurants.
Visit the Hudson River Valley: 
Travel north to the Hudson River Valley, renowned for its picturesque landscapes and charming towns. Stop by Hyde Park to tour the following:
 Franklin D. Roosevelt Presidential Library 

and Vanderbilt Mansion. 
Also, don't miss the opportunity to visit West Point, home of the United States Military Academy.
Explore the Adirondack Mountains: 
For nature enthusiasts, consider venturing into the Adirondack Mountains. Here you can do the following:
Experience the breathtaking beauty of Lake Placid, 

hike the High Peaks,

 and indulge in outdoor activities such as kayaking, fishing, and camping.
It is worth adding to your perfect road trip in New York City. 
Accommodation:
Furthermore, affordable accommodation is important. It would be best if you stayed wise while looking for accommodations. The majority of accommodations in New York City are extremely expensive. However, a few pocket-friendly exist. I prefer a cozy, clean, yet affordable place. 
Therefore, Research and book accommodations along your route in advance. Options range from luxury hotels in the city to cozy bed and breakfasts, campgrounds, and vacation rentals in the countryside. Consider the following factors when making your choices: 
location, 

amenities, 

and budget

Period

Distance
Budget:
Budget is an important factor to consider when planning the perfect road trip in New York. You'll likely drown your savings without a fit and defined budget.
Hence, Set a budget for your road trip, taking into account the following:
 fuel costs, 

Travel cost

accommodation, 

meals, 

and attractions. 
Consider purchasing attraction passes or city passes that offer discounts on multiple sites. 
Moreover, you must also allocate some funds for unexpected expenses or spontaneous experiences you may encounter.
Be smart about the choices you make. 
Packing Essentials:
When planning your trip, make sure you pack all your essentials. You might want to check out the following in your list:
Navigation Tools

: Ensure you have a reliable GPS or smartphone app for navigation. It's also helpful to have a physical map of the area.

Snacks and Water:

Pack a cooler with snacks, water, and other refreshments for the journey. This will save time and money, especially during long stretches of driving.

Comfortable Clothing:

Pack versatile clothing for different weather conditions and activities. Be prepared for warm and cool temperatures, as the weather varies throughout the region.

Outdoor Gear:

If you plan to engage in outdoor activities, pack appropriate gear, such as 
hiking boots, 

rain jackets, 

swimsuits, 

and sunscreen.
Research Attractions and Activities:
Before your trip, research and list must-see attractions and activities in each location. Look for unique experiences like
 local events, 

festivals, 

and outdoor adventures. 
These experiences will only make your road trip memorable. Moreover, make sure to check websites and social media platforms for up-to-date information on the following:
 opening hours, 

ticket prices, 

and COVID-19 protocols.
Flexibility and Spontaneity:
 While planning is essential, leave room for flexibility and spontaneous detours. Sometimes the best experiences happen unexpectedly. Serendipitous discoveries, roadside attractions, and interacting with locals can add charm to your road trip.
You must keep this in mind to save yourself from any anxious situation. 
Best Condition Vehicle:
Last but not least, your vehicle must be in the best condition for your perfect road trip in New York City. Whether you are traveling privately or not, make sure your cars are in stable condition 
Hence, take some time out to dress your vehicles up perfectly. 
Conclusion:
Planning a perfect road trip in New york city could be daunting. However, it doesn't have to be. It can be as exciting as you want. It all depends on the ways you plan it. 
Therefore, we hope our guide can ease some things down for you. We wish you well with an adventurous yet safe trip!
Have Fun!