News
NYPD investigating the fatal stabbing of a dog in central park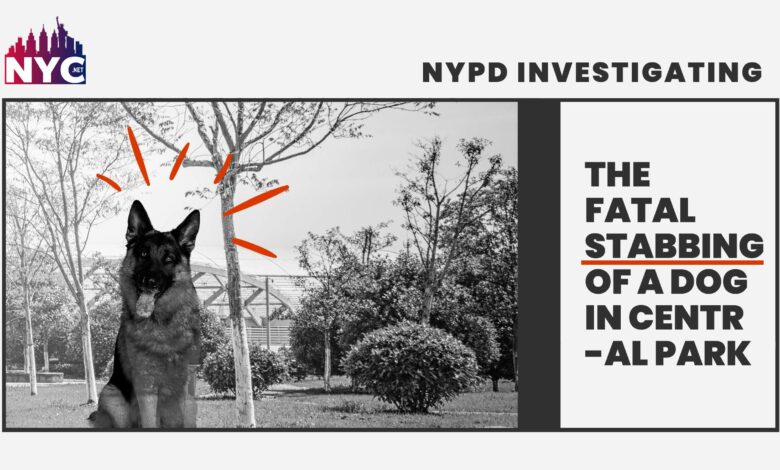 Fatal stabbing of a dog
Central Park is known for its beauty, serenity and a place where people come to relax. However, the recent news of a fatal stabbing of a dog in Central Park has shocked everyone. Moreover, The incident occurred while the owner took their furry friend on a walk, quickly becoming a tragedy. So, The NYPD is investigating this incident as an accident. Still, they ask anyone with information about the situation to come forward. 
This heartbreaking story marks the fatal stabbing of a dog in Central Park, NYC, this year. It also leaves many wondering what happened and how to prevent such incidents from happening again.
What Happened?
The incident of a fatal stabbing of a dog in central park is heart-wrenching. However, here are some of the details we know so far:
A 14-year-old German Shepherd Pitbull mix named Eli met an unfortunate event on Saturday. An unidentified assailant fatally stabbed him while he was walking with his owner in Central Park
A couple was walking their two dogs, Eli, and their chihuahua, around 8:30 pm. Saturday. However, at some point, they argued with a man with three dogs. 
Moreover, According to police, two dogs began fighting, their leashes tangled. After the incident, video footage captured two of the man's dogs. However, police are currently investigating whether the man accidentally injured Eli while attempting to cut through the tangled leashes of the two dogs with a knife.
More about Eli, the dog
While we see the insights into the fatal stabbing of a dog in central park, there is more to the story. 
To begin with, The NYPD says Eli's injuries are not life-threatening, and they are investigating the stabbing as a possible accident.
However, the owner received drastic news when they took Eli to the hospital. Unfortunately, the doctors discovered that the dog had terminal cancer. Hence, Eli's owner euthanized him after doctors discovered the 14-year-old dog had a terminal tumor.
The Owenr's statement
When we talk about the owner's reaction to the fatal stabbing of a dog, ironically, he has since given conflicting statements to detectives.  More so, he informs them that he has poor eyesight and expresses uncertainty about whether Eli was stabbed during the cutting of the leash or afterward.
Still, A cruelty investigation is underway by the NYPD's Animal Cruelty Investigation Squad.
We are still looking forward to seeing what happens more to this news. 
Conclusion
The fatal stabbing of a dog in Central Park is a tragic incident that has left many pet owners concerned about their safety in public spaces. While the NYPD investigates this case as an accident, it's important to remember that we all have a responsibility to ensure the well-being of our furry friends. Whether keeping them on a leash or being mindful of our surroundings while walking them, taking proactive measures can go a long way towards preventing these tragedies from occurring again. 
Hence, let us hope that justice will serve and incidents like this will become less frequent.