News
Long Island Reports 2 More Shark Bites on July 4th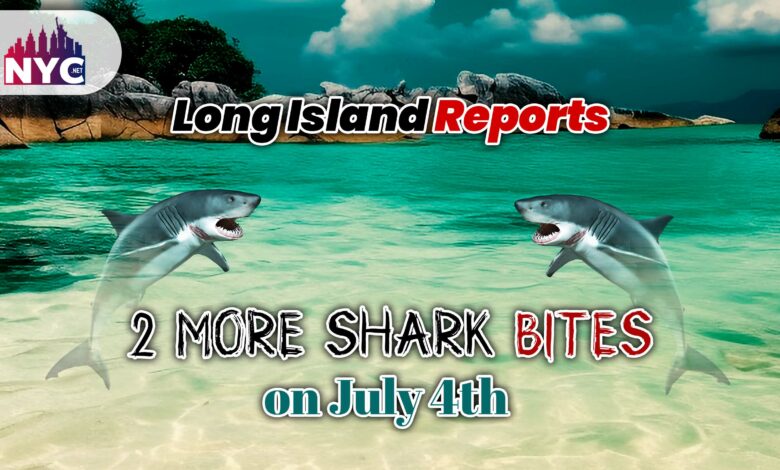 Shark Bites on July 4th
Long Island, a popular summer destination known for its beautiful beaches and vibrant coastal communities, experienced an alarming occurrence on July 4th. Two incidents of shark bites on July 4th have been reported, further fueling the growing concern over shark encounters along the East Coast. These incidents serve as a reminder of the need for increased awareness and precautions when enjoying the ocean's waters.
These incidents are terrific since people are super cautious about the shark invasion. 
So, stick with us to:
Learn more about the shark bites on July 4th 

And see how you can save yourself from it.
Shark Bites on July 4th 
On July 4th, at least two possible shark bites were reported, which came just a day after two similar incidents had been reported.
To begin with, sharks bit two men in separate locations. Both of them were in their 40s.
Here are the following incidents:
Incident 1
In the first incident, which occurred at Quogue Village Beach, a shark bit a beachgoer while they were enjoying the ocean on Independence Day. The victim, a 47-year-old man, suffered severe lacerations to his right knee. Moreover, around 1:50 pm, police responded to the beach for the injured victim. However, Lifeguards and beachgoers quickly responded, providing immediate assistance until emergency services arrived.
The authorities subsequently transported the victim to Peconic Bay Medical Center, where they received medical treatment.
Furthermore, the victim was swimming in the deep end water when a shark bit him. However, no shark was physically observed at the scene.
However, the bite marks were clearly from the large marine animal.
Incident 2
Similarly, at 1:55 pm on Tuesday, a swimmer was bitten in Fire Island Pines, indicating another incident. This unfortunate soul took the injury to his hand.
This man was 49 years old.
Fortunately, the authorities took the swimmer to the hospital with a non-life-threatening injury.
However, the irony of these incidents is that they occurred following two previous incidents when:
Around 2 pm on Monday, a shark bit a 15-year-old at Beach 3 in Robert Moses State Park, NYC. Again, it was either a marine animal or a shark. 

Similarly, three miles east at Kismet Beach, another confirmed shark bite occurred around 5:20 pm. This time, a 15-year-old boy surfing returned with wounds on his heel and toes. 
Fortunately, A good Samaritan provided medical assistance until first responders arrived and continued the care. Moreover, officials report that the victim's heel and toes remained intact. 
Hence, They took him to Good Samaritan University Hospital in West Islip for treatment of non-life-threatening injuries.
What can we expect?
Following the shark bites on July 4th, one can expect additional surveillance on Long Island beaches, Including:
 drones, 

helicopters, 

and boats. 
Furthermore, Robert Moses State Park even delayed opening swimming on Tuesday. It was after state parks found 50 sand sharks after the drone surveys. 
The authorities opened the shore for swimmers around 10:15 am after receiving the advice to remain close to it.
Additionally, Governor Kathy Hochul's office says they have 10 more drones up this year after a rise in shark attacks last year.
Still, the experts advise only to swim with a lifeguard nearby. Moreover, they also encourage to alert somebody immediately if they see a group of fish. It could indicate that a shark is nearby. 
We hope you follow this advice to keep yourself and everyone around you safe. 
Conclusion
The recent shark bites on July 4th in Long Island serve as a reminder that sharks inhabit the ocean's waters and occasionally interact with humans. While these incidents are rare, remaining vigilant and taking precautions when enjoying the beach is crucial. By adhering to established safety measures and being aware of one's surroundings, beachgoers can minimise the risk of shark encounters and ensure a safe and enjoyable experience along the beautiful shores of Long Island.