News
A rhythmic dance of Navy Blue Angels over NYC skies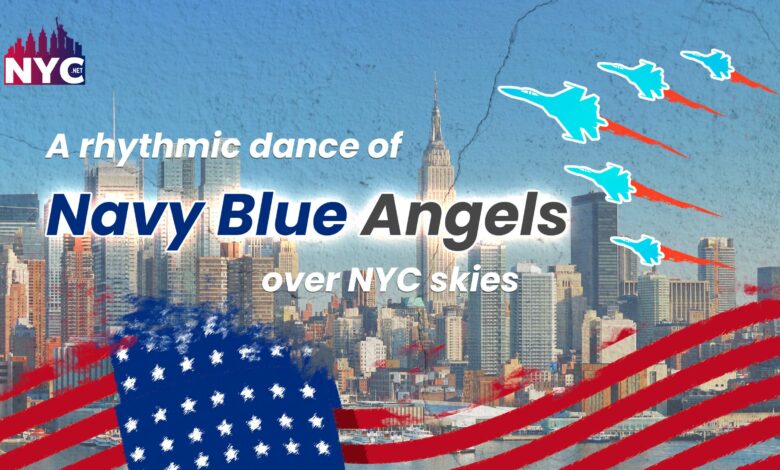 Navy Blue Angels over NYC skies
The thrill of watching the Navy Blue Angels over NYC skies perform is second to none. These skilled pilots leave crowds in awe with their breathtaking aerial displays. On Wednesday evening, June 21, 2023, the Blue Angels performed a spectacular flyover in NYC. No worries if you didn't witness their precision and power as they soar through the sky with incredible speed and grace. We got you. 
This is an event you will want to attend! So strap in, hold on tight, and look closely at the remarkable dance of Navy Blue Angels over NYC Skies. 
The Navy Blue Angels
The Navy Blue Angels, a team of highly skilled pilots, perform in the United States and worldwide, showcasing:
precision flying, Incredible agility and unmatched skill..
The team consists of six F/A-18 Hornets that fly in tight formations at speeds reaching up to 700 miles per hour.
One of the most impressive things about the Blue Angels is their ability to maintain formation with such high precision while flying at these incredibly fast speeds. Each pilot knows exactly where they must be about the others. 
Their commitment to safety is another factor that sets them apart from other aerial teams. Moreover, These pilots undergo rigorous training and practice routines before every performance. It is to ensure they can execute each maneuver safely without any accidents.
Watching the Navy Blue Angels perform is an experience unlike any other. Their skillful display will leave you breathless as you witness some of the most incredible aerial feats ever accomplished by humans.
Rhythmic dance of Navy Blue Angels over NYC Skies
Furthermore, the hot topic of the discussion is the United States Navy Blue Angel's rhythmic dance over NYC skies.  
Hence, They performed a flyover on Wednesday evening, leading to this weekend's New York Air Show. 
Six F/A-18 Hornet fighter jets from the renowned flight demonstration squadron flew over:
the Hudson River, the Statue of Liberty,and the World Trade Center.
Simultaneously, it was a good showcase of their skills. Moreover, New York City's resilience and spirit are celebrated during the flyover. Hence, spectators were treated to an unforgettable sight As they soared over landmarks such as: the Statue of Liberty
And One World Trade Center
Further ahead,  The sound of roaring engines also filled the air as smoke trails painted across the sky formed intricate patterns.
Also, Their stunning display was visually captivating and a tribute to our nation's military heroes who have dedicated themselves to serving our country.
Therefore, Witnessing a Blue Angels flyover is an experience like no other. Their skills and expertise are truly remarkable. Hence, their dedication and passion for aviation excellence leaves us all feeling inspired.
Undoubtedly, The Blue Angels' journey will culminate at the New York Air Show, where aviation enthusiasts and fans can see the aerial demonstrations up close. 
This weekend is the New York Air Show. Hence, remember to grab a seat!
Conclusion
The Navy Blue Angels are a remarkable group of pilots who perform incredible aerobatic manoeuvres that leave spectators in awe. Their recent flyover in New York City on June 21, 2023, was a spectacular event that showcased their skill and precision.
The Blue Angels have entertained crowds for decades and continue inspiring young people to pursue careers in aviation. Their dedication to excellence is evident in everything they do, from their rigorous training regimens to flawless performances.
If you ever get the chance to see the Navy Blue Angels perform live, don't miss it. It's an experience you'll always remember!