Listing
New York Welcomes Sushi Ichimura, a tiny Tribeca Restaurant.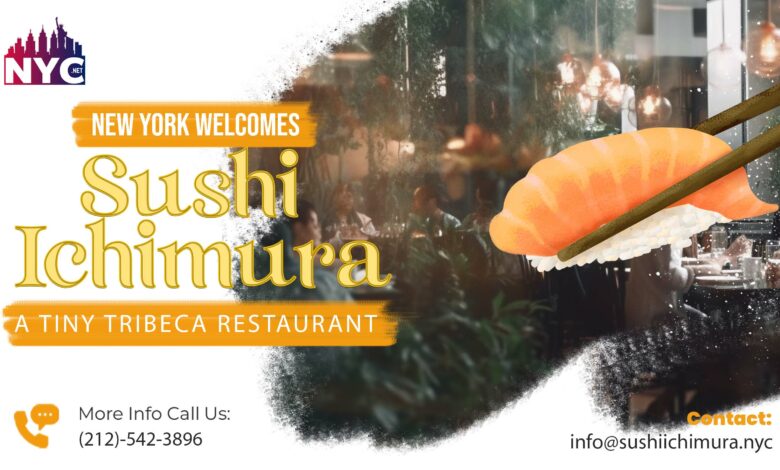 Sushi Ichimura
Are you a sushi lover looking for an authentic and intimate dining experience in New York City? Look no further than Sushi Ichimura, the newest addition to Tribeca's vibrant culinary scene. This tiny restaurant may be easy to miss from the outside, but you'll be transported to a world of exquisite flavors and impeccable service once inside. With its highly anticipated opening in June 2023 just around the corner, now is the time to learn more about what makes Sushi Ichimura so special. 
Hence, From its location to its menu offerings, we've got all the details you need right here!
About Sushi Ichimura
So, As Eiji Ichimura's final return to the NYC dining scene, Sushi Ichimura celebrates his legendary career as a sushi chef. Therefore, The intimate sushi counter offers a relaxed yet elevated atmosphere where guests will truly immerse themselves in the tranquil and elegant ambiance of the space and Chef Ichimura's mastery.
Now Open in NYC
The opening of Sushi Ichimura, Tribeca's 10-seat slip located at 412 Greenwich Street, opened on Tuesday, June 20th. Master sushi chef Ichimura and Brazilian designer Marta Carvalho crafted this East-meets-West sensation. Both have worked with Rahul Saito and Kuma Hospitality Group to create a unique experience. 
Menu
Their Chef's Omakase Menu boasts approximately 20 courses, consisting of a revolving selection of appetizers crafted by Chef Ichimura, including his signature mochi rice cracker with Hokkaido fun uni and Kaviari caviar. 
You'll enjoy 12 more courses of delicately aged nigiri sushi and temaki. More so, these are all served on rare Japanese lacquerware and one-of-a-kind server ware like plate ware made by Shiro Tsujimura (an esteemed contemporary ceramic artist and national treasure). 
The current price of the menu is $425, excluding taxes and gratuity. 
Moreover, their wine selection is extremely exquisite, not to try once. They come with a carefully curated selection of sake, wine, beer, Japanese whiskies, and exclusive chilled Japanese teas only available at Sushi Ichimura.
Not only this but for a corkage fee of $100, guests are welcome to bring up to one 750ml bottle of their selection.
Further Details
Location
412 Greenwich Street
New York, NY, 10013
212.542.3896
Contact:
info@sushiichimura.nyc
Please call us at (212)-542-3896 
Days
Tuesday to Saturday: 5:30 pm & 8:30 pm
Sunday and Monday: Closed
Dress code: 
Smart Casual – no tank tops, flip flops, shorts, and sweatpants
So, Play the Music for a sushi restaurant and enjoy!