News
A taste of New York; exploring the city's food scene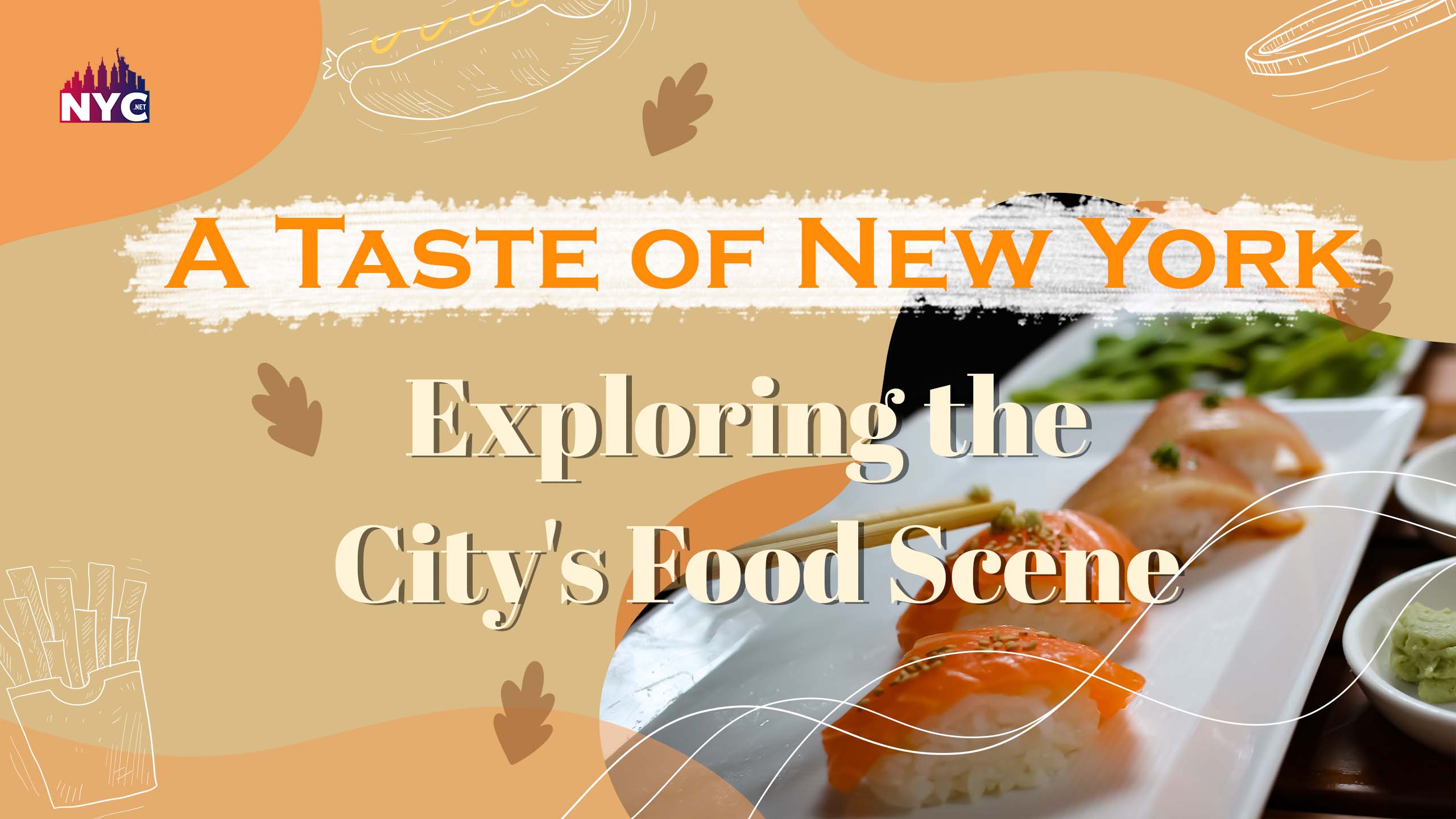 A taste of New York
Known as one of the best food cities in America, the taste of New York is overflowing with a variety of exotic eats spread all over the city. From the city lanes to the aesthetic streets, the mouth-watering odor will be the first to greet you in the welcoming town of New York.
The delicious aromas hugging the air have to be the most attractive factor of a city. You find yourself at the right place for a foodie whose stomach is always growling at the thought of some delicious tastes and whose mouth cannot help watering at the sight of freshly cooked dishes.
As you walk through the streets and explore the taste of NYC, you will find countless food scenes there. Whether it is the street vendors selling hot dogs and pretzels or the highly equipped restaurants serving gourmet cuisines, we have here some of the most famous and appetizing food scenes in New York.
However, at times the enormous volume of food carts and the renowned restaurants can be overwhelming for the visitors to narrow down only one good option. Keeping such circumstances in mind, we are here to give you a well-deserved food tour of the infamous taste of New York.
Let us walk through and explore it together: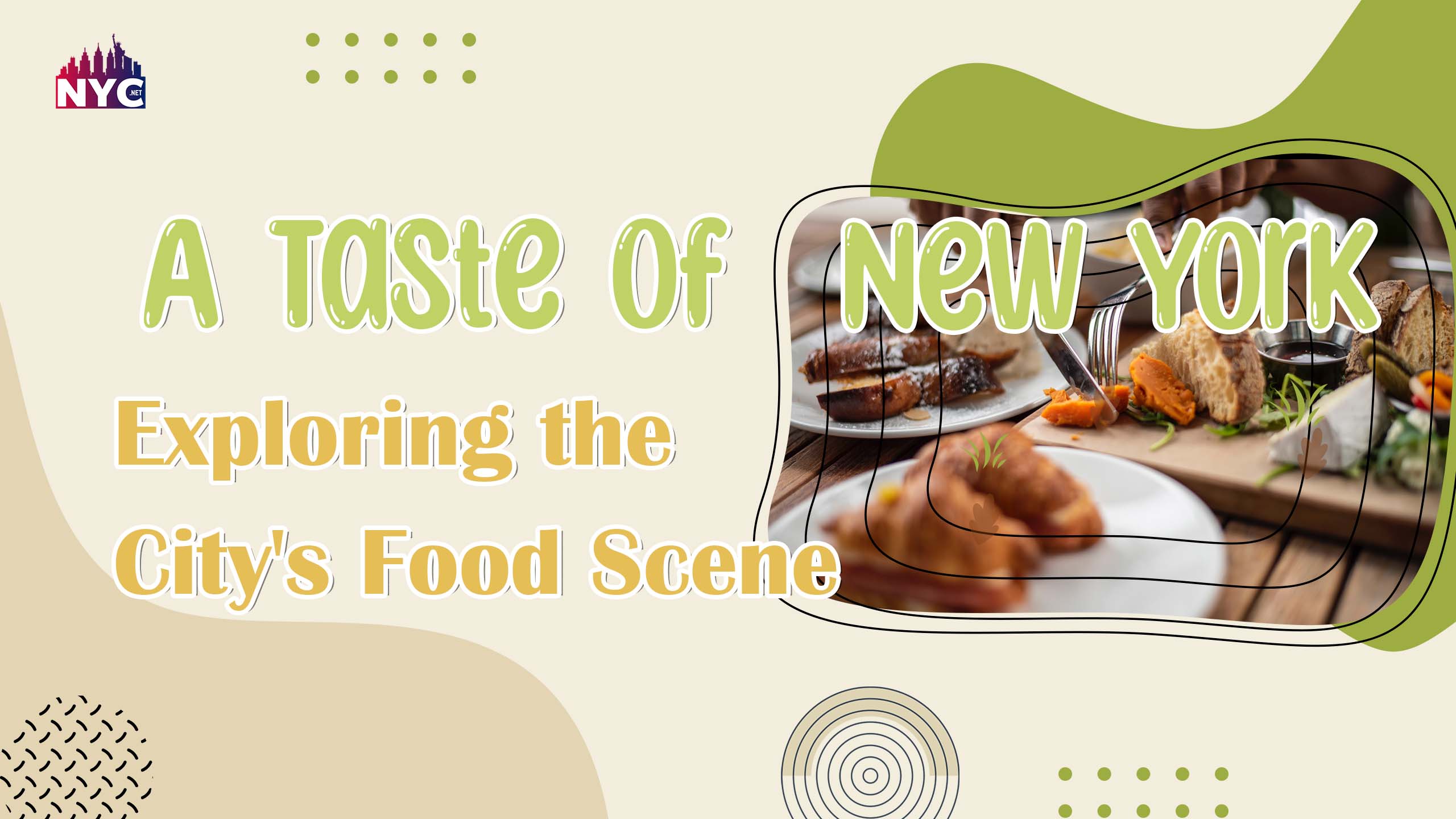 New York Infamous Brunch Spots:
To be honest, brunch has to be one of the most important meals of the day. When planning brunch, avoid unnecessary batter while opting for the best place. New York is a hallmark for hosting the most stomach-growling brunches ever.
From aromatic hot pancakes and brewed coffee to freshly made sandwiches, these places are equipped with some of the best food scenes adding to the taste of NYC.
Dawa's: 
There must be hardly a person walking through the streets of NYC who hasn't tasted or at least heard of Dawa's. Located in Woodside, this restaurant has two sides: "Himalayan Inspired" and "American." It walks on the footprints of the owner Dawa Bhatti's heritage and adheres to the modern New York upbringing. This restaurant is aesthetically pleasing to the many wanderers, but its unique Himalayan dishes like; pillowy momos, kawa datsi (a Bhutanese stew), and thentuk (Tibetan pulled noodles with beef) make it almost impossible to stop drooling at the mere sight of it. Moreover, if you are primarily a brunch person, having some American brunch classics like pancakes, sandwiches, a burger with Russian dressings, French toast, etc is a must-place. These mix-and-match options make Dawa stand out to many for the most hunger-striking brunch.
WenWen:
If you haven't had the pleasure of having a meal at this Greenpoint hot spot, you must not miss a reservation for brunch. Trust us; you won't regret it. How could you when its weekend menu is drowning with total hits, such as the flavorsome celtuce salad served at dinner or other unique items like a five-spice Taiwan toast drizzled in honey and an egg and cheese-stuffed dan being made from tater tots. When in time for brunch, the restaurant is clever enough to offer you their famed BDSM chicken only as an equally tasty sandwich. I can feel my stomach growling just thinking of it. 
For All Things Good:
For all things good is another must-go café that offers you promising food scenes. Though it first started in the initial hypes of the pandemic, it soon made its way to the hearts of many fans and ended up starting its second outlet in the arms of Williamsburg. The customers here are delighted with their delicious chest gordita breakfast sandwiches. Many even order mini tlayudas drizzled with salsa macha, and other dishes found at the original. New to the menu, you can also enjoy the taste of breakfast tetela, drizzled with avocado and a runny egg in a pool of salsa roja. What are you waiting for? Go get a never forgetting brunch.
Yellow Rose:
Last but not least, the taste of New York presents Yellow Rose in our brunch tour. Initially, it started as a takeout operation during the pandemic's dark times. It served to greet fans with its tempting stewed meats stuffed into homemade flour tortillas. Their Tacos with beans, cheese, potato, and chorizo are ever since ruling the menu. However, their brunch is intensified with kolaches (a sweet or savory Tex Czech pastry), glazed and sugared doughnuts, and bloody marys with pickled serrano.
You go once; you'll keep coming back for more. 
Famous Food Scenes in New York:
While many wait for the anxious brunch, others prefer to casually stroll around the city lanes and greet themselves with distinct tastes. Whatever suits you more, we are here to provide you with your every mood. In case if you are wondering what to have while walking through the roads of New York, here are some of the best food scenes that you can try in the city:
Pizza:
Did anyone say pizza? Oh yes, I did. Pizza has to be the safest and the most satisfying food option no matter where you are. Despite being universal, it varies majorly in its taste and flavors. Many visitors and natives highly recommend the bite of New York pizza. New York-style pizza is famous for its thin, crispy crust and giant slices.
Popular Pizza places in New York:
Di Fara Pizza in Brooklyn,

Lombardi's in Manhattan, 

Lucali's in Brooklyn.
Bagels:
Who doesn't like Bagels? I would say it is more of a comfort food than anything. What's better is that New York Bagels are famous for their chewy textures, intoxicating flavors, and pleasing odor. 
Famous Bagel Places in New York:
Ess-a-Bagel in Manhattan and Russ & Daughters in Manhattan.
Vegan and Vegetarian:
It doesn't matter if you are a vegetarian; New York has much in store for you. It comes with thriving and welcoming vegan and vegetarian food scenes that will be promising for your appetite in every way.
Popular Vegan and Vegetarian Places in New York:
By Chloe

Superiority Burger

Dirt Candy

Ethnic Cuisine:
If you are a fan of ethnic cuisine and are explicitly hunting for those, then New York will not disappoint you. It has diverse ethnic cuisines, including Chinese, Mexican, Italian, Indian, and more. Whatever you wish for, you will find in this heartthrob of America.
Popular Ethnic Cuisines Spots in New York:
Xi'an Famous Food

Toloache,

Han Dynasty
NYC Dining Food Scenes:
Now that we have talked about brunch places and famous food scenes stuffed in the city of New York., let's have a final look at some of the renowned dining spots in New York.
Dhamaka:
As indicated by the name, Dhamaka is a heaven on earth for many Asian visitors. Crowned as "the forgotten side of India," this dine in restaurants comes up with many enticing cuisines starting from gurda kapoora (goat kidney, testicles, red onion, and pao) doh khleh (pork with lime, cilantro, onion, and ginger) and champaran meat (mutton, garlic, red chili). Though it is commonly known for its desi food cuisines, it does serve its best-fried chicken sandwich in NYC.
Sushi Nakazawa:
For all sushi lovers, Sushi Nakazawa is a place made for you. It has an exquisite ambiance, a pleasant atmosphere, and top-notch food dishes, all available for you. It's $150 in the peaceful dining room, and perfect sake pairings are $90. It is a top place for many sushi lovers.
The Crux:
Sight-Seeing in New York is always fun, but it is doubled when you can also have a taste of New York and its scrumptious food. Wherever you go, whatever you like, there is food for every mood. You just need to grab it.