News
Bridging the Gap: The Legacy of New York Iconic Bridges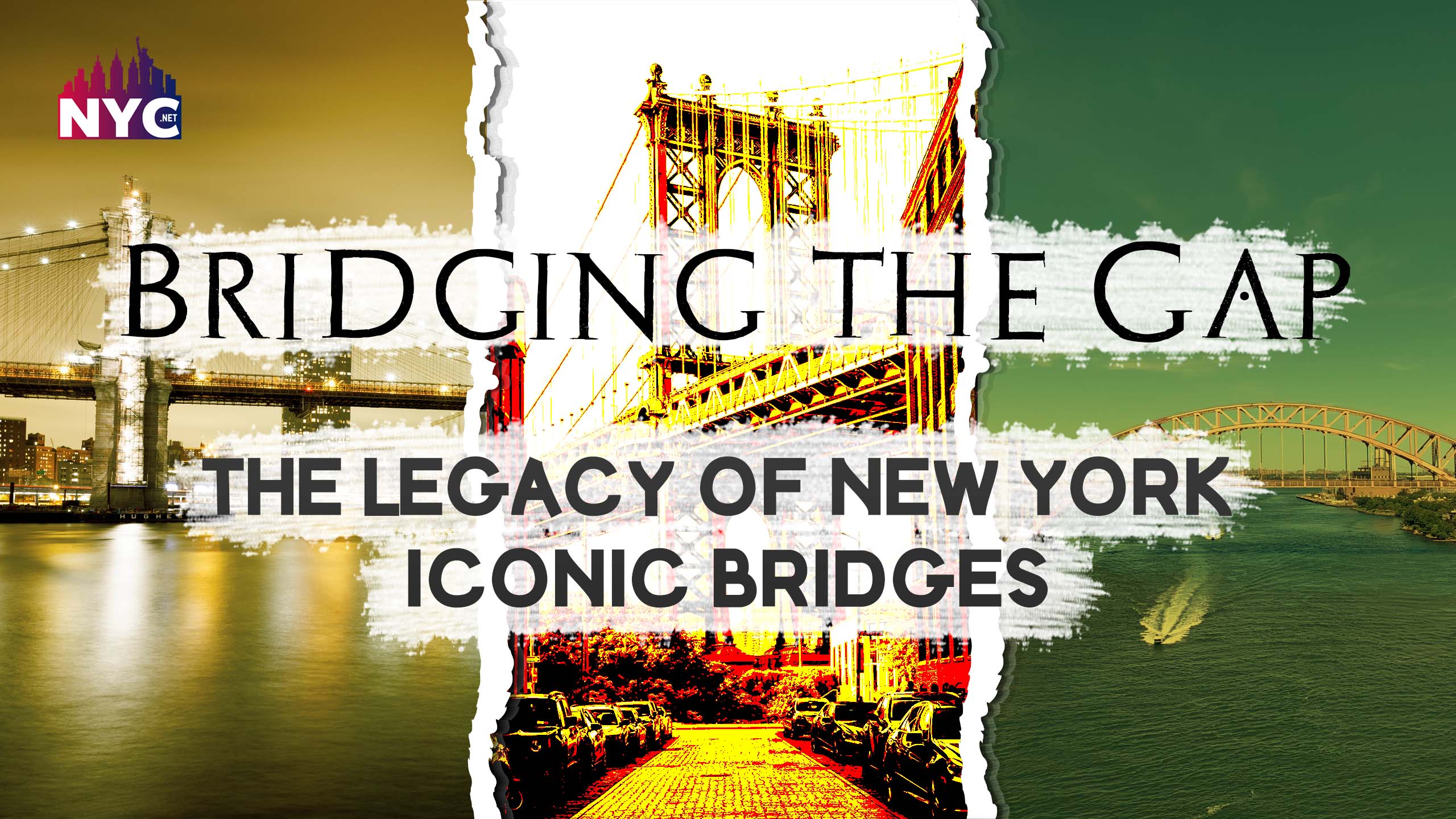 New York Iconic Bridges
New York is a heartthrob city with remarkable buildings, historical places, entertainment grounds, and many other fascinating sights. It is also home to many New York Iconic bridges that are famous worldwide. People from all around the globe are forever anxious to go to these bridges and learn more about their history and legacy. 
The aesthetics of these iconic bridges ultimately increases when people learn more about their locations. The Islands situate many lie over rivers and others. 
While no doubt, they add to the beauty of the town and make it even more pleasing, these bridges play a major role in the convenience of people of the town. They are adapted to connect two places: Staten island with its nearby places or fort lee with Manhattan. Some even bridge the gap between New York City Boroughs. 
From Brooklyn Bridge to the George Washington Bridge, you might have seen these structures featured in countless movies, tv shows, paintings, and photographs. Thus they play an integral role in promoting the heritage culture of the infamous NYC. 
This guide will cover some of New York Iconic bridges to learn more about their architecture, legacy, history, and aesthetics. 
Gear up for the ride along with us: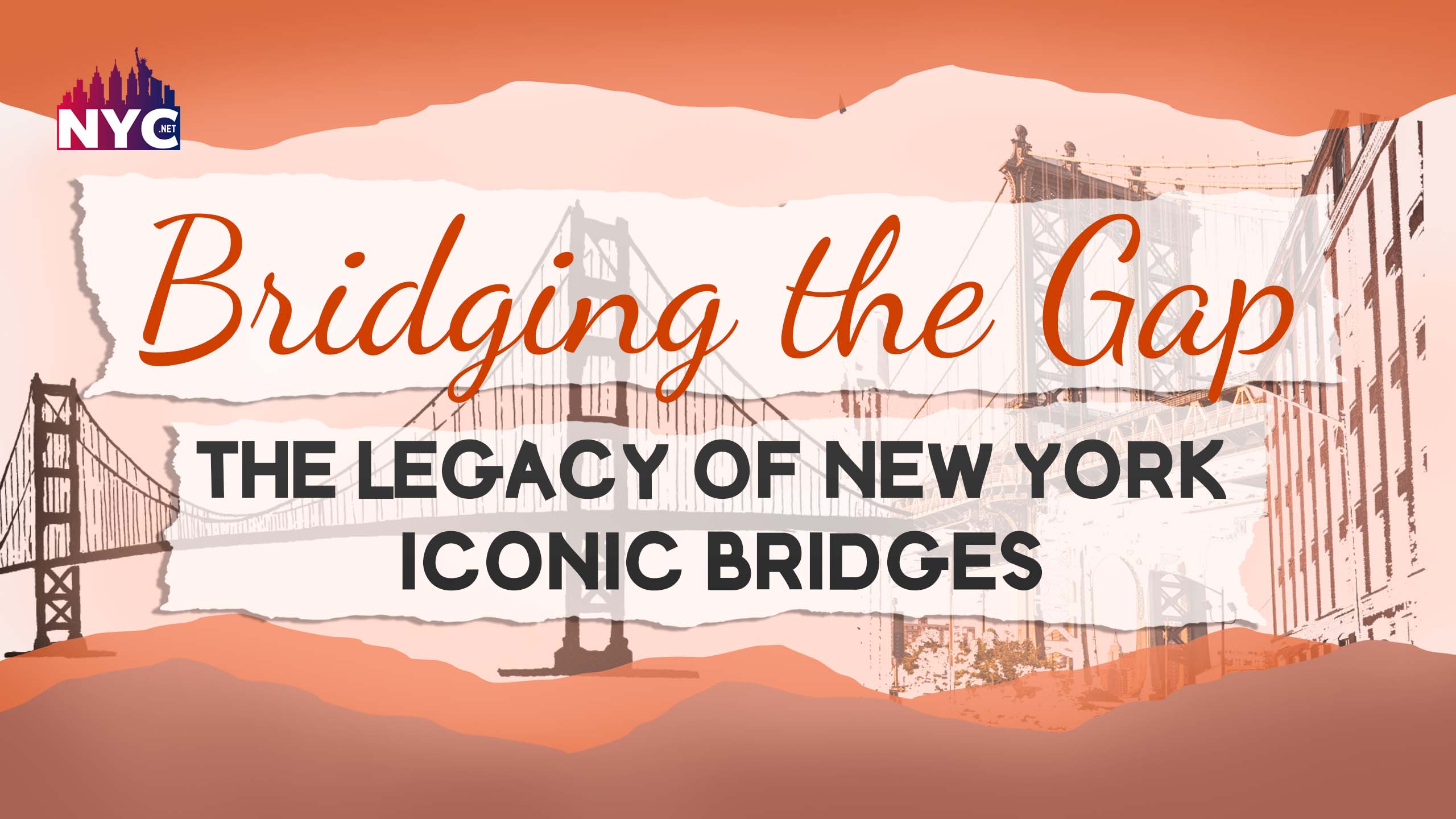 Brooklyn Bridge:
History:
The Brooklyn Bridge is one of the oldest and most easily recognizable bridges located in New York. Most of us are familiar with it through films or tv shows where it finds a special place. With the way its aesthetics are crafted, it doesn't deny that Brooklyn Bridge has a special place not only in media but also in the hearts of many. 
It is one of the most iconic landmarks with a rich history that dates back to its construction in late 1800. This first steel-wire suspension bridge was completed in 1883 and ran along the East River while connecting the boroughs of Manhattan and Brooklyn simultaneously. 
The construction of this bridge first started in 1870 but was plagued by many major setbacks. However, it ended up being one of New York Iconic bridges at the cost of $15 million.
Architecture:
This bridge's architecture and engineering were revolutionary for that time, with it being the masterpiece of 19th-century engineering. Its architecture is 1595.5 feet which is 486.3 meters tall, with a pedestrian walkway for walking and cycling purposes. John Augustus Roebling, the designer of this famous bridge, was inspired by the ancient bridges of Asia and Europe. You will find much of those inspiration incorporated in his work on the Brooklyn Bridge.
Aesthetics:
The aesthetics of this bridge holds with two gothic-style stone tower that soars above the river along with the four steel cables that support the roadway. These cables are anchored in the stone towers and attached to the roadway through suspenders. The most aesthetically pleasing factor of the bridge is its wooden roadway providing a clear view of the river and city skyline.
Even today, it remains one of the most popular tourist attractions in the city and is recognized as a National Historic Landmark.
George Washington Bridge:
Next to the list of New York's Iconic Bridges is the eminent George Washington Bridge. 
History:
This bridge comes with an ancient evolutionary history residing on its shoulder as it takes upon the name of a famous personality. George Washington was the first president of America who inspired the name of this bridge. 
Designed by Othmar H. Ammann, this suspension bridge connects New York City to New Jersey across the Hudson River. Though the construction of this bridge initially began in 1927, it still took four years to complete. Hence, it opened on October 24, 1931. 
Not only is this bridge beautifully crafted, but this is also the only bridge that holds too much traffic than any other. Thousands of vehicles pass through it throughout the day, and it is not expected to decrease anytime soon.
Architecture and Aesthetics:
George Washington Bridge was the longest suspension bridge at its completion, with a main span of 4,760 feet (1,450 meters) long. The aesthetics of this bridge make it the most beautiful suspension bridge in the world. With its two main spans anchored in concrete and steel towers, its roadway is suspended from steel cables and supported by steel trusses. 
It is yet still one of the favorite sites and busiest pathways of New York, almost equivalent to the Empire State building. 
Manhattan Bridge:
History:
Another of New York's Iconic Bridges includes Manhattan Bridge. You are missing out if you haven't heard enough about it. This legendary bridge spans the East River and connects the boroughs of Manhattan and Brooklyn. It shares the mutual boroughs with the Brooklyn bridge since it is located in its north. 
The construction of this iconic bridge took 8 years, from 1901 to 1909, but it ended up being the legendary bridge of all time. The hard work, dedication, and undeniable creativity are quite visible in the artwork of the famous designer; Gustav Lindenthal. Finally, the architect Henry Hornbostel designed the decorative elements of the bridge's towers and anchorages.
Architecture and Aesthetics:
It is a steel arch bridge that is dignified and renowned for its explicit artwork and architecture. The elegant design and engineering associated with this bridge help it outstand many others. It will catch your eye even from miles apart. The bridge's main span is 1,470 feet (448 meters) long and has four steel cables supporting the roadway. 
This single-deck bridge provides enough subway lines for vehicles to pass easily. People from all over the town adore passing the bridge daily due to how aesthetically pleasing it has been shaped. 
Williamsburg Bridge:
Ever heard about Williamsburg Bridge? Well, who hasn't? If not in person, you must have seen it in famous American Tv Shows and films. 
History:
The Williamsburg bridge's history traces back to 1896 when it first began its construction. However, it holds the record for the longest suspension from 1896 to 1924. The project faced numerous challenges, including financial difficulties, labor strikes, and technical issues during the design and construction.
Despite these setbacks, the bridge was completed within the planned timeframe and budget. 
Architecture and Aesthetics:
At its opening, it was the longest suspension bridge in the world, with a total length of 1.6 miles and a main span of 1,600 feet. Its architecture was led by the engineer Leffert L. Bucke who incorporated exquisite ideas to renovate the bridge at the utmost standards. Its design was considered state-of-the-art at that time and was the first ever bridge to use steel wires for its main cables. Furthermore, the two stone towers are also connected by four steel cables. It was also the first suspension bridge designed to carry both vehicular and railway traffic, and despite his renovations, it has been loved heavily by the people of New York. 
Queensboro Bridge:
History
Also known as the 59th Street Bridge, it is a cantilever bridge that connects the boroughs of Manhattan and Queens. Gustav Lindenthal, the designer of the Hell Gate bridge, used his remarkable skills to design this bridge. Following its construction, this bridge came into being in 1909.
Architecture and Aesthetics:
This steel truss bridge is highly famed for its unique design and distinctive architecture that has the eyes of the world set on it. The bridge's main span is 1,182 feet (360 meters) long and has four steel trusses supporting the roadway. It is fascinating for people to see thousands of vehicles cross daily.
Final Thoughts:
While there is no denying that New York is a city of massive entertainment and lively people, it is crowded with worth-watching sights and remarkable histories reflected in these bridges. If you haven't had the chance to explore more about the state and New York's Iconic bridges, now is the time. The city is bound to make you fall in love with it.