Events
July 4th fireworks 2023 in New York City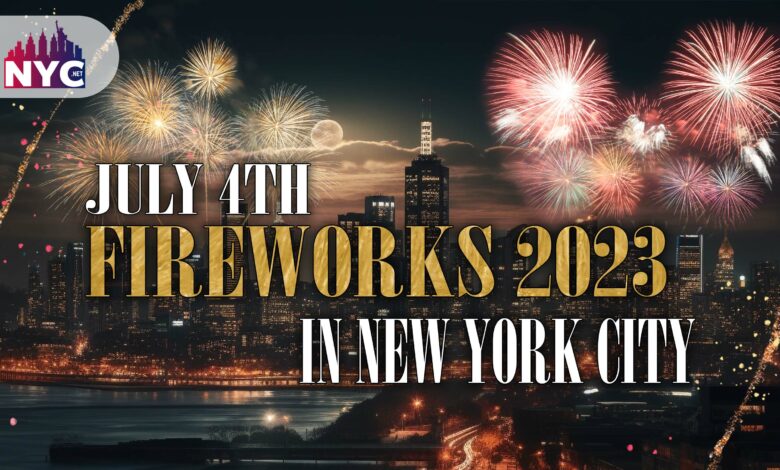 July 4th fireworks 
The Fourth of July is a momentous day in American history, commemorating the country's independence and celebrating the principles of freedom and liberty. Therefore, As the sun sets over the city's skyline that never sleeps, New York City's dazzling fireworks display illuminates the night sky. Hence, captivating the hearts of millions. So, July 4, 2023, promises to be an extraordinary celebration, as the city plans to deliver a breathtaking fireworks show that will leave spectators in awe. Hence, This article will delve into the details of the highly anticipated July 4th fireworks display in New York City.
July 4th Fireworks
Firstly, The fireworks display is set to be nothing short of extraordinary, with pyrotechnic experts working tirelessly to create a breathtaking show. Therefore, Advanced technology and cutting-edge techniques will deliver an unparalleled visual experience. 
However, Spectators can anticipate a mesmerizing combination of vibrant colors, dazzling patterns, and awe-inspiring formations that will light up the night sky. Hence, The show promises to be a visual feast, from cascading waterfalls of sparks to massive bursts of fireworks exploding above the river.
The Location
Furthermore, For years, the Macy's Fourth of July fireworks show has been a quintessential part of the Independence Day festivities in New York City. Hence, This year is also no exception, as the fireworks will light up the iconic East River again. So, Spectators can position themselves along the East River waterfront or find a vantage point in Manhattan, Brooklyn, or Queens to enjoy the spectacle. Additionally, Numerous public parks, rooftops, and even private parties also offer excellent views of the fireworks.
Moreover, There are a lot of other places where one can see the July 4th fireworks, like:
Macy's July 4th Fireworks
As mentioned above, Macy's will light up the East River again with the 47th annual Macy's Fourth of July Fireworks. So, At around 9:25 pm on Tuesday, July 4, Macy's will begin its signature pyrotechnic salute to America.
Hence, This year, five barges between E. 26th and E. 40th Streets along the East River will launch 60,000 shells and effects. Surely, Residents of three boroughs in New York City will have prime viewing of the spectacle.
Not only this but, The 25-minute public spectacle will feature shells of 30 colors and shapes synchronized to a refreshing musical score.
Coney Island Fireworks
Furthermore, Codey Island will also ignite with the most amazing July 4th Fireworks. 
Hence, For the great Independence Day, the Coney Island July 4 Fireworks Spectacular will be on Tuesday, July 4, at 9:30 pm at the Coney Island Pier at Boardwalk and West 15th Street.
Other Places to Watch the July 4th Fireworks
Moving forward, you can also watch the fireworks no matter where you are in New York. So, Here are some of the certain places to have the July 4th firework show:
Staten Island
Empire Outlets 4th of July Fireworks Celebration
Date: July 4
Location: Empire Outlets
Time: Festivities begin at 3 pm, and fireworks start around 9 pm.
Norwalk
Date: July 4
Location: McAninch Park
Time: Dusk
Hartford
Date: July 4 and July 8
Location: Dunkin Donuts Park
Time: After each Hartford Yard Goats game
New Britain
Date: July 4 (rain date July 5)
Location: Stanley Quarter Park
Time: 9:15 pm.
Middlebury
Date: July 4
Location: Quassy Amusement Park
Time: Dusk
New Haven
Date: July 4
Location: East Rock Park
Time: 9 pm.
Cornwall
Date: July 4
Location: Rings Pond
Time: 9:30 pm.
Kingston
Date: July 4
Location: T.R. Gallo Park
Time: 9:30 pm.
Mamaroneck
Date: July 4 (rain date July 5)
Location: Harbor Island Park
Time: 9:15 pm.
New Rochelle
Date: July 4
Location: New Rochelle Waterfront Parks
Time: 9:00 pm.
Nyack
Date: July 4
Location: Memorial Park
Time: 9 pm.
Hence, we hope wherever you watch it, you have fun1
Conclusion
in conclusion, The July 4th fireworks display in New York City is an annual tradition that symbolizes the enduring spirit of freedom and independence. Therefore, In 2023, the celebration promises to be an unforgettable experience, with a spectacular show of fireworks, breathtaking special effects, and a festive atmosphere. Furthermore,  As the night sky over the East River is set ablaze with dazzling colors, New Yorkers and visitors alike will come together to celebrate the nation's birthday in true patriotic style. So mark your calendars and get ready to witness a visual extravaganza that will illuminate the New York City skyline on July 4, 2023