Events
Get Ready to Party: MoMA PS1's Warm-Up Lineup is Here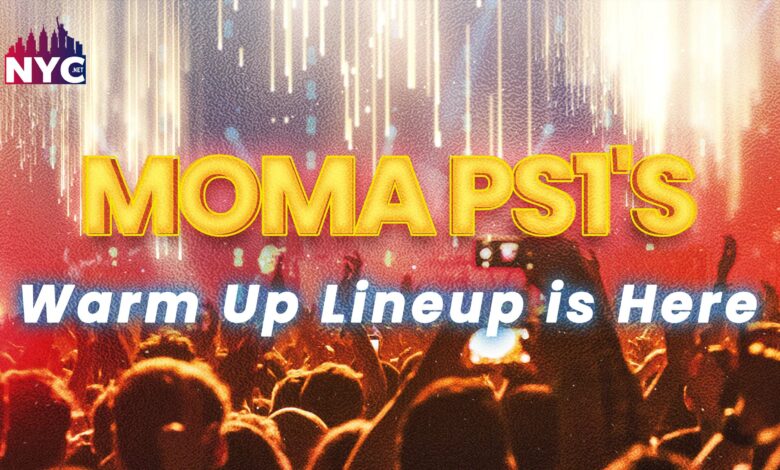 MoMA PS1's Warm-Up 
Summer is approaching, and it's time to start planning your party schedule. If you're looking for an unforgettable event in New York City, look no further than MoMA PS1's Warm Up! Hence, This annual music series has been a staple of NYC's summer scene for years, bringing together some of the hottest electronic and experimental music names. And now, with the 2023 lineup announced, it's time to get ready to dance under the sun at one of the city's most iconic museums. 
Therefore, From rising stars to seasoned veterans – this year's roster promises something for everyone!
So, Prepare to party as we dive into MoMA PS1's Warm Up Lineup 2023 NYC!
What is MoMA PS1 Warm Up?
Firstly, MoMA PS1's Warm Up is a popular music series that takes place during the summer season in New York City. However, This event brings together some of the most talented musicians and DJs worldwide to perform at MoMA PS1. It is also one of America's oldest and most respected contemporary art institutions.
Furthermore, The main goal of MoMA PS1's Warm Up is to provide a platform for emerging artists and experimental sounds while also celebrating established names in:
 electronic, 

hip hop, 

house, 

techno, 

and other genres. 
Hence, With an emphasis on diversity and inclusivity, this event attracts a diverse crowd of music lovers from all backgrounds.
Location and Time
Moreover, The 25-season warm-up lineup will bring much joy to Long Island City from:
5 pm to 1 pm on Friday evenings from July 21 through August 25.
Artists to Perform
Furthermore, for MoMA PS1's Warm up lineup, the featured artists are:
 legendary Brooklyn-based DJ 

 producer Frankie Bones 

 New York-based DJ Bobby Beethoven, 
Moreover, there are also performers from further afield, such as:
 Parisian DJ/producer Crystallmess, 

Congolese-Belgian electronic musician Nkisi, 

and Moroccan-born composer Bergsonist.
Exceptional Art Work
Apart from great music performances, attendees can enjoy outdoor installations created by up-and-coming visual artists. There will also be many great artworks by the most talented artists like:
The Courtyard's newly commissioned stage design by artist Raque Ford 

avant-garde installations by Chuquimamani-Condori and Joshua Chuquimia Crampton,  
Moreover, people can also delight in exhibitions by artists:
 Daniel Lind-Ramos, 

Iiu Suriraja, 

Onyeka Igwe 

and Malikah. 
Hence, Combining innovative art exhibits with live music shows creates an immersive experience. Moreover, it appeals to creative professionals and casual fans alike.
MoMA PS1's Warm Up offers something unique for everyone who loves good music and cutting-edge culture. Whether you're looking to discover new talent or want to dance under the sun with friends, this event promises unforgettable memories every year!
Ticket Information
Are you excited to attend MoMA PS1's Warm Up Lineup 2023 NYC? Then it's time to grab your tickets! Here is everything you need to know about ticket information.
The tickets are available for purchase online through the official website of MoMA PS1. Check their social media pages and newsletters, as they sometimes offer exclusive deals and early-bird prices.
There are $15 general advance tickets, $12 for MoMA members and students, and free tickets for Long Island City residents with proof of residency in ZIP codes 11101 and 11109.
Hence, get your tickets now!
Further Details
Dates                                                          
Jul 21 and 28
Aug 4, 11, 18, and 25
5 – 10 pm.
Location
MoMA PS1
22-25 Jackson Ave
Queens, Long Island
11101
Contact:
718-784-2084
Transport:
Subway: G, 7 to Court Sq
Price:
Suggested donation $10, seniors and students $5, children under 16 free
Conclusion
As we come to the end of this article, it's clear that MoMA PS1's Warm Up Lineup for 2023 NYC will be an event to be noticed. With a diverse range of artists and genres, there will be something for everyone.
Whether you're a fan of electronic music, hip-hop, or experimental sounds, the lineup promises to deliver an unforgettable experience. And with tickets available soon, now is the time to start planning your summer party schedule!