News
Love and Beyond; Riker Island Prisoners Reunion with their kids outside of Jail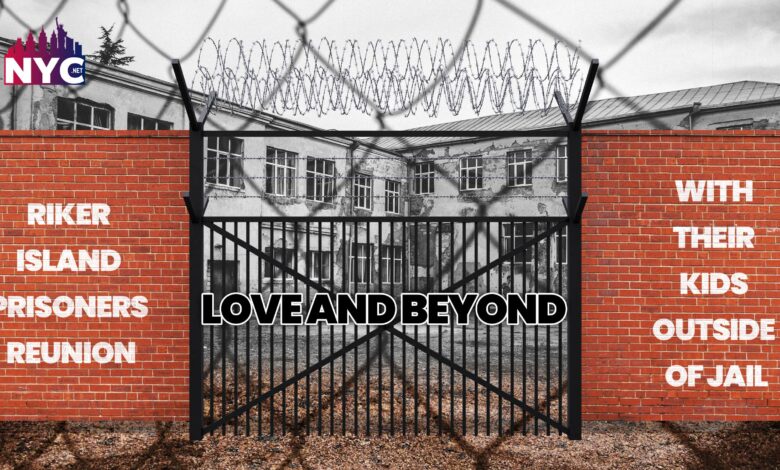 Riker Island Prisoners 
Rikers Island, the notorious jail in New York City, is infamous for its harsh conditions and high population of prisoners. However, amidst the bleak landscape of incarceration on this island lies a glimmer of hope – The Children's Program. This unique initiative offers Rikers Island prisoners an opportunity to spend quality time with their children outside the prison walls. 
In this blog post, we will explore how:
this program

The security measures

Reactions of People

and how it benefits both the prisoners and their children. 
So buckle up as we take a heartwarming journey into exploring this:
A one-of-a-kind program that gives Rikers Island prisoners a chance to visit their children outside the jail!
Riker Island Prisoners Reunion with their Kids 
It's a unique initiative taken with the partnership with the Children's Museum of Manhattan and a philanthropy called 'Robin Hood.' 
Hence, according to this program, several prisoners from Riker Island got a chance to leave their jail temporarily and visit their children outside of their hell hole. 
It might seem unusual, and sure it is, but it happened. 
In 2018, this event was only open to mothers, but now it is also open to fathers. Only a few approved parents take part each time. On a Monday afternoon at the Children's Museum of Manhattan, nearly 130 parents experienced this.
Security Measures
While you may be thinking of security concerns when letting the prisoners outside the jail. It is a legit concert, undoubtedly. However, proper security measures were ensured. 
The incarcerated fathers were brought in with handcuffs by correction officers. There were some in plain clothes and others in uniform. Moreover, these correction officers were everywhere to ensure no such threat came to life. 
Reactions of the Public and Officials
This decision was indeed unusual. Hence, it wasn't uncommon to see many varied reactions from people. While some might be against it, others appreciate it. It is especially true for the children and families of those prisoners. 
It was a total surprise to one daughter to see her father at the Children's Museum on Monday.
Here is what people have to say about the decision:
Louis Molina, Commissioner of the New York City Department of Correction, said, "This melts your heart to see how much unconditional love these children have for their parents."
Moreover, Molina further adds, " We want to make sure that the bond between a parent and child is still strong, not the children," 
Some of these families haven't been able to get together for months or years, and it's great to facilitate this program for them," said Kaylynn Mayo of the Children's Museum of Manhattan.
This is something I want to share with the whole world," a Bronx grandmother said. "I think this is a wonderful program for community members, and for the children to see their parents is priceless." 
Lastly, Molina calls it, "This is very pro-family, and if we want to change the trajectory of criminal justice and incarceration, we must save this generation."
We are more than eager to see how it plays out!
how it benefits the prisoners and their children
The Children's Program at Rikers Island doesn't just benefit the children; it also benefits their incarcerated parents. By providing an opportunity for these individuals to visit with their children, they can maintain a connection that is often lost during periods of incarceration.

For prisoners, being separated from their children can be incredibly difficult and emotionally taxing. The program allows them to see their kids in person, which can help ease some of the stress and anxiety associated with life behind bars.

Additionally, the program helps promote positive behavior among prisoners who participate. By giving them a chance to connect with their families outside of jail walls, it encourages good behavior. It motivates inmates to work toward rehabilitation and reintegration into society upon release.

For children, seeing their parents in prison can be extremely traumatic. However, by participating in this program, they get to spend quality time with them outside of jail grounds where they feel more comfortable and safe. This provides a sense of normalcy that is crucial for maintaining healthy relationships between parent and child despite the difficult situation.

This program is beneficial not only for those involved but also for society as a whole by promoting family connections that will ultimately lead to reduced recidivism rates once these individuals are released back into communities.
Conclusion
The Children's Program at Rikers Island allows incarcerated parents to maintain a meaningful relationship with their children. The program creates a sense of normalcy for these families during what is undoubtedly a challenging time in their lives. By giving prisoners a chance to visit their children outside of jail, this program helps improve family dynamics and reduce recidivism rates.

It is important that we continue to support programs like these that aim to improve the quality of life for both inmates and their loved ones. While it can be easy to forget about those behind bars, initiatives like the Children's Program remind us that everyone deserves access to basic human rights and opportunities.

We should strive towards creating more rehabilitation-focused solutions like this one, as they offer hope and progress towards reducing crime rates while supporting individuals in need. Let us take inspiration from successful programs such as this one and work together towards creating positive change in our society!