News
Tackling Congestion Pricing; MTA receives final federal approval.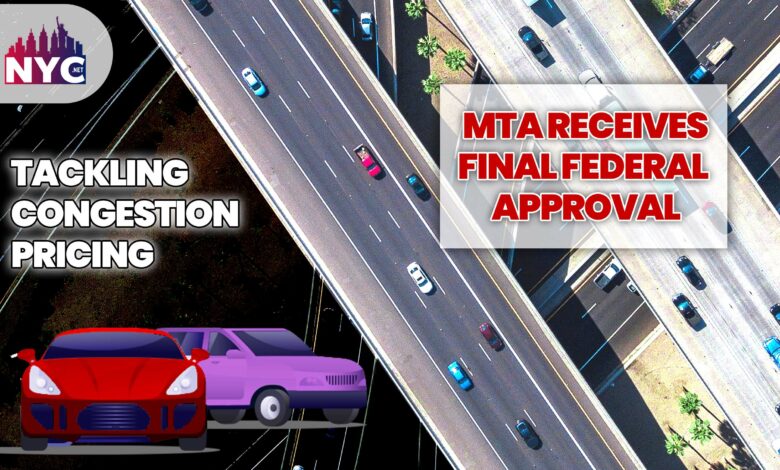 Congestion Pricing approval.
Have you heard of the congestion pricing approval by the Federal in NYC? Let's find out more.
Get ready, New Yorkers! Significant changes are coming to the streets of the Big Apple as the Metropolitan Transportation Authority (MTA) received federal approval for congestion pricing on Monday. This groundbreaking initiative promises to reshape how we navigate and commute within one of the world's busiest cities. 
In this blog post, we'll dive deep into:
 What congestion pricing is all about,

Congestion Pricing Approval

When will it implement

Significance of congestion pricing approval

And Opposition 
So buckle up as we explore the ins and outs of congestion pricing approval. Hence, Say hello to a new era in urban mobility!
What is congestion pricing?
Congestion pricing, also known as "value pricing" or "demand-based pricing," is a strategic approach to reduce traffic congestion in urban areas. This inventive method entails charging drivers a fee for utilizing specific roadways during peak hours when the demand is highest.
By implementing this system, cities can effectively manage and control the flow of vehicles on their busiest streets. The ultimate goal is to encourage people to find alternative means of transportation – such as public transit, biking, or walking – thus decreasing overall traffic volume.
Congestion Pricing Approval
Furthermore, recently on Monday, the MTA received final approval to implement congestion pricing n an effort to:
 reduce traffic, 

improve air quality 

and raise funds for public transportation,
The Metropolitan Transportation Authority overseeing the long-stalled plan will decide the exact toll amount for drivers entering Manhattan south of 60th Street depending on one of several tolling scenarios. 
Hence, Congestion pricing has been given the green light by the Federal Highway Administration, which issued a Finding of No Significant Impact.
The MTA now has to decide how to implement the nation's first congestion pricing system, including what tolls to charge and which drivers will be exempt. 
When Will It Happen?
For starters, The state Legislature approved a conceptual plan for congestion pricing back in 2019. However, certain circumstances stalled the project:
the coronavirus pandemic, 

And a lack of guidance from federal regulators
However, the project might start at the start of 2024. Hence, New York City could implement similar tolling programs for highly congested business districts, following places like 
London, 

Singapore, 

and Stockholm.
Significance of the Plan
Furthermore, as mentioned earlier, the plan is expected to be significant for many factors like traffic and air quality. 
Similarly, In a statement, Gov. Kathy Hochul said congestion pricing would help reduce traffic downtown, improve air quality, and provide the MTA with vital resources. Furthermore, she adds that she is proud of their thorough environmental assessment process in addition to responding to thousands of comments from community members across the region. Having received federal government approval, we look forward to implementing this program."
Moreover, The new tolls are expected to generate another $1 billion yearly. Hence, these will be utilized to:
 upgrade the subway, 

bus and commuter rail systems operated by the MTA.
Opposition and Criticism of the Plan
Unfortunately, the plan has been highly exposed to profound criticism by the officials in New Jersey. Some MTA proposals have included caps on tolls for taxis and other for-hire vehicles. 
Moreover, Taxi and car service drivers have also opposed the proposal, saying it would make fares unaffordable.
Furthermore, The New Jersey Legislature is threatening legal action by some elected officials. A statement released by Senator Menendez, Congressman Gottheimer, and Congressman Pascrell expresses outrage, calling it a 'cash grab to fund the MTA,' and stating that the Federal Highway Administration and the Department of Transportation have failed to require New York to engage with New Jersey stakeholders meaningfully.
According to Malik James, the increase in transit costs will disproportionately affect low-income Black, Latino, and Asian individuals in transit deserts.
Moreover, in the statement, Sabil Manai says, "I urge you to reconsider for the livelihoods that depend on mass transit and take into account the students who are the future of this city,"
Additionally, Betsy Lindor also urges the MTA not to raise fares. She argues that congestion pricing will benefit the MTA but also hurt commuters. 
"The cost is too much for people like us to pay out of pocket, and it isn't fair because it always falls on consumers," Lindor said.
However, the final approval means that MTA can start setting up the tolling infrastructure, which will take about a year. Meanwhile, further public hearings will determine the dollar amounts and exemptions.
Conclusion
In hindsight, the Final federal congestion pricing approval is a significant change. However, we are still waiting to see how its implementation unfolds. 
Meanwhile, we are waiting for any further news on this matter.