News
A Look Into Mayor DeBlasio's Ambitious $1 Billion Plan For Life Science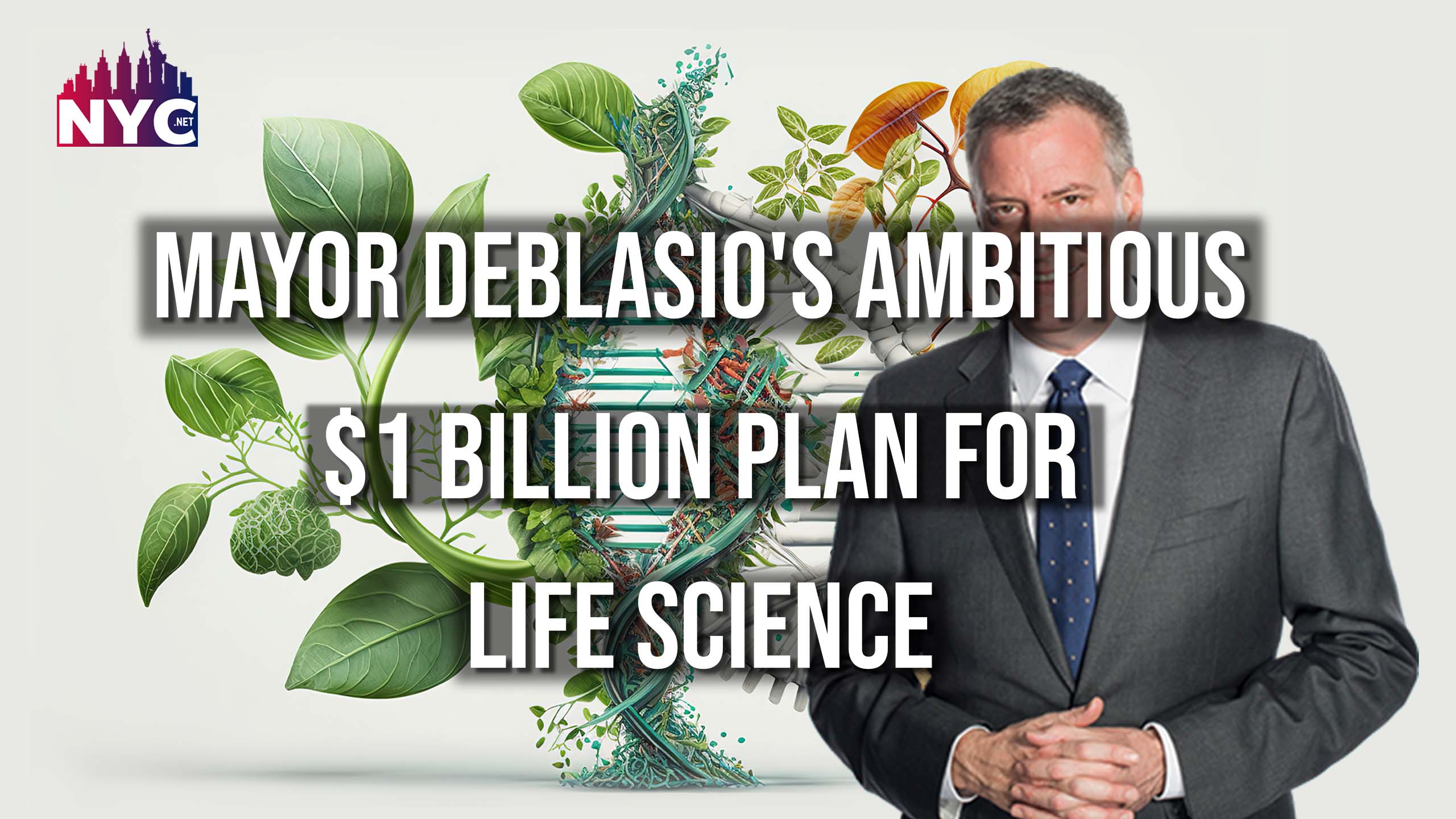 Mayor DeBlasio's Ambitious
New York City's Mayor DeBlasio's ambitious $1 Billion plan to invest in the life science industry is breaking records. This ambitious initiative aims to position New York as a leading hub for scientific innovation.  It will also create thousands of high-paying jobs.
However, what does this plan entail, and how will it impact the city's economy? 
Hence, join us as we look closer into Mayor DeBlasio's Ambitious, bold vision for the future of life sciences in NYC.
The Problem DeBlasio is Trying to Solve
In his $1 billion life science plan, Mayor de Blasio is trying to solve several problems. 
Firstly, he wants to create jobs and grow the economy. The life science industry is rapidly increasing, and May DeBlasio's ambitious plan wants to ensure New York City is at the forefront. 
Moreover, he also wants to increase access to quality healthcare in terms of research and treatment. 
And finally, he wants to make New York City a more attractive place for life science companies.
Therefore, to achieve these goals, DeBlasio has proposed several initiatives. 
First, he plans to invest $500 million in new life science research facilities at city-owned hospitals. It will also create jobs and attract more top researchers to New York City. 
Secondly, he plans to build a $250 million fund for early-stage life science companies. Doing so will help these companies get off the ground and create even more jobs. 
Thirdly, DeBlasio plans to invest $100 million in making New York City's infrastructure more attractive to life science companies. This includes improving broadband access and expanding the city's incubator program.
Additionally, The mayor's ambitious plan has garnered support from many in the life science community. If successful, it could have a transformational impact on New York City's economy and healthcare system.
The current state of life science in NYC
In May 2018, Mayor DeBlasio unveiled an ambitious $1.7 billion plan for life science in NYC. The plan aims to make NYC the global epicenter for life science and health technology by attracting and retaining top talent. It aids in fostering collaboration between academia and industry and investing in state-of-the-art infrastructure.
The plan includes several initiatives aimed at achieving these goals, including:
•Creating a $500 million Life Science Capital Fund to invest in capital projects. It will support the growth of the life science sector in NYC

 Establishing a Life Science Corridor along First Avenue from East 34th Street to East 42nd Street. It will also provide new lab space, academic research facilities, and startup incubators.

 Investing $100 million in wet lab space at City College of New York's new Harlem Biospace facility

 Moreover, launching a competition to identify sites for a new life science campus on city-owned land. Doing so would provide up to 1 million square feet of space for research institutes, academic institutions, and life science companies.
DeBlasio's plan for life science in NYC
New York City Mayor DeBlasio's ambitious $500 million plan to make the city a world leader in life sciences.
The plan, announced at the New York Academy of Sciences, includes the following:
Creating a new Life Science NYC 2020 master plan.

Investing in new infrastructure and research facilities.

Providing financial incentives to attract life science companies to the city.
"New York City is already a global center for information technology, fashion, finance, media, and the arts," said de Blasio. "Now we want to add life sciences to that list."
De Blasio's plan will be funded by private and public money, including $100 million from the city's coffers. The remaining funding will come from philanthropic organizations, academic institutions, and the private sector.
The mayor believes the plan will create thousands of jobs and generate billions of dollars in economic activity. He thinks it will position New York City as a leading life science research and development destination.
The Different Parts of the Plan
Mayor DeBlasio's Ambitious $8 billion life science plan has four pillars:
investing in infrastructure,

attracting and retaining talent,

fostering innovation,

and growing the sector.
Infrastructure investment includes building a new life science campus on New York City-owned land in Manhattan and renovating existing borough facilities. The city is also committing to expanding broadband internet access for researchers and providing tax incentives for companies that locate here.

The second pillar is attracting and retaining talent. The city plans to invest in training programs and offer resources to attract top life science talent globally. Additionally, de Blasio's administration is exploring ways to keep students studying science and engineering in New York City after graduation.
The third pillar, fostering innovation, supports early-stage companies and startups through incubators and accelerators. The city is also working to connect life science researchers with potential investors and customers.
Finally, the fourth pillar is growing the sector. This includes developing new clusters of life science activity outside of Manhattan. Moreover, it will also promote the industry to increase awareness of New York City as a global life science hub.
The Pros and Cons of the Plan
With the announcement of Mayor DeBlasio's Ambitious $500 million life sciences plan last month, the city's business and academic leaders quickly praised it. The 10-year-old city initiative aims to make New York a global hub for the life sciences. The mayor's office says it has already attracted $2 billion in private investment and created 4,000 jobs.
The plan has four main components: 
Investing in research and development, 

Attracting and retaining talent, 

Supporting entrepreneurship, 

Building infrastructure. 
The investments are funded by the city's pension funds, which de Blasio says will earn a good return while helping to grow an important industry.
There are some concerns about Mayor DeBlasio's Ambitious plan, however. Some worry that the city is playing catch-up regarding the life sciences. Others say the investments are too risky and could cost taxpayers if they don't pan out.
But overall, there is broad support for the plan. Many see Mayor DeBlasio's Ambitious plan as a much-needed boost for an industry. Moreover, they believe it has tremendous potential to create good-paying jobs and help drive the city's economy forward.
How the Plan Could Impact New York City
The de Blasio administration's $1 billion plan to invest in life science research could significantly impact the city's economy. The project, unveiled in February 2017, calls for creating a new life sciences hub in Manhattan and developing new incubators and accelerators to support startups.
The life sciences sector is a crucial driver of economic growth in New York City. It accounts for more than $30 billion in annual economic activity. The city is home to world-renowned research institutions like:
Rockefeller University

Weill Cornell Medicine,

and pharmaceutical companies like Pfizer and Merck.
The mayor's plan would build on this strength by creating a dedicated life sciences campus in Manhattan. It is done so researchers, startups, and established companies can collaborate and commercialize discoveries. 
Furthermore, wo new research institutes will anchor the campus: 
the NYC Life Sciences Initiative focused on developing cures for diseases,

 and the Applied Sciences NYC initiative focused on developing new technologies with commercial applications.
In addition to the campus, the mayor's plan calls for the creation of incubators and accelerators to support early-stage life science startups. These programs provide access to funding, mentorship, and other resources to help these businesses grow.
The city has already begun implementing some aspects of the plan. In September 2017, the city announced that it had selected Cornell University to develop.
Conclusion
Mayor DeBlasio's Ambitious plan to create a life science hub in New York City is an investment that can bring new jobs, businesses, and research opportunities to the city. By offering tax incentives for companies investing in this sector, the mayor hopes to attract more talent and resources. Thus, creating an environment for innovation and growth could help New York become a leader in life sciences. 
This plan is one step towards securing future investments from all parties involved. It will undoubtedly affect local businesses and those looking for alternative career paths.