News
NYC Maps and Directions for Tourists and Locals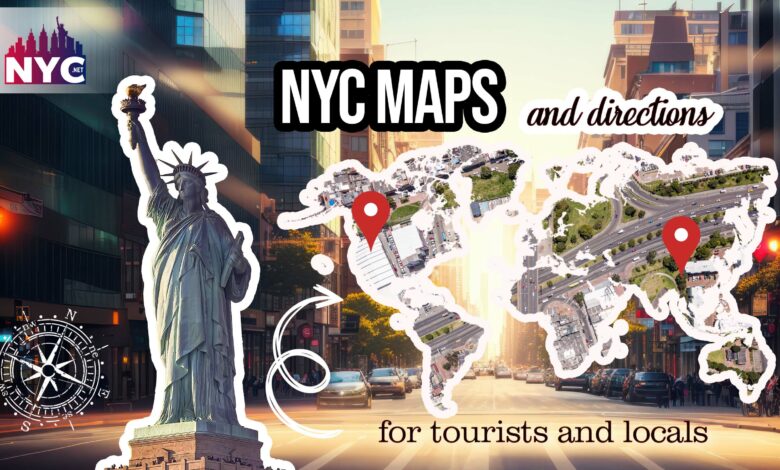 NYC Maps and Directions
Afraid to get lost? Worry not; everything is at your fingertips with these NYC Maps and Directions. 
Navigating the bustling streets of New York City can be daunting for tourists and locals alike. With its intricate layout, diverse neighborhoods, and endless attractions, having access to reliable maps and directions is crucial for successfully exploring the city.
Fortunately, numerous resources are available to help visitors and residents find their way around the Big Apple. 
This article will talk about the various NYC maps and directions options that cater to the needs of both tourists and locals. Moreover, we will also walk you through some famous NYC attractions and their locations for your ease. 
Hence, stick with us till the end to find out more: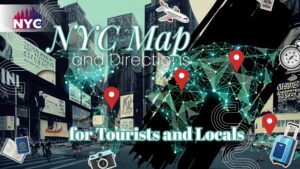 NYC Maps and Directions:
Before you start your ever-so-awaited trip to NYC attractions, you must know about the NYC maps and directions. With a city as massive as it is, it is not unlikely to get lost here. However, you will be fine if you know the famous attractions and their locations well. Similarly, it will be useful if you know about different maps and how to use them.
Therefore, for your ease, we have a few useful NYC maps and directions:
Official NYC Maps:
Firstly, let's begin with the Officinal NYC Maps. 
The official source is the first place to start when looking for NYC maps and directions. The NYC Department of City Planning offers a comprehensive selection of maps that cover the entire city. These maps provide detailed information on the following:
 neighborhoods, 

streets, parks, 

and landmarks of New York City. 
Simultaneously, they are also available in print and digital formats for your convenience. Moreover, you can also obtain them at various city offices or download them from the official website. 
The official maps are regularly updated, ensuring accuracy and reliability. Hence, no need to contemplate its directions. 
Mobile Apps:
In the age of smartphones, mobile apps have become an essential tool for navigating cities. NYC is no exception, with several apps designed to assist tourists and locals in finding their way around. One popular app is "NYC Map & Walks," which offers:
 interactive maps, 

walking tours, 

and detailed information about attractions, restaurants, and public transportation. 
Apart from it, you can also use "Google Maps,." It is another great application that provides real-time navigation and public transit options. In addition, it even suggests the fastest routes based on current traffic conditions. These apps are user-friendly and offer offline capabilities, ensuring users can access maps and directions without an internet connection.
Subway Maps:
Moving forward, let's talk about the infamous subway Maps. 
The New York City subway system is one of the most efficient ways to get around the city. Understanding the subway map is essential for tourists and locals, as it provides access to all five boroughs of NYC. Since it is one of the main means of transport, you must identify with it. Furthermore, The Metropolitan Transportation Authority (MTA) offers digital and print versions of the subway map. These versions can easily be found in subway stations, downloaded from their website, or accessed through the "MTA Subway Time" app. 
The subway map indicates:
 all subway lines, 

stations, 

and transfer points, 
Hence, planning routes and navigating the vast subway network are easier.
Neighborhood Maps:
Each neighborhood in New York City has a distinctive personality and draw. Maps of the area are a great resource for finding local hotspots and hidden gems. Detailed neighborhood maps are included in many NYC guidebooks, emphasizing the importance:
 landmarks, 

eateries, 

retail locations, 

and entertainment places. 
In addition, several websites and online platforms provide interactive neighborhood maps that let users explore various areas and get data about certain locations.
Walking Tours and Guides:
Both visitors and locals like exploring NYC on foot. To assist you in navigating the city's streets and learning more about its rich history and culture, there are several walking tours and guides available. Numerous neighborhoods are the subject of guided tours offered by businesses like:
 "Big Onion Walking Tours" 

and "Free Tours by Foot."
They emphasize their distinctive characteristics and historical importance. These tours frequently offer maps and directions to prevent participants from getting lost while taking in the full experience of strolling through the city.
Landmarks and Tourist Information Centers:
Lastly, another reliable source of maps and directions is the landmarks and tourist information centers scattered throughout NYC. It is useful to gather information about famous attraction spots around NYC. Hence, Landmarks have information kiosks that provide visitors free maps, brochures, and guidance. Some of those famous landmarks include: 
 Grand Central Terminal, 

Times Square, 

and the Statue of Liberty 
Additionally, the Official NYC Information Centers in Midtown Manhattan and City Hall offer comprehensive visitor information, including: 
maps, 

directions, 

And expert advice on navigating the city.
Worth-visiting Attractions in NYC and their locations:
Now that we have mentioned the NYC maps and directions let's jump onto the worth-visiting attractions. NYC is a heart of historical landscapes, beautiful attractions, and mouth-watering restaurants. However, you might need clarification about where to go in the buzz. 
When planning your trip to explore NYC, here are some of the key worth-visiting attractions you should enlist:
Times Square:
Firstly and most importantly, the times square. It is undeniably the heart of New York City. Constantly and 24/7, it is buzzing with the rush and excitement of people worldwide. With time, it has transformed into a symbol of the vibrant metropolis. Moreover, with its huge illuminated advertising hoardings, it is a star of many movies and other digital media. 
It is in one package packed with aesthetic restaurants, entertaining theaters, and historical museums. Undoubtedly, it is fun to visit during the day. However, it is truly magical at night when the lights of times square wash away the city's dark. 
Visiting here is almost impossible, with enchanting views and other fun things. In addition, the backdrop of countless movies and series makes it even more captivating. 
Location of Times Square:
It is not hard to find because it is one of the city's liveliest areas. However, for your ease, it sits at the intersection of Broadway and 7th Avenue. 
Empire State Building:
Moving ahead, we have the empire state building. It is another must-watch attraction in NYC. This giant house has about 102 floors and stands at a height of 381 meters. 
Since the unfortunate destruction of the twin towers, it has become the sixth tallest building in NYC. 
Moreover, the empire state building offers two observational desks for the magnificent city view. The first is on the 86th floor, while the second is on the 102nd. They provide a 360-degree view of the city, which is so magical. However, like everything else, it also comes with a price. Quite literally, since the first desk costs around US$ 42. Meanwhile, The second one costs an extra US$ 30.
Every year, millions of people worldwide come to enchant its magnificent beauty. For this reason, the queues for the observational desk are mostly massive in numbers. Hence, pre-booking your tickets is the best way to avoid these lines. You can easily do so online and download them on your smartphone.
 It is that easy. 
Location of the Empire State:
While we are on the NYC Maps and directions page, the empire state is on fifth avenue between 33rd and 34th Street. 
The Metropolitan Museum of Art (MET)
Furthermore, the Metropolitan Museum of Art is undoubtedly the largest and the most visited in New York. Its exciting artwork, historical collections, and masterpieces attract people to it. 
In addition, this museum is so famous that it is ranked in the world's top ten most visited museums. Can you imagine missing this worth-visiting place?
The Met houses artwork from classical antiquity, European painters like Monet, Cézanne, or Rembrandt, and modern art in its art galleries.
The ancient Egypt area, which includes a superbly recreated replica of the Temple of Dendur, contains some of the most unexpected items.
Location of the MET:
As for the MET, it lies on 82nd Street on the fifth avenue. 
It is not difficult to locate how famous it is. Every New Yorker might have it memorized. Hence, you can always ask the locals for guidance if your map needs to give proper directions. 
Madison Square Garden:
Last but not least, and my personal favorite, Madison Square Garden. Almost everyone has heard about it, especially if you are a music lover, since it is home to many prestigious concerts. 
However, it is primarily famous for sports, especially boxing. It has five floors and a huge capacity to accommodate 20,000 people seamlessly. 
Currently, ice hockey and basketball are some of the most popular sports game that happens in MSG. 
Furthermore, you can get a guided tour or even buy tickets to any show to visit the magic of this historical place. In addition, during the guided tour, you can also see the changing rooms, the stadium, and even the trophy room. 
It might be a little costly, but it is ultimately worth it. 
Location of MSG:
MSG is in Penn Plaza 4, New York. You can easily take the subway there. 
Conclusion:
In hindsight, it is always thrilling to explore New York. However, it would help if you had accurate NYC maps and directions to safeguard your trip. With the maps above, you can easily find your way to the most worth-visiting attractions in NYC. 
Whatever you do and wherever you go, we wish you luck. We hope you enjoy it to your best.