News
Explore the City That Never Sleeps: The Ultimate Maps and Directions Resource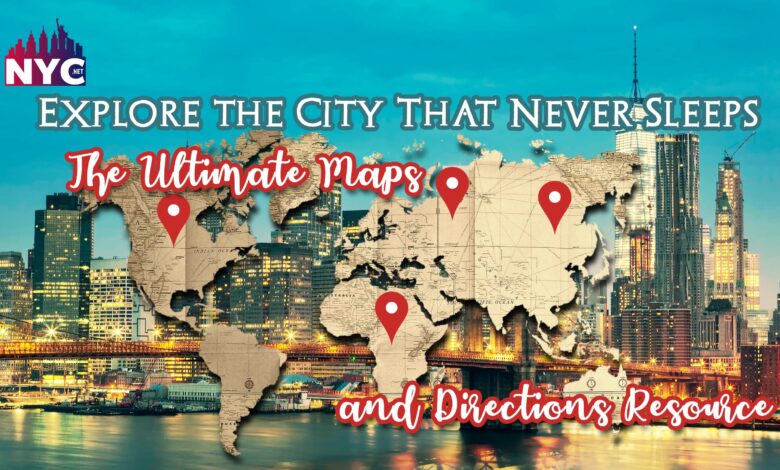 Maps and Directions Resource
Looking for some maps and directions resource in NYC? We got you!
New York City is undoubtedly a bustling metropolis with fascinating sights and sounds. Whoever called it a city that never sleeps spoke the hearts of millions. From towering skyscrapers to world-renowned museums, there'sthere's something for everyone in this vibrant city. But navigating through its busy streets can be quite challenging for newcomers. That'sThat's why we've created the ultimate maps and directions resource to help you get around the Big Apple like a pro! 
Hence, Join us as we deep dive into maps and directions resources in NYC!
New York City: The Basics
New York City, also known as The Big Apple or simply NYC, is the most populous city in the United States. Located on the country'scountry's eastern coast, it's home to over 8 million people and attracts millions of visitors yearly.
 The city has five boroughs: 
Manhattan, 

Brooklyn, 

Queens, 

Bronx 

and Staten Island.
Manhattan is perhaps the most well-known borough and is often called "the center of New York." It also has some of NYC'sNYC's most iconic landmarks, such as:
 Central Park,

 Times Square 

and Wall Street. Meanwhile,
 Brooklyn has become increasingly popular in recent years thanks to its trendy neighborhoods like Williamsburg and DUMBO.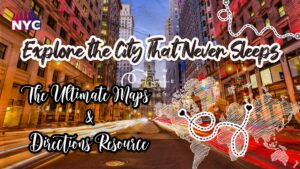 To get around New York City efficiently, you'll need a MetroCard, which can be used on all forms of public transportation, including buses and subway trains. Taxis are also available but expensive, especially during rush hours when traffic is at its worst.
Moreover, New Yorkers are known for their fast-paced lifestyle, so keeping up with them by walking quickly through crowded streets is important. But don'tdon't worry if you find yourself lost; asking someone for directions will almost always result in a friendly response!
In terms of weather patterns, NYC experiences all four seasons with:
 summer temperatures reaching highs of 85°F (30°C) 

while winter lows can drop down below freezing point (32°F/0°C). 
Hence, Be sure to check the forecast before heading out!
Getting Around New York City
New York City is a bustling metropolis, and getting around can be daunting for visitors. However, navigating the city with the right map, directions, resources, and information can be easy and stress-free.
For your ease, here are some things you can seek help from:
Firstly, New York'sYork's subway system is one of the most efficient ways to get around. With 24/7 service throughout all five boroughs, it's an affordable option connecting you to almost every city corner. Plus, there are various apps available that provide real-time train schedules and help plan your route.
If traveling by taxi or ride-share service is more your style, know that hailing a cab on the street is more challenging than it used to be. Many drivers now operate through ride-share services like Uber or Lyft instead. Having these apps downloaded on your phone beforehand is important so you're not stable to accessorization options.
For those who prefer biking or walking, see more of what this vibrant city offers while staying active at their own pace. Moreover, bike-sharing programs throughout many Manhattan neighborhoods allow riders access for short periods at a low cost!
Whether you choose public transit or other modes of transport such as taxis or bikes – make sure you research before starting!
New York City for Families
New York City is a great place for families to explore. The city offers countless opportunities for family-friendly activities, from visiting museums and parks to taking in a Broadway show or enjoying the local cuisine.
One of the must-visit destinations for families in New York City is Central Park. This iconic park boasts playgrounds, bike paths, lakes, and a zoo. It'sIt's an ideal spot for picnics and outdoor games during warmer months.
The American Museum of Natural History is an excellent choice for those interested in history and culture. With exhibits ranging from dinosaur fossils to space exploration, something is fascinating for everyone.
Taking a ferry ride to see the Statue of Liberty up close can be another exciting experience for kids and parents alike. Plus, it's an excellent opportunity to learn about America'sAmerica's rich history of immigration.
A visit to New York City would only be complete with indulging in some tasty treats like pizza or bagels with cream cheese, both classic staples that locals and visitors love!
New York City for Seniors
New York City may be known for its fast-paced lifestyle, but it's also a great destination for seniors. The city offers various activities and attractions catering to the older generation. There is something for everyone, from cultural experiences to leisurely walks in Central Park.
One popular attraction among seniors is the Metropolitan Museum of Art. This world-renowned museum has over two million works of art from across the globe, making it an ideal spot for those who love history and culture.
Another must-visit location is Central Park. The park spans 843 acres and provides beautiful views, plenty of walking trails, and picnic spots. It'sIt's perfect for taking a stroll or enjoying fresh air while enjoying the bustling atmosphere.
For those interested in history, Ellis Island and the Statue of Liberty are iconic landmarks that offer tours showcasing their historical significance to immigrants arriving in America during earlier times.
The city also boasts an array of Broadway shows suitable for all ages; catch one before heading out for dinner at one of New York'sYork's finest restaurants, where you can indulge in delicious culinary delights!
Whether visiting family or on your adventure, New York City welcomes visitors young and old alike!
Maps and Directions Resource
With a population of over 8 million people, it can be overwhelming for first-time visitors to navigate their way around the city. Fortunately, several resources are available to help you explore the city, including maps and directions. 
Here are some of them:
Google Maps
Google Maps is one of the most popular mapping resources available and for good reason. It is an interactive map that provides the following:
 real-time traffic updates, 

public transit schedules, 

and walking directions. 
With its incredible street view features, you can enjoy the city at a street level. Additionally, you can use Google Maps to plan your route before you leave your hotel, so you can get a sense of how long it will take to get to your destination.
Citymapper
Citymapper is another transit app that provides detailed directions for public transportation in New York City. It provides real-time data for subways, buses, ferries, trains, and bike-sharing services. Moreover, it is user-friendly and offers several options, including the quickest and most efficient route. Hence, you won'twon't have any trouble using it. It also provides alerts for service disruptions or delays, making it easier to navigate the city.
It is a useful resource for maps and directions if you are a starter.
NYC Subway Map
Moving forward, we have the subway system map. The New York City subway system is the largest in the world and is an efficient way to get around the city. However, the subway map can be overwhelming for first-time riders. The official NYC Subway Map provides a detailed guide to the subway system, including information on subway lines, stations, and service changes. 
Furthermore, the map is also available in several languages, making it accessible to tourists worldwide.
HopStop
HopStop is a mobile app that provides directions for walking, biking, or public transportation in New York City. It includes real-time transit schedules and alerts for service disruptions, making it easy to navigate the city. 
The app also provides estimated travel times to plan your trip accordingly.
MapQuest
Lastly, MapQuest is another excellent resource that can be used for navigating one'sone's way. It is an online mapping service that provides driving, walking, and biking directions. It also includes information on local attractions, restaurants, and hotels. 
Hence, MapQuest is a great resource for tourists looking for a more comprehensive guide to the city.
Conclusion
As we come to the end of exploring New York City'sCity's maps and directions resources, it's clear that this city truly has something for everyone. New York City offers endless possibilities, from families with young children to seniors looking for a new adventure.
Though New York could be fun to explore, it can also be intimidating without correct maps and directions. However, if you follow our resources, you can easily find your way around. 
So whether you're planning your first trip or returning for another visit, New York City is sure to delight and inspire you with its diverse cultures and endless opportunities for discovery.
We wish you the best!