News
The Future of Sports in New York: What to Expect in the Coming Years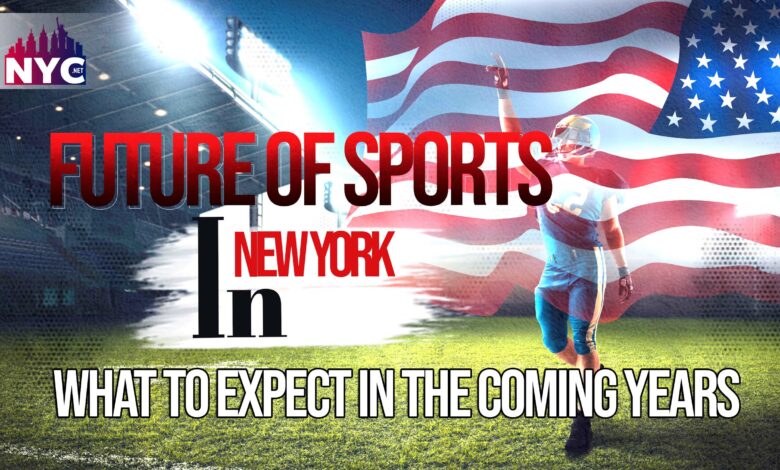 Sports in New York
Sports in New York have always been an integral part of the state's culture and economy. Simultaneously, New York boasts some of the most iconic sports teams in the world like:
The Yankees

The Mets 

The Knicks 

And the Nets. 
However, the future of sports in New York looks more exciting than ever. 
Therefore, this article will explore what to expect in the coming years. Moreover, we will also discuss the factors that can impact the future of sports in New York, along with some future predictions. 
Hence, gear up for an amazing ride with us: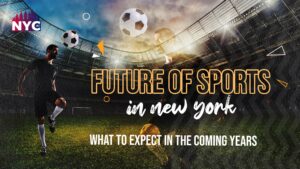 What to Expect in the coming years:
Sports in New York are ever-growing. Undoubtedly, we expect massive progress in the upcoming years. From the new stadium and innovative strategies to the decline in gender discrimination, we can expect a lot of optimism from the sports. 
Therefore, here are some of the things we can expect from the sports in New York:
New Stadiums and Renovations
The building of new stadiums and modifications to existing ones are trends that are set to continue in the upcoming years. Some of the nation's oldest stadiums are in New York City, requiring major renovations. The city has already seen some major renovations in recent years, such as:
 the $1.6 billion renovation of Madison Square Garden

and the $2.3 billion renovation of the Jacob K. Javits Convention Center.
In addition, there are plans to construct new stadiums in the region. It includes the one in Belmont Park that would serve as the New York Islanders' new home. The team would have cutting-edge facilities at the new stadium, which may also revive the neighbourhood. The New York City Football Club presently plays in Yankee Stadium and is also considering building a new stadium.
Esports in New York
Esports is a rapidly growing industry, and New York is well-positioned to take advantage of this trend. The city is already home to several esports organisations, including:
 The New York Excelsior

 And the New York Subliners
In addition, the city has hosted several major esports events, such as:
the Overwatch League Grand Finals 

and the Fortnite World Cup
Esports is particularly appealing to younger generations. Hence, New York could become a major destination for esports fans in the coming years. With the right investment and infrastructure, New York could become a hub for esports events, tournaments, and competitions.
Women's Sports
New York is at the vanguard of a recent trend that has seen women's sports receive increasing attention and support. There are two successful women's sports teams in the state such as:
The New York Liberty of the WNBA 

And the New York Riveters of the National Women's Hockey League 
Additionally, there are plans to develop women's sports in the state, including a professional women's football team at the brand-new New York City Football Club stadium. Furthermore, the New York Racing Association recently introduced the "Saratoga Showdown" to promote women in the sport. It is a weekly handicapping competition featuring only races from the Saratoga Race Course.
Factors that Will Shape Sports in New York:
In addition to the trends discussed above, several other factors will shape the future of sports in New York. 
Some of these factors include:
 advancements in technology, 

changes in fan behaviour, 

And the impact of COVID-19.
Advancements in Technology
Thanks to technology, the sports sector is changing in many ways, and New York is at the forefront of this development. 
For instance:
The city has previously used mobile ticketing and facial recognition technologies in various stadiums. 

AWS has also teamed with the New York Yankees and Brooklyn Nets to provide new analytics tools to enhance player performance and fan engagement.
As technology develops, we'll see even more cutting-edge solutions used in New York's stadiums and arenas. Technology will become increasingly integral to the fan experience, from customised concessions ordering to virtual reality experiences.
Changes in Fan Behavior
Another trend likely to shape the future of New York sports is changing fan behaviour. For example, younger generations are more likely to value experiences over possessions. Doing this could lead to increased demand for unique and immersive fan experiences. 
Additionally, the rise of social media has created new opportunities for fan engagement, such as virtual watch parties and interactive fan communities.
New York's sports teams must adapt to these changing fan behaviours to remain competitive. This could include investments in:
 new technologies, 

fan experiences, 

and partnerships with social media influencers and content creators.
The Impact of COVID-19
Finally, New York is no exception regarding how the COVID-19 pandemic has affected the sports sector. The epidemic cancelled or delayed numerous games causing the industry to suffer large financial losses. However, when vaccination rates rise, and restrictions are relaxed, the sports industry's activity levels will probably revert to more typical levels.
How games are conducted, and fans interact with stadiums and arenas may change temporarily. For instance, there might be an ongoing emphasis on mobile ticketing, contactless payment, and greater hygienic measures. 
However, we anticipate a long-term recovery and growth for the New York sports sector.
Sustainability:
Another important factor that will influence how sports develop in New York is sustainability. Many sporting organisations strive to become more environmentally friendly as worries about climate change and environmental effects continue to rise. This is also true in New York, where several sports organisations have previously tried to lessen their carbon footprint.
For instance, the New York Yankees have introduced several environmental efforts, including recycling programmes and using energy-efficient lighting. 
Additionally, the Brooklyn Nets have teamed up with a neighbourhood sustainability group to create a composting programme at their arena. These programmes lessen the teams' environmental effects and show their dedication to ethical and sustainable behaviour.
In the coming years, we expect to see more emphasis on sustainability in the sports industry. This could include initiatives such as:
Using renewable energy sources, 

Reducing waste and emissions, 

And promoting eco-friendly practices among fans. 
New York's sports teams must embrace these changes to remain competitive and demonstrate their commitment to a more sustainable future.
Diversity and Inclusion:
Another important trend that will shape the future of sports in New York is diversity and inclusion. As the world becomes more diverse and interconnected, it is increasingly important for sports organisations to reflect the communities they serve. New York is one of the most diverse cities in the world, and its sports teams have a unique opportunity to promote diversity and inclusion both on and off the field.
Many of New York's sports teams have already taken steps to promote diversity and inclusion. For example:
The New York Mets have partnered with the National Gay & Lesbian Chamber of Commerce to encourage LGBTQ-owned businesses. 

At the same time, the New York Knicks have launched a program to support women-owned businesses. 
These initiatives not only promote diversity and inclusion but also help to build stronger relationships with the community.
Predictions of Sports in New York:
Since we are on the topic, here are some of the notable predictions for sports in New York:
We can expect a dramatic change in the sports media landscape:
If one thing is certain, it is how we can expect to produce, deliver and consume media. Undeniably, in the future, we will watch the media at our convenience and pay for only the media we would want to watch. It indicates that streaming will replace traditional TV as the norm. We will pay per watch, menu a la carte in the future! Moreover, We will also increasingly choose the camera angles, statistics, interviews, and other aspects of what we want to see. Expect a fight for media rights and the rise of a kind of Netflix for sports.
Performance levels of athletes will significantly increase on the back of technology, bio-medical science and neuroscience:
With the rise of artificial intelligence and innovative technologies, this is another prediction that might be seen in the future. Consequently, it would be harder to differentiate between what is natural and what is artificial. 
However, athletes will be walking on a thin line with a significant increase in performance. We can expect a major shift in sports in New York with technologies like:
Replacement of an injured body part with an artificial one

Genetic enhancement

Neurotraining
No More Traditional Sports Betting Business System:
Lastly, the arrival of Artificial intelligence and the blockchain will change the course of traditional sports betting. Predictably, the role of a bookmaker will soon fade away. Instead, it will be replaced with a new peer-to-peer betting system with more transparency and lower cost.
Hence, you should make your way now to adapt to the changes in the future!
Conclusion
In conclusion, the future of sports in New York is looking bright. With new stadiums and renovations, the city is poised to continue to attract major sports events and teams. Additionally, esports and women's sports are two areas that are likely to see significant growth in the coming years.
As New York continues to evolve and adapt to changing trends, it will remain a global leader in sports.