Sports
How to Score Tickets to the Hottest Sports Events in New York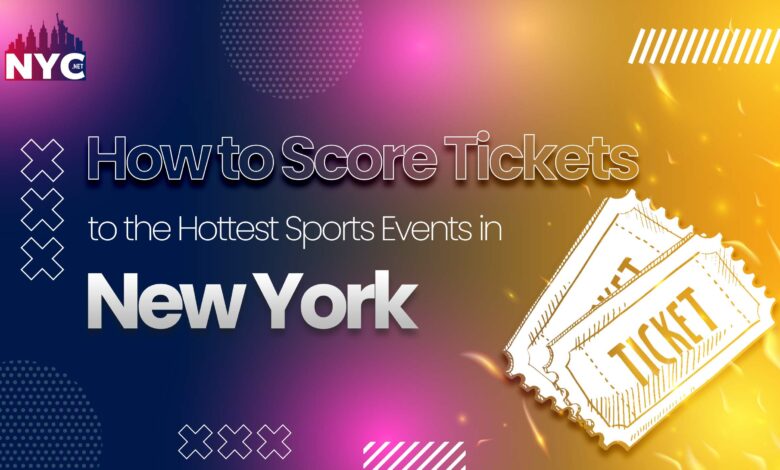 Hottest Sports Events in New York
With its vibrant sports culture, New York has many hottest sports events. From the New York Yankees in baseball to the New York Knicks in basketball, the city has various sports events that attract millions of fans yearly. However, scoring tickets to the hottest sports events in New York can be a challenge. Undoubtedly, it could be lethargic if you need help knowing where to go and how to plan. There is also a risk of falling victim to fraud or wrong hands. Nonetheless, we got you!
Hence, this article will provide tips on scoring tickets to the hottest sports events in New York. Moreover, we will also go through some of the hottest sports events in New York. 
So gear up and stick with us till the end:
Hottest Sports Event In New York:
We all know New York always stays caught up. Be it fashion, entertainment, education or even sports, this city that never sleeps comes with a full package. 
Here are some of the hottest sports events in New York: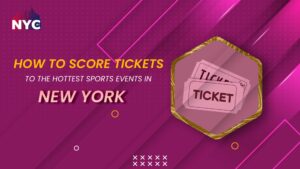 New York City Marathon
One of the world's most renowned and well-liked marathons is the New York City Marathon. Every year in November, the marathon travels 26.2 miles through New York City's five boroughs. The competition draws thousands of runners worldwide, making it truly global.
US Open Tennis
One of the four Grand Slam tennis competitions, the US Open Tennis Championship, is contested yearly in Flushing Meadows, Queens, New York. The event often occurs in late August or early September, drawing elite tennis players worldwide.
New York Yankees and New York Mets Baseball
New York City is home to two Major League Baseball teams:
The New York Yankees 

And the New York Mets.
 Both teams have a rich history and a large following of fans. 
The Yankees play in Yankee Stadium in the Bronx, 

while the Mets play in Citi Field in Queens.
New York Giants and New York Jets Football
The National Football League (NFL) is home to two professional American football teams, the New York Giants and the New York Jets. East Rutherford, New Jersey's MetLife Stadium, is home to the Giants and the Jets.
New York Knicks Basketball
The National Basketball Association (NBA) is where the New York Knicks, a professional basketball team, compete. The team plays its home games at Midtown Manhattan's Madison Square Garden.
Hence, these are just a few examples of the many hottest sports events in New York City throughout the year. Although, each event attracts many spectators and generates a lot of excitement in the city.
Tips for Scoring Tickets to the Hottest Sports Events in New York
Now that we talked about some of the hottest sports events in New York let's have a quick guide on how to score tickets. These tips ensure you take advantage of every seat at one of these events. 
Therefore, we won't hold you back any more. Let's get into it right away:
Plan ahead
Planning early is one of the most crucial factors in getting tickets to the greatest sporting events in New York. It's vital to start planning early because most sporting events in the city sell out months in advance. 
Make sure you:
Look up the game dates for your preferred teams' schedules and mark your calendar.

 You may also sign up for notifications from ticket providers to know when they go on sale.
Use a reputable ticket provider
There are many ticket sellers, but not all are created equal. Use a trusted ticket seller to make sure you get tickets for the most popular sporting events in New York. Ticketmaster, StubHub, and SeatGeek are a few of the most well-known ticket sellers in the area. These sellers are a dependable option because they provide a variety of ticket choices and a safe checkout process.
Consider buying tickets in advance
A fantastic strategy to get seats to the greatest sporting events in New York is to get tickets in advance. Purchasing tickets early is essential since some events, like the Super Bowl or the World Series, sell out months in advance.
Additionally, buying tickets in advance often saves you money compared to buying them at the last minute. Remember that resale options are also available, but be aware of the risks of buying from secondary sellers.
Be flexible with dates
If you're flexible with your dates, you can increase your chances of scoring tickets to the hottest sports events in New York. Some games may have limited availability on certain dates, but if you're willing to attend on a different day or time, you may be able to find tickets. Consider attending games during the week instead of the weekend, as these games may have more availability.
Join a fan club
Joining a fan club for your favourite team can give you access to exclusive ticket options. Many sports teams have fan clubs that offer members pre-sale tickets or other special perks. Additionally, fan clubs can provide you with insider information about the team and their schedule, which can help you plan for ticket purchases.
Look for promotions
Promotions and specials are the best way to get tickets to the hottest sporting events in New York. Watch for special offers from ticket sellers or the teams themselves. For instance, certain groups might provide special packages with tickets and additional perks or discounts for particular games.
Consider standing-room-only tickets
Standing-room-only tickets can be less expensive than standard tickets if you're prepared to stand for the entire game. These tickets can provide a distinctive game viewpoint and are typically less priced than sitting seats. Remember to check for standing-room-only tickets early because they may be in short supply and sell out quickly.
Check secondary ticket providers
Although purchasing tickets from secondary ticket sellers carries some risk, it is also a viable option if you want to attend the hottest sporting events in New York. Numerous ticket options are available from reputable sellers on websites like:
 Vivid Seats 

and TickPick. 
However, before purchasing, be aware that prices might be higher than they appear.
Enter lottery tickets
For their games, some sports teams offer ticket lotteries. Fans can buy tickets for these lotteries at face value or occasionally even for free. Find out if the groups you're interested in provide lotteries and how to participate by contacting them.
Consider buying season tickets
Buying season tickets can be a great way to guarantee access to the hottest sports events in New York if you're a die-hard fan of a particular team. Season ticket holders often get priority access to tickets and other perks like discounts and exclusive events.
Consider group tickets
If you're attending a game with friends or family, group tickets can be a great way to save money on tickets. Many sports teams offer discounts on group tickets, which can be a significant saving compared to buying individual tickets. Plus, attending a game with a group can be a fun and memorable experience.
Check for last-minute deals
Checking for last-minute offers can be a way to acquire tickets to the hottest sporting events in New York if you're ready to take a chance. Some ticket sellers may offer last-minute specials or discounts on unsold tickets to fill seats. But remember that these offers might only be available briefly, so act quickly to secure one.
Follow sports teams and athletes on social media
You may have access to exclusive knowledge about your favourite athletes and teams by following them on social media. Teams and players can post information on ticket sales, special offers, or other game-related activities. Following sports blogs or fan accounts can also provide more information and viewpoints.
Consider attending minor league games
Even though New York's major league sports teams may be the most well-known, watching minor league games can be a great and reasonably priced way to enjoy sports. A wonderful opportunity to witness up-and-coming players before they make it to the major leagues is to attend minor league games, which frequently have a more laid-back environment. Additionally, tickets for little league games are often much cheaper than those for major league games.
Conclusion
In conclusion, there are many ways to score tickets to the hottest sports events in New York. By planning, using reputable ticket providers, being flexible with dates, and exploring different ticket options, you can increase your chances of getting tickets to the games you want to see. Remember always to be cautious when buying tickets from secondary sellers and only purchase from reputable sources. 
With these tips, you'll be well on your way to enjoying the best sports events that New York has to offer.