News
Top 10 Best Family Vacation Spots in the NYC for 2023
Best Family Vacation Spots
Were you looking for the best family vacation spots? We got you covered. A famous quote says, "The world is a book, and those who do not travel read only one page."
To think about it, it's painfully true, for a whole chapter of stories is yet to live. In contrast, many people believe that traveling is expensive, but for some, it makes them more prosperous. 
Therefore, pack up your bag, pick up your ticket, and get on that plane to some of the exciting attractions in New York City. We will provide you with the best family vacation spots. 
This guide will help you become familiar with essential information for traveling to New York. From planning a vacation to budgeting and finding the best spots, we will help you through it all. 
Therefore, let's not further delay and get right into it: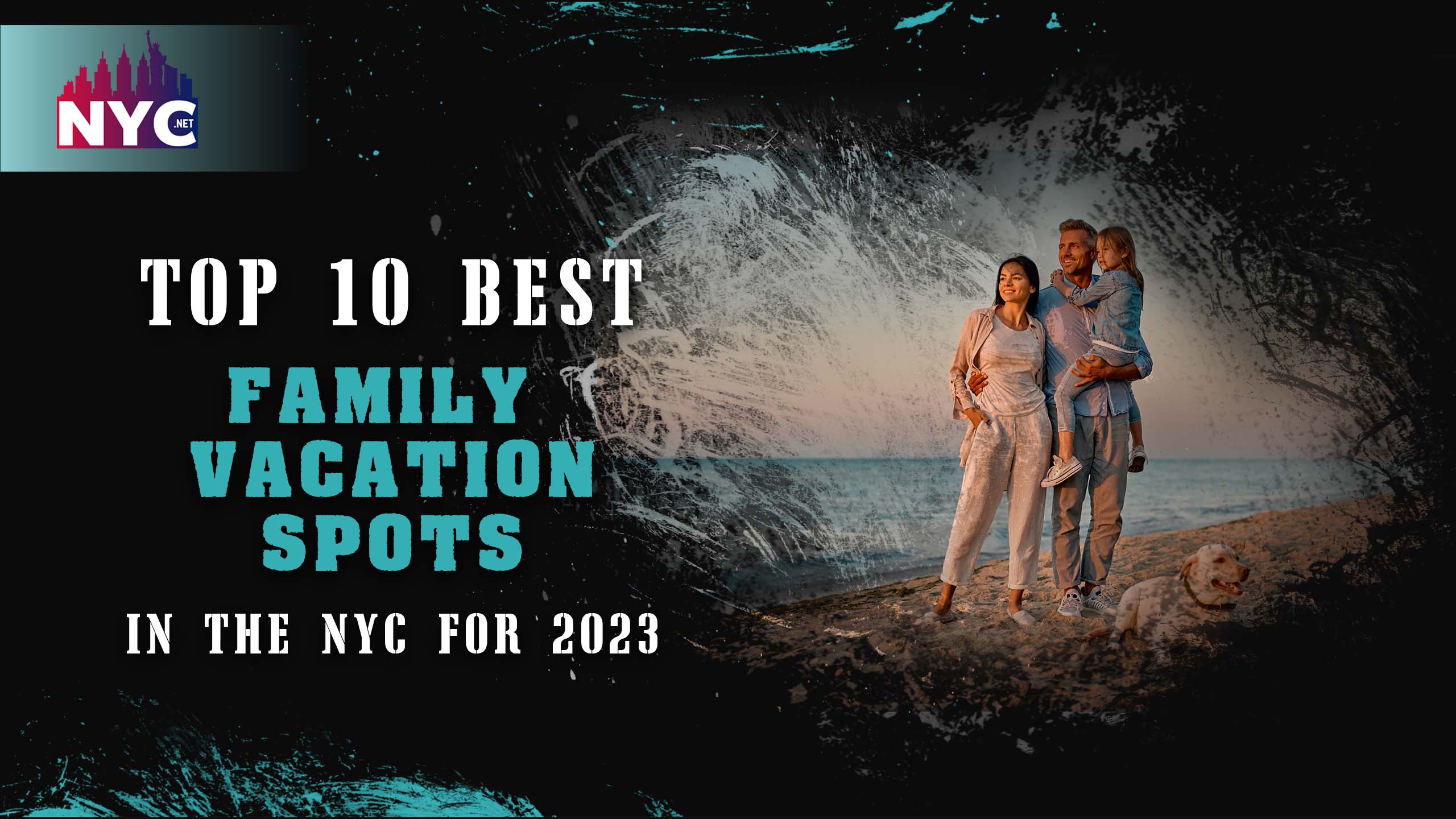 Best time to Visit New York:
Before we dig into the best family vacation spots, let's look at the best time to visit New York. 
Undoubtedly, New York is a vibrant and exciting city to visit annually. Therefore, the best time to visit depends on your preference and interest. 
For instance, January through March is a reasonable option if you want the cheapest month. The flight and hotel costs are at their lowest during these three months. 
However, if you look into other factors like weather, events, crowds, accommodations, etc., your choice might vary accordingly. 
Weather:
New York has four different seasons. If you like pleasant weather and outdoor activities, the ideal time to visit is May to September. October and November are the best months to travel if you prefer milder weather and the splendor of autumn foliage. Although December through February might be very chilly, they are also a lovely time to travel because of all the holiday festivities.
Crowd:
New York is crowded, but sometimes it is rusher than others. Summer months (June to August) or holiday seasons (late November to Early January) are the busiest. Therefore, you should check that out before picking the best family vacation spots. 
Budget your way to the trip:
While NYC is a relatively expensive city, you can always budget for the trip. It all depends on how you do it. 
Here are some practical ways to budget your NYC trip:
Accommodations: Search for low-cost lodging options like hostels, discount motels, or Airbnb. Consider booking a hotel in a nearby borough, like Brooklyn or Queens, where rates are less expensive than in Manhattan.
Discounted tickets: If you intend to visit attractions that demand admission, search online for discounted tickets or consider buying a tourist pass that offers discounts at several attractions.
Vacation Spots: While looking for the best family vacation spots, choose the one with the lowest prices and fun activities. For instance, The Brooklyn Bridge, Central Park, and the High Line are just a few free attractions in New York City.
Food; Moreover, regarding food, NYC has plenty of budget-friendly options for people. For instance, street food, fast food chains, and delis exist. You can also buy groceries and cook your meal instead of spending money on luxurious restaurants all the time. 
Transportation: Use public transport to move around the city rather than call a cab. The subway and bus systems are extensive and relatively inexpensive.
How to Plan your Trip
While booking exciting family spots is exciting, it requires proper planning. With a good road map, you can avoid a massive loss. 
Keep in mind the following tips for planning your trip and book the best family vacation spots:
Choose your travel dates: Choose a date for your trip to New York City. Take into account the climate, notable occasions, and busy travel times.
Search for flights: Go for the flights closest airport to New York City, then reserve a hotel or Airbnb that suits your needs and interests.
Purchase tickets and make reservations: Make reservations and buy tickets in advance for specific sites, such as the Statue of Liberty and Broadway performances. Make sure to make reservations in advance.
Research, Research, Research: Research as much as possible about various sights, flights, accommodations, meals, etc., for safer planning.
Top 10 Best Family Vacation Spots:
Finally, now that we know how to plan a trip to NYC mindfully let's look at the best family vacation spots. 
We have narrowed down the 10 best family vacation spots for your ease. Let's take a look:
The Catskills:
If you are into kid-friendly outdoor activities, this is the one for you. 
Trust me; there is no better way than to have a blast while exploring the natural wonders of the Catskill mountains. 
Things to do here: 
In summer, you can do zip lining, hiking, and boating. 
In winter, one can enjoy snowboarding and skiing. 
You can also visit the Bethel Woods Center for the arts and Galerie BMG if you want indoor activity there. 
Niagara Falls;
For all nature lovers, Niagara Falls is like heaven on earth. It is no doubt one of the best family vacation spots in NYC to go to. 
With its towering and jaw-dropping 188-foot waterfall, it is an exhilarating experience. 
Things to do there;
Check out the fantastic family-friendly attractions, such as Niagara Gorge Discovery Center, Aquarium of Niagara, and Cave of the Winds.
Remember to take on a Maid of the Mist boat tour.
Central Park:
 Central Park is an excellent place for families to spend a day. With its ever-green beauty to beautiful spots, it is a go-to spot for people of all ages. 
Things to do there:
The park offers a variety of activities, such as picnicking, boating, visiting the zoo, and walking around the park's beautiful gardens.
Cooperstown:
For outdoor adventures and family with baseball fans, Cooperstown is a haven. 
It is a superb destination for sports-loving families. Moreover, you can also treat yourself by visiting the infamous National Baseball Hall of Fame and Museum, with its artifacts and interactive exhibits.
Things to do there:
There are several seasonal baseball clinics in the area that you must try while visiting there. 
Furthermore, you can visit Cooperstown's other family-friendly attractions, including the Farmers' Museum and countless outdoor pursuits.
Whatever you decide to do, don't forget to add this to your bucket list of the best family vacation spots in New York. Trust us; you won't regret it. 
Statue of Liberty: 
The Statue of Liberty is a must-see for families traveling to New York City. It is impossible not to see this historical monument in New York. It will be a great experience, especially if you are into history and monuments. 
Things to do there:
To visit the statue, browse the museum, and enjoy the city skyline views, take a ferry to Liberty Island.
Times Square:
Times Square is one of New York City's most recognizable sights and a terrific family destination. From kids and teenagers to older people, it has in-store entertainment for all ages. Whether you are into shopping, eating delicious food, or watching delightful performances, Times Square is your place. 
Things to do there:
You may enjoy the city's most excellent restaurants and shops, take in the colorful lights, and watch street performers.
Hope Lake Lodge & Indoor Waterpark
Hope Lake is one of the most alluring New York family holidays since it combines family entertainment with deluxe lodging. 
If your family loves water activities, this is another best family vacation spots to consider. 
Things to do there:
It has a kids' club, on-site water sports, a beach, and a ski facility to enjoy. 
We recommend staying at a resort's deluxe suite with a spa bath for adults and kids. 
Gurney's Montauk Resort & Seawater Spa
Families pining for a tranquil seaside getaway should consider Gurney's Montauk.
While the parents indulge in the soothing services of the full-service spa, the kids can play in the kids' club.
Coney Island:
 For families, Coney Island is a fun and thrilling vacation. It has pretty beaches, massive arcades, and thrilling rides to enjoy.
Things to do there:
You can unwind on the beach, play games in the arcade, and ride the renowned Cyclone rollercoaster.
Brooklyn Bridge Park 
Lastly, this park offers stunning views of the Manhattan skyline and is a lovely waterfront park. It is undeniably a therapeutic experience for people to soothe in nature and a fun activity for kids to play around. 
Things to do there;
The park offers a few things: playing on the playground, riding bikes, and going to the outdoor movie theatre.
Conclusion:
New York is full of exciting places, so picking the best family vacation spots can be daunting. However, with our guide above, you can choose the best for you and plan a budget-friendly trip. 
We hope you enjoy it just as much!