Events
Travel Back in Time with Back to the Future Musical Broadway in NYC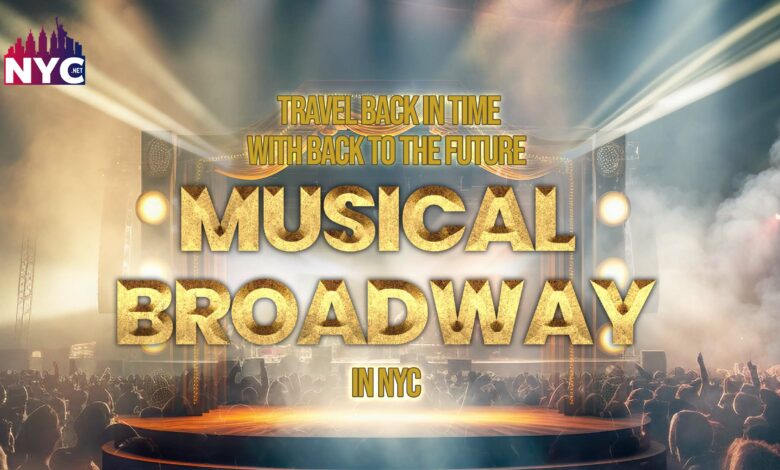 Back to the Future Musical Broadway 
Do you like the iconic 80s movie "Back to the Future" and Broadway musicals? Well, hold on tight because we've got some exciting news for you! The Back to the Future Musical Broadway in NYC takes us all on a wild ride through time with Marty McFly and Doc Brown. Get ready to experience an unforgettable adventure filled with captivating music, stunning visuals, and thrilling performances that will transport you back in time. 
So buckle up your seatbelts and prepare for a journey as we delve into everything you need to know about this incredible show.
What is Back to the Future Musical Broadway?
Back to the Future Musical Broadway is an exciting new production that brings one of the most iconic film franchises ever to life on stage. Featuring music and lyrics by Alan Silvestri, Glen Ballard, and Bob Gale, this musical promises to transport audiences back to the 1980s.
The story follows Marty McFly as he travels back in time using the DeLorean time machine invented by his eccentric friend Doc Brown. Along the way, he encounters his parents as teenagers and must navigate their romance while trying to find a way back home.
With stunning special effects and high-energy dance numbers, Back to the Future Musical Broadway will surely be a hit with fans of all ages. Whether you're a longtime fan of the movies or just looking for an entertaining night out in New York City, this musical has something for everyone.
So if you're ready for an unforgettable journey through time and space, get your tickets before they sell out!
Cast and Crew
As for the cast and crew, we have the following:
Casey Likes plays Michael J. Fox's role of Marty McFly, 
Moreover, two actors from the show's 2020 U.K. premiere reprise their roles in addition to her: Roger Bart as Doc Brown and Hugh Coles as George McFly.
Furthermore, With the help of original composer Alan Silvestri and Jagged Little Pill songsmith Glen Ballard, Bob Gale has adapted his screenplay (co-written with Robert Zemeckis) around critical songs from the movie, such as "The Power of Love." John Rando (Urinetown) directs.
What to Expect from Back to the Future Musical Broadway?
Back to the Future Musical Broadway promises a unique and exciting theatrical experience for all its audiences. The musical is based on the iconic sci-fi movie of the same name, entertaining people for over three decades. With music and lyrics by Alan Silvestri and Glen Ballard, Back to the Future Musical Broadway is set to take you on a thrilling journey through time.
You will be transported back to Hill Valley in 1985 as soon as you enter the theater. The show features an impressive ensemble cast who bring their interpretation of familiar characters like Marty McFly, Doc Brown, Biff Tannen, and Lorraine Baines. The actors' performances are top-notch, carrying every scene to life with energy and enthusiasm.
The sets are brilliantly designed with various props that evoke nostalgia from different eras. You'll see everything from vintage cars to neon lights as scenes seamlessly shift between past and present timelines. Special effects such as smoke machines add extra drama to some scenes making it an even more immersive experience.
One thing's for sure; this musical will satisfy fans of the original movie or theatre-goers looking for something new! From catchy tunes like "Power Of Love" to electrifying dance numbers featuring hoverboards – there's something here for everyone!
Other Details
www.backtothefuturemusical.com/new-york/
1634 Broadway, New York
10019 Cross Street between 50th and 51st Sts
Subway: C, E to 50th St; N, Q, R to 49th St; 1 to 50th St
$114–$368
Dates and Time
Moreover, the Back to the Future musical Broadway is happening from June 30 to Jule 8 at 8:00 PM. 
However, on July 1 and July 8, there is also a show at 2:00 PM. Similarly, July 3 shows air at 3:00 PM. 
Hence, you can always find the tickets on the website. 
Conclusion
Attending the Back to the Future Musical Broadway will surely take you on an exciting journey. This musical is a must-see for movie fans and newcomers alike. It offers a unique experience combining:
music,

theatre,

and nostalgia.
Moreover, With its impressive cast and crew, immersive set design, and catchy tunes, there's no doubt that you'll have an unforgettable night out.
If you plan on visiting New York City soon or already residing there, grab tickets for this incredible show before they sell out. Whether watching it by yourself or with friends and family, the Back to the Future Musical Broadway is something everyone should experience at least once.
So what are you waiting for? Get ready to witness one of the most iconic movies ever come alive right before your eyes!