News
Unlock the Secrets of New York City: Maps and Directions for Tourists and Locals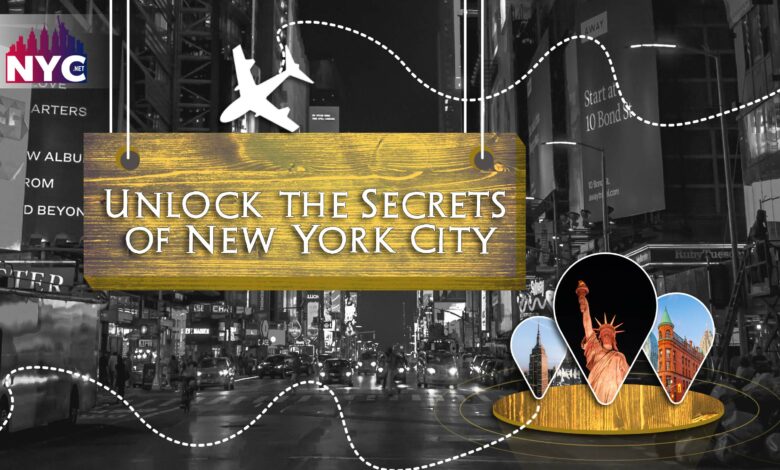 Secrets of New York City
There are many unexplored secrets of New York City that most people aren't aware of. This city, also known as the Big Apple, is one of the most iconic cities in the world. With over 8 million people, the city has countless landmarks, museums, and attractions. However, exploring these secrets is only possible with proper guidance. Without it, you are just as lost as a toddler without a mother. 
Therefore whether you're a tourist or a local, navigating the city can be daunting. Fortunately, many maps and directions are available to help you unlock the secrets of New York City. Most people need to be more appreciative of the ease these maps and advice provided. They are criminally underrated if one requires the need for it. 
However, despite contemplations, every tourist or local must have accurate maps and directions to explore the secrets of New York. 
Hence, this article will cover some of those secrets and helpful tips to get around the city. Therefore, without delay, let's get into it.
The Secrets of New York City:
Undoubtedly, New York is a city of incredible beauty and hidden secrets. Having a chance to live in this city that never sleeps is no less than being born again. The playful joy, curiosity, excitement and buzz could be overwhelming yet addicting. 
Whether you are a tourist or a local, you must know the following impressive secrets of New York City to begin your journey. 
Hence here are some:
Hidden places and secrets spots: 
Everyone knows about New York City for its iconic landmarks, such as:
 the Empire State Building, 

the Statue of Liberty, 

and Central Park. 
People worldwide not only know about these attractions but are more than eager to visit them. Unlike any, people know the most about New York through the infamous digital media. 
However, the city still has some hidden treasures that are worth exploring, such as: 
the abandoned City Hall subway station,

 the Whispering Gallery in Grand Central Terminal,

 the hidden waterfalls in Inwood Hill Park, 

and the mysterious abandoned island of North Brother Island.
Though there are hidden gems, they are worth watching. Each place holds its history and comes with magnificent glory to captivate you. 
Therefore, if you get ample time, remember these secrets of New York City. 
Cultural secrets: 
Regarding culture, New York City still has some undiscovered secrets yet to come to life. It is home to diverse cultures and communities, each with unique traditions, history, and stories. Many are well-known, recognized and respected, while others are still fighting the battle for light. 
In addition, here are some examples of such cultures and communities:
 the Jewish Lower East Side, 

the African-American Harlem Renaissance, 

the LGBTQ+ history of Greenwich Village, 

and the Little Italy and Chinatown neighbourhoods.
Historical secrets:
Moving ahead to the secrets of New York, we have historical mysteries. 
 New York City's rich history dates back to the Dutch colonial era. Its soil is enriched with historical secrets dating back decades. However, some lesser-known historical facts and secrets include:
 the fact that New York City was briefly the capital of the United States before 

Washington D.C., the hidden burial grounds in Washington Square Park, 

and the fascinating stories behind the many statues and monuments in the city.
Food secrets: 
New York City is known for its diverse and delicious food scene, but there are also many hidden gems and secrets regarding cuisine. Many people still do not know about the following:
 the secret speakeasy bars that serve Prohibition-era cocktails, 

the underground food markets and pop-up restaurants, 

and the many ethnic neighbourhoods that offer unique and authentic cuisine.
Once you get the taste of it, it would be hard to go without it. 
Urban legends and myths:
 Like any major city, New York City has its fair share of urban legends and myths. 
Some examples include:
 the legend of the alligators living in the sewer system,

 the haunted history of the Dakota apartment building, 

and the myth of the ghostly Black Dog of the West Village.
Architectural secrets:
 New York City is home to some of the world's most iconic and impressive skyscrapers and buildings. This city is known for its incredible architecture and historical buildings. Everyone who gets to see them ends up completely shocked. However, there are also many lesser-known architectural secrets to discover. 
Some examples include:
 the art deco gems hidden in plain sight, such as the Chrysler Building and the Daily News Building lobby, 

as well as the unique and historic buildings of the Brooklyn Navy Yard and the High Line.
Art and culture secrets:
 New York City is a hub of artistic and cultural expression; there are many secrets and hidden gems to discover. For instance, you might not have heard about the following:'
 the hidden galleries and artist studios in neighbourhoods like Bushwick and Red Hook, 

the off-the-beaten-path performance venues and theatres, 

and the lesser-known museums and cultural institutions worth visiting.
Literary secrets: 
Moving ahead, every state, every country, and every city has literary secrets. The history, the heroes, and the norms make a country different from another. 
Similarly, New York City has a rich literary history. Undoubtedly, the city has many academic secrets and hidden gems to discover. 
Since not many people are into literature, it wouldn't come as a surprise not to know these gems:
the bookstores and cafes frequented by famous writers such as Jack Kerouac and Allen Ginsberg, 

the literary landmarks such as the Algonquin Hotel and the Hotel Chelsea, 

and the hidden libraries and archives that house rare and unique collections.
Parks and outdoor secrets: 
New York City is known for its parks and outdoor spaces. Even regarding parks and outdoors, this city holds many hidden gems and secrets to discover like:
the hidden gardens and parks, such as the Elizabeth Street Garden and the Elevated Acre, 

the abandoned railway tracks turned public park known as the High Line,

 and the lesser-known beaches and waterfront areas throughout the city.
If you are an outgoing person, these places are a must-go. 
Music secrets: 
Last but not least, Music. Everyone is a music lover. Rarely anyone would ever not find pleasure in Music. 
New York City is a club with a vibrant and diverse music scene. The majority of the mass media and music industry in New York today is at soaring heights. However, some unfortunate still need to get the recognition they deserve. Some of those include:
 intimate music venues and clubs that host up-and-coming artists and underground 

performers, the jazz clubs and music halls with a rich history, 

and the street performers and buskers that can be found throughout the city.
These places are therapeutic to visit, especially for music lovers. 
How to Get Around New York City for Tourists and Locals;
Now that we have talked about some of the fascinating secrets of New York City let's have a look at some of the ways one can get around it:
Subway:
Firstly and obviously, the subway system. 
The New York City subway is one of the world's largest and most comprehensive subway systems. It encompasses a large system with 472 stations and 27 subway lines. The subway runs 24/7, but some trains may run less frequently during late-night hours. 
, Moreover, it is a convenient and affordable way to get around the city. Also, for ease, you can use a MetroCard to pay for fares. You can also use the MTA Subway Time app for real-time information about train arrivals and delays. 
You do whatever suits you the most. 
Bus:
After the subway system, we have the common bus. 
The New York City bus system operates over 200 local and express routes. This incredible system hosts over 5,700 buses. Buses run 24/7, but some ways, like the subway, may have reduced service during late-night hours. 
Again, the Bus fares can be paid with a MetroCard, and the MTA Bus Time app can also be used to get real-time information about bus arrivals and delays.
Taxis:
Taxis in New York City are easily recognizable by their yellow colour and black-and-white checkered pattern. Taxis must use a metered fare system, which charges by distance and time. 
Moreover, Taxis can be easily hailed on the street, at designated taxi stands, or by using a ride-hailing app like Uber or Lyft. There are also accessible taxis available for people with disabilities.
Walking:
Walking is a great way to explore New York City and get some exercise. The city is very pedestrian-friendly, and many popular attractions are within walking distance of each other. 
You can also use a map or smartphone app to plan your route and wear comfortable shoes and dress for the weather.
Biking:
Biking is a popular way to get around New York City, with over 1,200 miles of bike lanes and bike paths. You can rent a bike from companies like Citi Bike or Bike Rent NYC or bring your bike. However, biking in the city can be challenging due to heavy traffic, potholes, and other obstacles.
Ferries:
Furthermore, everyone is familiar with New York Ferries. 
New York City has several ferry services that provide scenic views of the city and can be a faster option for some trips. The Staten Island Ferry is a free ferry that runs between Manhattan and Staten Island, with frequent departures. Other ferry services include:
the East River Ferry,

the NYC Ferry,

and the New York Water Taxi.
Car:
Lastly, you can always travel in your car if nothing else makes sense. 
However, driving in New York City can be challenging, with heavy traffic, limited parking, and strict parking regulations. Therefore, If you choose to go, familiarize yourself with the city's parking rules and regulations, and be prepared to pay for parking or use a parking garage. 
Moreover, Car rental companies like Avis and Hertz have locations throughout the city, and car-sharing services like Zipcar are also available.
Conclusion:
The secrets of New York City are vast, and much is yet to be discovered. Instead of following the ritual, try some old-fashioned ways and explore these secrets with the travelling tricks mentioned. 
Good Luck!