Listing
Aquatic Paradise at the World's Largest Indoor Beachfront Waterpark in New Jersey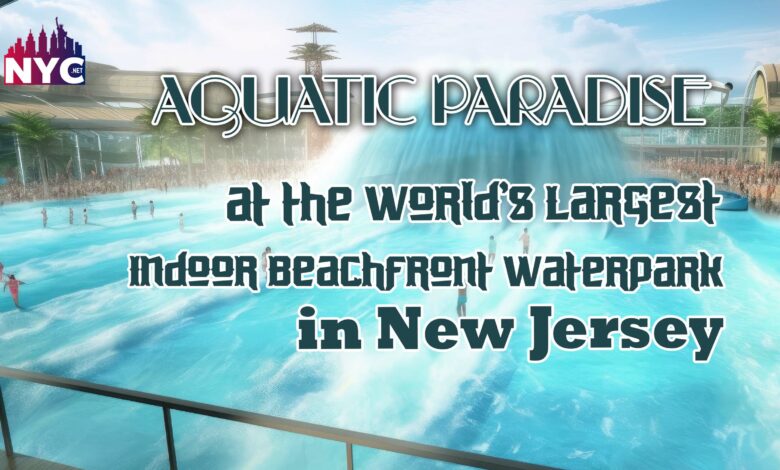 World's Largest Indoor Beachfront Waterpark in New Jersey
Imagine a breathtaking tropical oasis with shimmering turquoise waters, soft white sand, and lush greenery. This is the experience awaiting visitors at the world's largest indoor beachfront waterpark in New Jersey. Nestled in the heart of the Garden State, this aquatic paradise promises a unique and unforgettable experience for both young and old.
The waterpark boasts an impressive array of attractions, ensuring something for everyone. This waterpark has everything whether you're seeking adrenaline-pumping thrills or a relaxing day in the sun. 
Let's dive into the wonders that await this extraordinary destination.
Indoor beachfront waterpark in New Jersey
The world's largest indoor beachfront waterpark is coming to New Jersey, New York on Friday, July 7, 2023. 
Furthermore, this ISLAND waterpark is 120,000 square feet and holds more than 317,000 gallons of water. It cascades down to:
 11 curvy slides (the Electric Eel, Sonic Serpent, and Barracuda Blaster), 

three "Tidal Racers," 

and five waterslides suitable for younger visitors at Slide Island.
Moreover, The park also includes a 1,000-square-foot Wild Wave FlowRider surf simulator that hosts surfing tournaments and lessons. It features a Blue Cascade Waterfall, an Adventure Pool for water sports, and a 30-foot-tall Indoor Tree House that can be booked for private parties. Additionally, there is a 6,500 square-foot Island Drift Lazy River for those seeking relaxation and a Kids Cove with interactive water activities designed for younger visitors.
Not only this, but The park also features a 1,000-foot Coconut Zero-Gravity Coaster that takes guests on a ride suspended high above the waterpark, providing spectacular panoramic views of the ocean and boardwalk. Additionally, there is a 300-foot-long RipTide Zip Line.
Further Details
Address: 801 Boardwalk, Atlantic City, NJ 08401
OPEN: 10 A.M. – 8 P.M.
Website: https://islandwaterparkac.com/#explore
Instagram: https://www.instagram.com/acislandwaterpark/
You can get tickets from their website.