Events
Enjoy the Macy's 4th of July Fireworks in 2023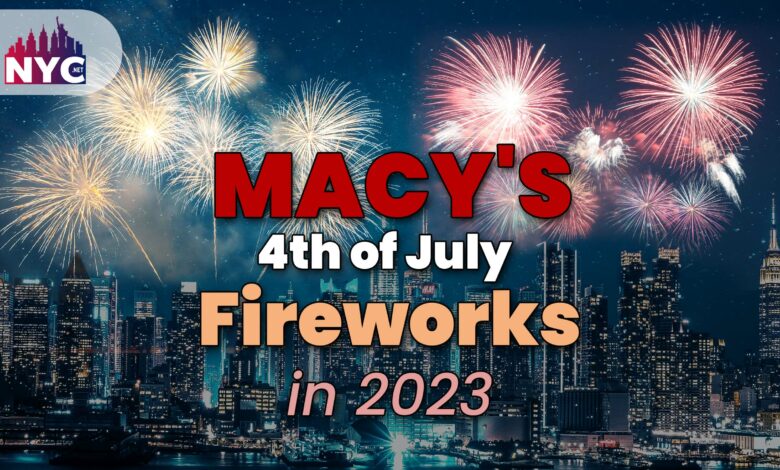 Macy's 4th of July Fireworks 
Every year, as the summer heat blankets the United States, Americans come together to celebrate their independence on the 4th of July. Among the numerous nationwide festivities, the Macy's 4th of July Fireworks stands out as an iconic event, attracting millions of spectators from near and far. This spectacular pyrotechnic extravaganza has become a cherished tradition, captivating audiences with its mesmerizing display of lights and colors.
 In this article, we will delve into the following:
magic of Macy's 4th of July Fireworks in 2023, 

exploring its History, locations, and date

 Who will perform at this grand celebration

And where can you watch the Fireworks in 2023, 
Hence, without any delay, let's dive in:
History of Macy's 4th of July Fireworks
The Macy's 4th of July Fireworks showcase has a rich heritage that dates back to 1958. Originally known as the "Macy's Independence Day Fireworks," the event was first conceived by the Macy's department store to celebrate America's freedom and bring joy to its customers. Over the years, the event has evolved into a grand spectacle known for its breathtaking pyrotechnics, music, and vibrant atmosphere. 
Today, Macy's 4th of July Fireworks has become the largest Independence Day fireworks display in the United States.
The Magic of Macy's 4th of July Fireworks Show
For the magic of this fantastic fireworks show, Over 60,000 shells (2,400 per minute) are launched off five different barges along the East River. The extravaganza lasts 25 minutes and features, according to Macy's itself, "a host of shells and numerous effects in 30 colors and shapes."
However, New effects this year include:
 a mile-wide waving flag created by a combination of red, white, and blue palm and strobing shells; 

a sunflower ring; 

red stop sign-shaped effects; 

and a new ghost Pyro that turns from one color to another. 
Furthermore, In a press release, Macy's announced, 'This year's pyrotechnic design will feature the most dynamic collection of animated shells ever launched during Macy's annual spectacle. The resulting pyrotechnic firepower will span a mile across the East River in a multi-layer presentation, reaching dramatic heights of 1,000 feet to the water's edge.'"
Location and Schedule
Moving ahead, as for the schedule and location of these fireworks, they are happening on Tuesday, July 4, beginning at 9:25 pm.
Also, They'll be launched in the East River, centered around Midtown Manhattan between E. 26th
and E. 40th Streets, New York.
Performance at Macy's 4th of July Fireworks
While we are talking about this exciting event, let's have a quick look at the performances scheduled for it. 
Furthermore, according to Macy, This year, the synchronized playlist centers around American classics that pay homage to the nation's musical trailblazers. Hence, "Attendees can anticipate hearing iconic songs such as:
 'The Star-Spangled Banner,'

 'America the Beautiful,'

 'Lift Every Voice and Sing,'

 'Ain't No Mountain High Enough,' 
Moreover, there will also be an exceptional performance of an original composition titled 'Sea to Shining Sea. It is created and performed by The United States Army Field Band's rap duo Nico & Lamar in collaboration with Ray Chew. 
Hence, The musical selection is curated by Ray Chew, a renowned musical director, and maestro for some of the nation's most popular entertainment programs.
Furthermore, thousands of golden-hued shells spanning a mile across the East River will form a breathtaking cascade effect. This captivating display will be synchronized with the timeless hit "The Best" by the legendary Tina Turner. 
Therefore, For those who wish to listen to the accompanying music, tune into 1010Wins as the fireworks extravaganza commences.
Best places to watch the Macy's 4th of July Fireworks
Lastly, there are many great places to watch this magnificent event in New York, like:
Manhattan: 1st Avenue and East 42nd Street; 1st Avenue and East 34th Street; 1st Avenue and East 20th Street

Queens: Gantry Plaza State Park

Brooklyn: Newtown Barge Park, Transmitter Park; and Marsha P. Johnson State Park
Still, Macy's has released official viewing locations on their website for your convenience. 
Furthermore, For those seeking a prime vantage point, any location in Midtown with an unobstructed view of the skyline above the East River ensures a splendid viewing experience.
Alternatively, you prefer to enjoy the festivities from the comfort of your home. In that case, you can stream the magnificent display by tuning into NBC's national broadcast of Macy's 4th of July Fireworks from 8–10 pm Eastern Time.
Conclusion
The Macy's 4th of July Fireworks have become integral to America's Independence Day celebrations. It captures the spirit of freedom and unity. The dazzling pyrotechnics, synchronized music, and vibrant atmosphere make it an unforgettable experience for everyone. Whether you are a resident or a visitor to the United States, witnessing Macy's 4th of July, Fireworks is a true celebration of patriotism and the American spirit. 
So, gather your loved ones, find the perfect spot, and prepare to be awe-inspired by the spectacular display that lights up the night sky, leaving lasting memories for years to come.