Events
Ben Folds' Enchanting NYC Concert Will Leave You Spellbound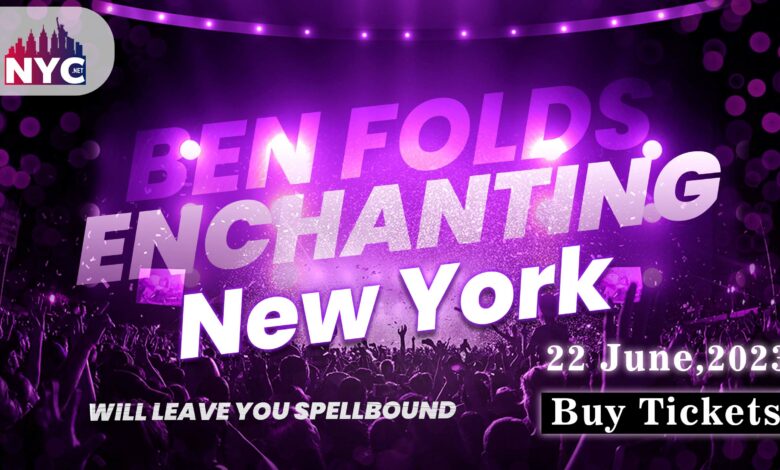 Ben Folds
Are you a fan of Ben Folds' enchanting music? If so, you won't miss out on his recent NYC concert that left the crowd spellbound with an incredible setlist and captivating stage presence. He makes every concert unique. In this blog post, we'll dive into every detail of the event: from Ben's introduction to his devoted fans and the unforgettable encore performance. So sit back and get ready to relive all the magic of Ben Folds' NYC concert! Also,Stay tuned to see when his next concert is taking place. 
Ben Folds' recent NYC concert
Ben Folds' recent concert in NYC was a night to remember. The legendary artist hit the stage with his signature piano and incredible vocals that mesmerized the audience. From the moment he walked out, it was clear that Ben was there to give an unforgettable performance.
Some of the highlights from his setlist included classics like "Brick" and "The Luckiest," as well as newer tracks like "Phone in a Pool." Each song showcased Ben's unique musical style and storytelling abilities, drawing cheers from fans throughout the venue.
But what made this concert special was Ben's interaction with the crowd. He took time between songs to share stories and jokes, making everyone feel part of something intimate and special.
All in all, Ben Folds' recent NYC concert proved once again why he is one of music's most beloved artists. With his raw talent, incredible energy, and genuine connection with fans, it's no wonder people will follow him anywhere for a chance to catch one of his performances live on stage.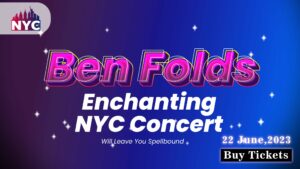 The setlist
The setlist for Ben Folds' recent NYC concert was magical. He opened the show with "Annie Waits," a classic tune that pumped the crowd and sang along from the first note.
As he worked his way through his extensive catalog, Folds treated fans to hits like "Zak and Sara" and "Brick" as well as deeper cuts like "Effington."
But what stood out about the setlist was how seamlessly Folds mixed in new material from his latest album, "So There." The audience didn't seem to mind, bobbing their heads to tracks like "Not a Fan" and "Capable of Anything."
Of course, no Ben Folds concert would be complete without some impressive piano solos, which he delivered in spades throughout the night. It's clear that after all these years on stage, he still knows how to wow an audience with his musical prowess.
It was an unforgettable night filled with old favorites and exciting new tunes – precisely what you'd expect from a Ben Folds concert.
The crowd
The diverse crowd at Ben Folds' recent NYC concert was a sight. Fans of all ages and backgrounds gathered to enjoy this iconic artist's music. From young kids dancing with their parents to older couples swaying arm in arm, everyone had a smile on their face.

Each audience member had a unique connection to Ben's music, yet they all shared an undeniable passion for his work. Some fans sang along loudly while others closed their eyes and lost themselves in the melodies.

Throughout the night, there were moments when the entire crowd came together as one. You could feel the energy pulsing through the room, whether during a particularly moving song or just enjoying Ben's witty banter between songs.

Despite being packed shoulder-to-shoulder, there was an overwhelming sense of camaraderie among concert-goers. Strangers struck up conversations and high-fived after awe-inspiring solos from Ben or his bandmates.

It was clear that this event wasn't just about seeing one man perform – it was about coming together as a community united by our love for great music.
Ben Folds' stage presence
Ben Folds' stage presence is truly captivating. From the moment he steps on stage, his energy and enthusiasm radiate throughout the venue. He effortlessly connects with the audience, making everyone feel part of something special.
Folds have a natural charisma that draws you in. His interactions with the crowd are genuine and heartfelt as if he's performing just for you. You can't help but be mesmerized by his charm.
Folds showcases his musical talents, comedic timing, and wit during his performances. He engages in playful banter with bandmates and even takes requests from fans shouting out song titles.
Fold's stage presence is a testament to his years of experience as a performer. He knows how to work with a crowd and keep them engaged every step of the way. It's no wonder why so many people flock to see him perform live time after time.
Ben Folds' stage presence is simply awe-inspiring. If you have yet to witness it, grab tickets the next time he comes through your city!
Ben folds fans
Ben Folds fans are a dedicated and enthusiastic group of music lovers from all walks of life. From college students to middle-aged professionals, the fans at his recent NYC concert were diverse but united in their love for the artist.

Some had been following Ben Folds since his early days with the band Ben Folds Five, while others had discovered him through his solo work or collaborations with other musicians. But no matter how they found him, they were all mesmerized by his performance on stage.

As he played hit after hit throughout his career, the audience sang along and danced in unison. They cheered wildly when he introduced new songs or took requests from the crowd. Each song seemed to bring them closer together as one big community.

It was clear that for many of these fans, this concert was more than just entertainment – it was a chance to connect with something deeper within themselves and each other. And even though the night eventually ended, they were left feeling uplifted and inspired by Ben Folds' stunning performance.
The encore
The crowd was left wanting more as the concert began to wind down. Fortunately, Ben Folds did not disappoint. He took to the stage one last time for an encore that left everyone spellbound.
The energy in the room was electric as he launched into his final songs of the night. The audience sang along with every word and swayed to the beat of each song. It was clear that this encore was a moment that would be remembered for years to come.
Ben Folds' passion and talent were on full display during these final moments of the show. His fingers danced across the keys as he poured his heart and soul into each note, leaving no doubt about why he is considered one of music's most outstanding performers.
The band played flawlessly alongside him, contributing their unique talents to create a sound that filled every inch of space in the venue. From start to finish, it was clear that a group of true professionals had carefully crafted this performance.
As Ben Folds said goodbye one last time, there wasn't a single person in attendance who wasn't moved by what they had just experienced. This encore will undoubtedly go down as one of Ben Folds' most memorable performances ever – truly showcasing just how enchanting his concerts can be!
Next  Concert Date: June 22nd
On June 22nd, Ben Folds will take the stage in New York City for an unforgettable night. Fans are eagerly waiting for his arrival at the upcoming concert. The energy is palpable as everyone waits anxiously for Ben Folds' upcoming concert.

From that moment on, he ensures his audience is captivated by his unique sound and storytelling abilities.He always starts with his best  hits like "Brick" and "Rockin' the Suburbs."

Let's see what new he will bring to the table in the next concert.He makes sure to give the most memorable performances. If You havn"t experienced any of the above mentioned things. Moreover, never ever attended any of his concerts. Now it's your time to experience a magical night. 

Plus, you are a die heart fan of his. Now it's your chance to enjoy every bit of the moment.  Its next concert is happening in a couple of days. Yes, it's right, on 22nd june its next concert is happening in New York. It's your chance to experience the magical night.    
Concert tickets
If you're a fan of Ben Folds, then you wouldn't want to miss his enchanting concert in NYC. But before enjoying the show, you must secure your tickets first.
Tickets for the Ben Folds concert sold out quickly after they went on sale. Fans eagerly grabbed their chance to see the artist perform live at this highly anticipated event.
There are different ticket options available depending on your preferences and budget. From general admission standing tickets to VIP packages that include meet-and-greet sessions with Ben Folds himself, there's something for everyone.
It's important to note that prices may vary depending on where you purchase your tickets. Websites like Ticketmaster or StubHub may offer resale tickets for higher prices than face value. It's always best to buy directly from authorized sellers or venues whenever possible.
Keep an eye out for any last-minute releases or promotions as well, as sometimes additional seats become available closer to the date of the show.
If you plan on attending this spectacular event featuring one of music's most beloved artists – don't wait too long! Get these coveted Ben Folds concert tickets now while they're still available!
The Crux
Ben Folds' recent concert in NYC was a magical and unforgettable experience that left the entire crowd spellbound. His stage presence, exceptional piano skills, and incredible voice made for an enchanting evening that had fans of all ages singing along to every song.
The setlist was perfectly curated with classic hits like "Brick" and "Annie Waits," as well as newer tracks from his most recent album. The crowd's energy was electric, with everyone swaying and dancing to the music.
If you ever see Ben Folds live in concert, don't hesitate! It's an experience unlike any other. He is coming back soon to NYC on June 22nd. Grab your tickets early – this is one show you won't want to miss!