Events
Catch the Comedy Wave at New York Comedy Club in Midtown!"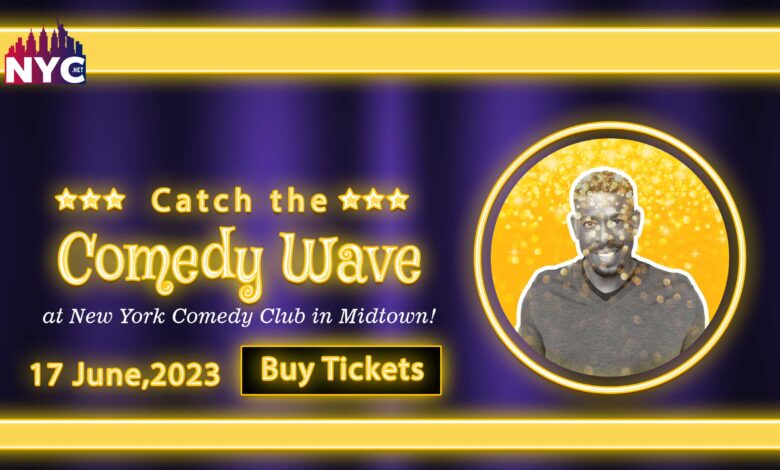 Comedy Club in Midtown
Are you in the mood for some laughter and good vibes? Look no further than the New York Comedy Club, located right in the heart of Midtown. With its hilarious lineup of talented comedians, this iconic establishment has entertained audiences for over three decades. Get ready to catch the comedy wave as Chuck Nice, Emma Willmann, Joe Matarese, and Maria Heinegg take to the stage on June 17th for a night. That is full of belly laughs and unforgettable moments. Whether you're a long-time fan or new to the scene. This show will surely leave you smiling from ear to ear!
New York Comedy Club
The New York Comedy Club has been a staple of the Midtown entertainment scene for over 30 years. This iconic establishment is famous for its:
intimate atmosphere

quality performers

Moreover, unforgettable shows leave audiences laughing until they cry.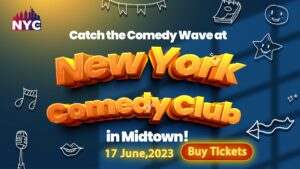 What sets this comedy club apart from others is its commitment to showcasing up-and-coming comedians and established acts. It's not uncommon to see some of your favorite TV personalities. However, famous names make surprise appearances on stage alongside rising stars.
Furthermore, Located just steps away from Times Square. The New York Comedy Club offers an unparalleled experience in terms of accessibility and convenience. And don't worry about breaking the bank – ticket prices are affordable and worth every penny.
It's no wonder why fans keep coming back year after year. The New York Comedy Club provides an escape from the stresses of everyday life. However, with humor that will have you forgetting your troubles in no time. So why not catch a show and join in on all the fun?
The Comedians
The New York Comedy Club is set to host a lineup of some of the industry's most hilarious and talented comedians. Each comedian's unique style, personality, and delivery will have you laughing non-stop throughout the night.
First up is Chuck Nice, who has been featured on various TV shows. However, such as The Today Show and VH1's Best Week Ever. He brings his witty observations about life to the stage with an infectious energy that leaves audiences wanting more.

Emma Willmann is another comic who knows how to command a room with her sharp wit and hilarious anecdotes. Her success can be attributed to her genuine approach to comedy, allowing her audience to relate to every story she tells.

Joe Matarese is known for his versatile performance style. Furthermore, seamlessly switches between impressions, storytelling, and stand-up comedy. His unique perspective on everyday situations has earned him a loyal following nationwide.

Last but not least, Maria Heinegg rounds out this impressive lineup with her quick-witted jokes. However, they are equally silly and intelligent. She takes pride in being herself on stage, resulting in an authentic connection with her audience.
With such diverse comedic talents coming together at one venue, it's no wonder why the New York Comedy Club fans return for more laughs every time they put on a show!
Comedy Wave
Comedy is a form of art that has always been popular among people. It's a great way to relieve stress and have fun with friends or family. The comedy wave refers to the trend of stand-up comedians becoming more popular. This is partly due to the rise of social media platforms that allow these comedians to showcase their talent to millions of viewers worldwide.
The comedy wave has also increased the number of comedy clubs across cities, such as the New York Comedy Club, which provides audiences access to some of the best stand-up comedians. These clubs offer a platform for new and established comedians alike, allowing them to hone their skills and gain exposure.
Stand-up comedian shows have become increasingly diverse in recent years, covering everything from political commentary and satire to observational humor or personal anecdotes about everyday life experiences. The rise of female comics like Emma Willman and Maria Heinegg demonstrates how this traditionally male-dominated industry is changing rapidly.
The comedy wave is here to stay! With so many talented individuals taking up stand-up as a profession today, no doubt we'll continue laughing out loud at our favorite jokes for many years!
The Show date is 17th June 23
Mark your calendars for June 17th, folks! The New York Comedy Club in Midtown hosts a show you won't want to miss. With a lineup of four talented comedians, the stage will be lit with laughter.
Chuck Nice is known for his quick wit and hilarious commentary on pop culture trends. Emma Willmann's unique perspective as a queer comedian brings refreshing humour to the stage. Joe Matarese has been featured on popular shows such as "The Late Show with David Letterman" and "Chelsea Lately." Maria Heinegg's relatable material will have you laughing out loud.
This diverse group of comedians promises an unforgettable evening with laughs and good vibes. Whether you're a seasoned fan or new to the comedy club scene, this show will leave you wanting more.
Join fellow comedy lovers at the New York Comedy Club for what promises to be an unforgettable night of entertainment on June 17th. Get ready for some serious belly laughs!
How they will set the stage on fire with their comedies 
It's no secret that New York Comedy Club has some of the funniest comedians in the game. And on June 17th, Chuck Nice, Emma Willmann, Joe Matarese and Maria Heinegg will take the stage to showcase their hilarious talents.

Chuck Nice is known for his witty observations on pop culture and everyday life. His quick wit and relatable humor always leave audiences wanting more.

Emma Willmann brings a fresh perspective to the comedy club scene with her unique humor. Her jokes touch on everything from gender politics to relationships, making her an instant crowd-pleaser.

With his personal stories and observational humor, Joe Matarese has entertained crowds for over two decades. His ability to connect with audiences through laughter makes him one of the most sought-after comedians in the industry.

Maria Heinegg's quirky personality shines through in her stand-up routines. With a mix of self-deprecating humor and clever punchlines, she never fails to get audiences laughing out loud.

These four talented individuals will surely bring down the New York Comedy Club house on June 17th. Don't miss your chance to catch them all live!
Fans of the Comedy Club in New York
Fans of the New York Comedy Club are one of a kind. They're always ready for a good laugh and never fail to show appreciation for the comedians on stage.
From young adults to older generations, people from all walks of life gather at this club to catch the comedy wave. They come in groups or alone, but once inside, they become part of an audience that shares a common goal – laughter.
These fans know how to have fun and let loose after a long day at work or during weekends with friends. Some even make it their weekly routine to visit the club regularly.
It's not just about watching performances; being part of this community means interacting with like-minded individuals who share your sense of humor. The atmosphere is electric as everyone anticipates what each comedian will bring to the stage next.
For many fans, attending New York Comedy Club shows has allowed them to escape reality momentarily and forget about any stress or worries. It's where they can relax and enjoy themselves while having good laughs.
These fans are loyal supporters who appreciate great comedy talent while sharing their love for humor with others around them.
The Final Thoughts
After all the fun and laughter, it's clear that New York Comedy Club is the place to be for comedy lovers. With a lineup of top-notch comedians such as Chuck Nice, Emma Willman, Joe Matarese, and Maria Heinegg on June 17th at 23 Midtown locations, there's no doubt that you'll have an unforgettable night filled with laughs.
Whether you're looking for a night out with friends or a romantic date idea in New York City, this comedy club has got you covered. So why wait? Catch the comedy wave at the New York Comedy Club today!
Remember to mark your calendars for June 17th because you do not want to miss all the fun! Book your tickets now and get ready for some side-splitting laughter with some of the best comedians in town. See you there!