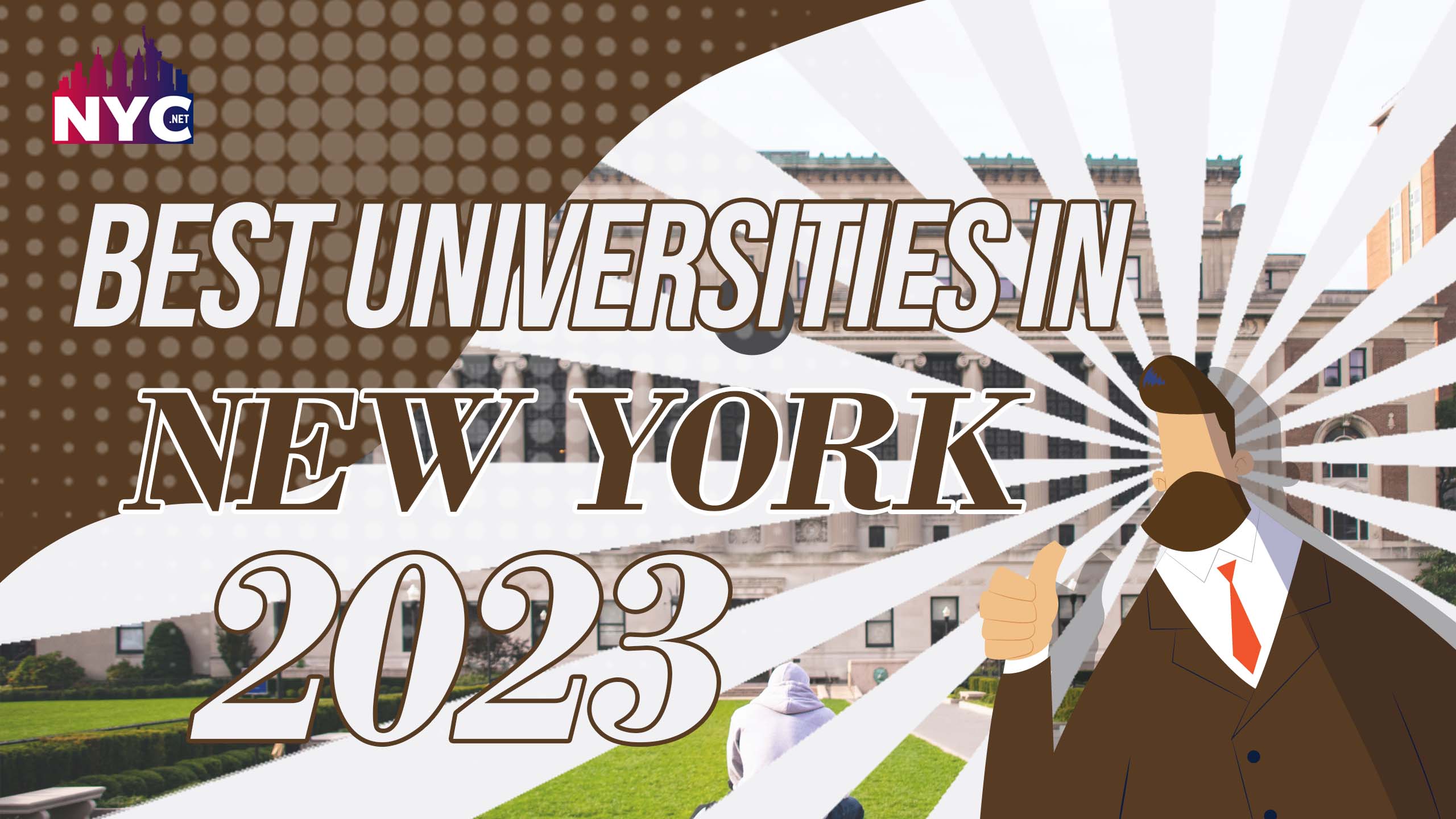 Best Universities in New York 2023
How's your hunt for the best universities in New York going? Never worry; we are here for you even if you haven't been able to find "the one" best university for you.
New York state is the house of some of the best universities around the globe. Around 130 four-year degree-granting universities are located in the state. This is the most of any state in the U.S. 
New York is undoubtedly one of the best study destinations in the world. The city boasts a rich culture, vibrant lifestyle, and diverse academic offerings that attract students from around the globe. But with so many options available, choosing the right university for your needs can be challenging. 
That's where we come in! In this blog post, we'll take you on a virtual tour of the best universities in New York for 2023. We will also highlight their unique features and what makes them stand out from other institutions. So buckle up as we explore some of the most prestigious universities in New York that will help shape your future career path!
Pros and Cons of Studying in New York:
Though We already know the glorious life of the state. However, before we dive into some of the best universities in New York, let's have a quick look at the pros and cons. 
Studying in New York brings baggage and perks. Nothing is all fantasies and luxuries. Therefore, be mindful of the pros and cons of studying in New York before making a lifetime decision. 
Here we go.
Pros:
Vast Accommodation:
While New York City is too vast and distinctive, students hardly find it troublesome to find or rent an apartment. There are plenty of price levels for anyone looking to rent an apartment. Despite what neighbourhood you live in, you will find something. However, house hunters shouldn't expect rents of less than $1,200 monthly, even for basic flats.
Safe and Secure Public Transport:
Regarding public transport, NYC is known for its safety and comfort. It is also super reliable for thousands of wanderers to reach their destination. Moreover, students can also benefit from the MetroCard provided by their university as per their request. 
Generous New York Health Care Program:
There aren't only the best universities in New York and the most generous health care programs. For instance, lower-income visa-holder students over 19 can avail of this opportunity since they are eligible for New York Health care Program. It provides primary health care to all. Those new to the city should also ensure to check their eligibility nevertheless.
Cons:
Nothing comes without a price, right? Well, not even the best universities in New York. Let's look at some cons:
Lethargic Job Hunts:
Living in a giant metropolis like New York state, the competitiveness among job seekers is exceptionally high. This fierce competition can be somewhat discouraging at first. Hence,  in case the job hunt lasts longer than expected, it is always recommended to have a backup plan. 
Sky-rocketed Rent Prices:
One of the significant disadvantages of finding the best universities in New York is the rent prices. They are super skyrocketing. These undeniably high prices in most of the area can be problematic. Therefore, many people prefer living with roommates to divide the rent. However, it might not be the case for everyone. 
Crowded Areas:
Lastly, NYC is crowded with rushing streets, the heart of the US. It is synonymous with waiting in long lines wherever you go, which can be tiresome. Therefore, be mindful of the crowded places and long lines of a wait if you are willing to study at one of the best universities in New York. 
Now, let's explore some of the prestigious universities in New York:
New York University
New York University is a private research university in New York City. Founded in 1831 as NYU's predecessor, NYU was one of the first academic institutions in the United States to grant medical degrees. Today, NYU is one of the largest private universities in the United States; Its enrollment ranges from over 40,000 students across its three campuses: Greenwich Village, Downtown Brooklyn, and Abu Dhabi.
NYU's campus in Greenwich Village spans over 180 acres and features some of New York City's most iconic landmarks. The university's main campus is around Washington Square Park. Other notable buildings, including the Palisades and Silver Towers, stand nearby. NYU's Downtown Brooklyn campus is near several major cultural institutions, including the Brooklyn Museum and Barclays Center. The university also has a presence in Abu Dhabi, with a campus that opened in 2010.
NYU is a highly respected research university with top-ranked programs in several fields. The university's Stern School of Business is consistently ranked among the best business schools in the world. While its law and medical schools are also highly regarded. In addition to its academic excellence, NYU is also known for its vibrant campus life. The university boasts a large and diverse student body, with students from all 50 states and over 140 countries. NYU offers a wide range of extracurricular activities and organisations, making it easy for students to get involved on campus.
Columbia University
As one of the Ivy League schools, Columbia University is among the most prestigious and competitive universities in the United States. Columbia has a rich history dating back to 1754. Firstly, it was founded as King's College by the royal charter of King George II of England. Today, Columbia is a world-renowned research university with over 30 Nobel laureates and Pulitzer Prize winners associated with the school. Additionally, It consistently ranks among the top 10 universities in national and international rankings.
Academically, Columbia is organised into three undergraduate colleges. These are (Columbia College, Fu Foundation School of Engineering and Applied Science, and School of General Studies) and graduate schools. It also includes the highly ranked Business School, Law School, and Medical School. Furthermore, its notable alums include Barack Obama, Alexander Hamilton, Lionel Trilling, Leonard Bernstein, and Jack Kerouac.
Cornell University
Cornell University is one of the eight Ivy League schools and is consistently ranked as one of the top universities in the United States. Located in Ithaca, New York, Cornell offers a unique blend of academic programs, world-class faculty, and vibrant student life.
With over 140 majors, Cornell students can find a program that suits their interests and career goals. Students can also get involved with research and creative work with opportunities provided by the university. And with over 1,000 student organisations on campus, there's something for everyone at Cornell.
Cornell University is worth considering whether you're looking for an Ivy League education or a vibrant student life.
Fordham University
Fordham University is one of the best universities in New York. It is a private research university in The Bronx borough of New York City. Founded in 1841, Fordham is the oldest Catholic and Jesuit institution of higher education in the northeastern United States. The university has 10 colleges and schools, including four undergraduate and six graduate schools. Its notable alums are U.S. President Theodore Roosevelt, Supreme Court Justice Sonia Sotomayor, and actress Jennifer Lopez.
Fordham University offers a variety of undergraduate and graduate programs. Its most popular majors include business, economics, political science, English, and history. Due to the university's commitment to research, students can get involved in research projects with many opportunities. Fordham also has a vibrant campus life with many student organisations and clubs.
Syracuse University
Syracuse University is a private research university in Syracuse, New York. The university is a member of the prestigious Association of American Universities and is home to a top-ranked medical school. Founded in 1870, Syracuse University is one of the nation's oldest and most respected universities.
Syracuse University offers a world-class education with small class sizes and renowned faculty. The university has more than 200 academic programs across 13 schools and colleges. Syracuse students can choose from majors in the arts and sciences, business, communications, education, engineering, information studies, law, nursing, and public policy.
For cutting-edge research projects, The university is committed to research and offers numerous opportunities for undergraduate and graduate students. Syracuse University is home to several world-renowned research centres, including the Carrier Dome, one of the largest domed stadiums in the world.
Syracuse University firmly commits to athletics and competes in NCAA Division I sports. The university fields teams in basketball, football, lacrosse, soccer, track and field, and more. Syracuse athletes have won numerous national championships and Olympic medals over the years.
The Middle States Commission accredits Syracuse University on Higher Education.
How to choose the right university for you:
There are a few key things to consider when choosing the right university. 
Location is one important factor – do you want to be in a big city or a smaller town? Do you want to study in New York State or elsewhere? 
The size of the school is another consideration – large universities offer more diversity and opportunities, while small colleges may have a more intimate feel. 
Consider also the programs and majors each school offers and the cost of attendance. Considering these factors, you can narrow your choices and find the best university.
Conclusion
Choosing the right university for your future is an important decision that shouldn't be taken lightly.  With so many top-ranked schools, it's essential to research each one thoroughly before making a final decision. The universities on our list will provide you with an excellent education, great campus life experiences, and fantastic career opportunities after graduation. So no matter which school you choose, you can rest assured of your future.