News
Gun Violence takes 5 lives, including a Teen in NYC.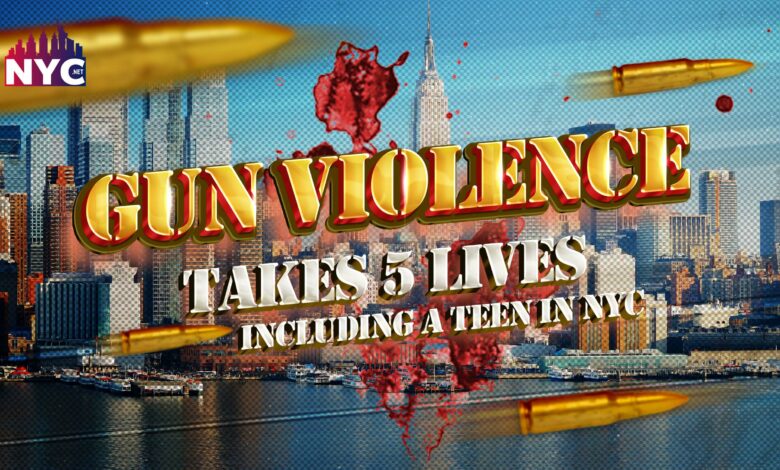 Gun Violence 
Sadly, gun violence has become an all-too-common occurrence in New York City. Separate shootings across the city claimed the lives of five individuals in the past week alone, while numerous others sustained injuries. However, Tragically, among the victims was a teenager whose life was abruptly cut short. As the NYPD works to investigate these senseless acts of violence, communities throughout NYC are mourning those who have been taken from them. 
Hence, Join us as we explore this tragic topic, and explore the havoc caused by gun violence in our city.
Gun Violence in NYC
Firstly, On Monday, a total of 15 people fell victim to gun violence in New York City, as they were shot in 10 separate incidents. Also, Five of them, including a 16-year-old, died.
Hence, As a whole, shootings in the city are down about 24% from this time last year.
Moreover, On July 5, 2020, gun violence hit the five boroughs with its worst recent 1-day record, leaving 47 people hit with bullets.
 Bronx Borough President Vanessa Gibson remarks on gun violence.
Furthermore, The president of the Bronx states that these neighborhoods require more resources, jobs, and programs.
Moreover, In her view, the most challenging shootings are those caused by gang violence.
"You don't own that corner, you didn't win that project," Gibson said. "Yet conflicts with young people, there are families with victims."
Additionally, Gibson implemented a real-time solution for shootings that are not isolated incidents.
Guns are also a part of this multi-pronged problem, with city officials promising to hold those responsible accountable.
Clark said, "It may not seem like it's working, but it could be a lot worse if we don't do what we're doing."
Victims of Gun Violence
In the most recent rash of shootings, Kevin Roberts, 56, was the last victim.
Around 11 p.m., investigators found Roberts sitting in a wheelchair with multiple gunshot wounds outside an apartment building on Simpson Street in the Longwood section of the Bronx. No arrests yet.
Roberts, known as Big Red, was a fixture in the neighborhood.
Gun Violence Across Five Boroughs in NYC
The recent gun violence shed fear in New York's hearts. Hence, here is more about Gun Violence in the five boroughs of NYC 
Brooklyn
Just before 6 p.m. On Monday, someone shot and killed a 16-year-old across the street from his home in the Bedford-Stuyvesant section of Brooklyn.
The motive of the shooting is unknown, and Police are investigating whether the 16-year-old was the intended target. However, unfortunately, no arrests yet.
Furthermore, earlier that day, someone shot a 38-year-old man in the foot. It was near Nassau Street near Gold Street in downtown Brooklyn. Thankfully, the victim will survive. 
The Bronx
Around 2:30 p.m., a 27-year-old man fell victim to a fatal shooting on Longfellow Avenue in Longwood. Regrettably, law enforcement has not made any arrests thus far in relation to the incident.
In similar events, a tragic incident occurred outside a bodega located on White Plains Road in Williamsbridge. Authorities discovered a 48-year-old male with a gunshot wound to his back. They promptly provided medical assistance and transported the victim to NYC Health + Hospitals/Jacobi, where he succumbed to his injuries.
Manhattan
A tragic fate befell a 38-year-old male as he was shot and killed outside 230 West 140th Street in Harlem. Regrettably, authorities have not made any arrests in connection with this shooting.  Similarly, Washington Heights has an ongoing investigation with pending arrests following a shooting incident at Riverbank State Park. Three women, aged 19, 20, and 28, sustained non-life-threatening injuries in the incident.
Authorities believe that the victims were not the intended targets and are urging the public to come forward with any cellphone footage of the incident. The incident occurred while many individuals were at the park for an event.
Staten Island
Staten Island is also not safe from gun violence.
Unfortunately, An individual shot two people near Victory Boulevard and South Greenleaf Avenue on Staten Island. Fortunately, both victims will survive their injuries. Moreover, The suspects are four males who fled the scene in a vehicle.
Queens
Lastly, Police reported that three men suffered gunshot wounds near Beach Channel Drive in the Rockaways section of Queens. The assailant shot a 56-year-old man in the right arm, a 37-year-old man in the torso, and a 21-year-old man in the buttocks. Law enforcement swiftly transported the victims to St. John's Episcopal Hospital in stable condition. 
However, The NYPD is investigating the exact circumstances surrounding each of these separate incidents.
Conclusion
The recent rise in gun violence across NYC is concerning and tragic. The loss of five lives, including that of a young teen, in separate shootings is heartbreaking for the community and their loved ones. 
The NYPD is investigating these shootings, yet no arrests have been made. Authorities must bring those responsible to justice and ensure the safety of citizens.
As we mourn the loss of these victims, it's important to reflect on how we can come together as a community to prevent such tragedies from happening again. We need effective measures to address gun violence and support those affected by it.
Let us all work towards creating safer communities where everyone can live without fear or harm.