Uncategorized
How to Navigate New York City's Subway System: Tips and Tricks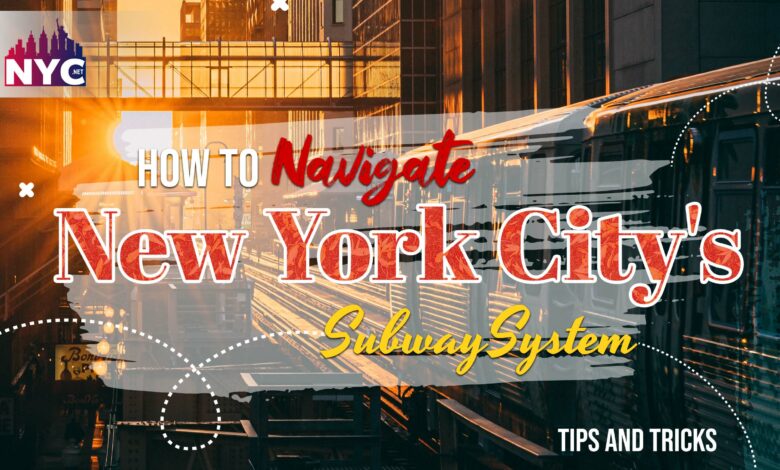 New York City's Subway
We all know about the infamous New York City's Subway system. It finds its place in almost every visual medium. From seasons to movies, it is a famous means of transport. Hence, even people outside of New York know about it. 
New York City's Subway is one of the world's oldest and largest public transportation systems. It connects all five city boroughs with over 470 stations and 27 subway lines. Without it, moving around could have been problematic. However, it is not anymore. 
Unfortunately, navigating this extensive network can seem daunting, especially for visitors who are unfamiliar with the system. 
However, with some tips and tricks, you can easily navigate New York City's Subway like a pro.
Hence, here are some of the tips and tricks for you: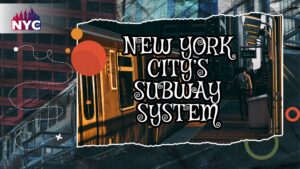 Is New York City's Subway Safe?
Firstly and foremost, the most important concern is whether the subway is safe to travel. 
The subway system in New York City is generally safe for commuters. However, traveling on public transport always requires certain precautions. 
The Metropolitan Transportation Authority (MTA) has implemented various measures to improve safety in the subway system, such as:
 increased police presence, 

surveillance cameras, 

and emergency intercoms on subway cars. 
However, efforts at individual levels are always better. 
In addition, the MTA recently started advocating for an inspiring "See Something, Say Something" campaign. It is done to encourage commuters to report any suspicious activity they observe.
Therefore, Being aware of your surroundings and taking basic safety precautions when riding the subway is important. You can start with small steps, such as keeping an eye on your belongings and being mindful of your personal space. 
Avoiding empty subway cars and staying alert when traveling late at night or in unfamiliar areas is also recommended.
Overall, New York City's subway is a safe and reliable way to get around. However, exercising caution always comes in handy. 
Preventive Measures for the Subway:
As mentioned above, we know MTA is working for the welfare and security of the people of New York. Hence, they have implemented various safety measures to ensure security around. 
Therefore, look at those measures before diving into the tips and tricks. Your safety is our prime priority. 
Here are some of the key safety measures currently in place:
Increased Police Presence:

Now, as you look around the subway, you will notice the presence of uniformed and plainclothes police officers. It is done to deter crime and ensure public safety.

Surveillance Cameras

: The MTA has also installed thousands of surveillance cameras throughout the subway system to monitor activity and detect suspicious behavior.

Emergency Intercoms

: Moreover, Special intercoms reside now in and around the subway to make communication easy and accessible in times of emergency.

Station Booths and Kiosks: Many subway stations have station booths or kiosks staffed by MTA personnel who can provide assistance or emergency aid.
See Something, Say Something Campaign:

We already talked about it, but it's so inspiring it would be a crime not to mention it again. Hence, the "See Something, Say Something" campaign encourages riders to report any suspicious behavior or activity they observe in the subway system. The campaign encourages riders to speak up if they notice unattended bags or packages, suspicious behavior, or anything unusual.

Station Ambassadors:

Furthermore, the MTA has hired Station Ambassadors to assist and support commuters in busy subway stations.

Platform Barriers:

It might not look like something big, but still, for your security, Some subway stations have platform barriers installed. It is done to prevent passengers from falling onto the tracks or being pushed.

Contactless Payment:

Lastly, The MTA has implemented a contactless payment system. The idea is to allow commuters to pay for their subway fares without physically touching the fare machine or the MetroCard, reducing the risk of spreading germs or viruses. It is vital, especially in times like that of covid. 
Tricks and Tips:
I know you waited a long time, but you no longer have to. Since the basic security around the subway is covered, we can get into the trips and tricks. 
We framed it to ensure you can easily get around New York City's Subway without any hurdles. 
Hence, here are some tips for you to navigate your way through it:
Get a MetroCard
Metrocard is a must before getting into the subway. You can load this reusable card with money or a weekly or monthly pass. Moreover, it can be purchased at any subway station from a vending machine or a ticket booth. You can also use the same MetroCard on the buses.
Understand the Subway Map
The subway map can be intimidating, with its multiple lines and stops. However, it is essential to understand the subway map to navigate the system. Each subway line is color-coded and marked with a letter or number. Each stop is marked with a name and a symbol. You can find subway maps at any subway station or on the MTA website.
Know the Subway Lines
Understanding the subway lines is crucial for getting around the city quickly. There are many subway lines, but the most popular ones are:
The 1, 2, and 3 trains: These run along the west side of Manhattan.

The 4, 5, and 6 trains: These run along the east side of Manhattan and connect to the Bronx.

The A, B, C, D, E, F, and M trains: These run across Manhattan, Brooklyn, Queens, and the Bronx.

The G train: This runs through Brooklyn and Queens.

The J, Z, L, N, Q, and R trains run through Manhattan, Brooklyn, and Queens.

The 7 train: This runs through Manhattan and Queens.
Plan Your Route
Planning your route is critical before embarking on the subway journey. You can use Google Maps or the MTA's Trip Planner to plan your route. You should better know your starting point and your destination. Anything can happen anytime. Therefore, it is better to be well-planned. Moreover, with The Trip Planner, you will get step-by-step directions, including which subway lines to take, which stations to transfer to, and how long your journey will take.
Hence, it wouldn't be a problem if you planned. 
Pay Attention to Station Announcements
Keep your ears open to the announcements, and stay super vigilant. They will tell you the name of the upcoming station and which side the doors will open on. This information is your lifeguard, especially if you are unfamiliar with the system. In addition, If you're unsure which direction to go when you leave the subway, follow the signs to the nearest exit.
Follow the Signs
Speaking of signs, follow them. They are super helpful in terms of navigating your way around. Since Each subway station has symptoms that indicate which subway lines stop at that station, you can know what direction the trains are going in and which exit to take. Also, the signs are color-coded to match the subway lines, so you can easily find your way around.
Be Mindful of Rush Hour
New York City's Subway can get crowded during rush hour, typically from 7:30 AM to 9:30 AM and 4:30 PM to 6:30 PM on weekdays. If possible, avoid riding the subway during rush hour. If you must ride during rush hour, be prepared to stand and be mindful of your personal space.
Stay Alert and Aware of Your Surroundings
Though New York City's Subway is generally safe, staying mindful of your surroundings is always better. You should keep an eye on your belongings and ensure not to leave your bags unattended. Also, If someone is making you uncomfortable, move to a different part of the subway car or alert the subway conductor.
Know the Operation Hours:
The subway runs 24 hours a day, seven days a week, but some subway lines have reduced service during late nights and weekends. Most lines run every 5-10 minutes during peak hours and every 10-20 minutes during off-peak hours. You can pay $2.75 per ride using a MetroCard, which you can purchase at subway stations or online..
 It's important to check the subway schedule before you embark on your journey to ensure you can reach your destination on time.
Ask for Help When Needed:
Finally, don't be afraid to ask for help if you have any questions or concerns. There is nothing wrong with seeking assistance. Be open to help and receive support when needed. New Yorkers maintain a fast-paced lifestyle while being friendly and helpful when navigating the city's transportation system. Subway conductors and station agents can assist you with any questions or concerns.
Conclusion:
Though everyone talks about New York City's Subway, no one talks about how to get around. With these tricks and tips, you can easily move around the subway without any hindrance. Always make sure you follow the right path and keep away from the obstacles. 
We wish you a happy journey and safe travel!