Listing
Listing Angel's Share: The New Home of the Legendary Cocktail Bar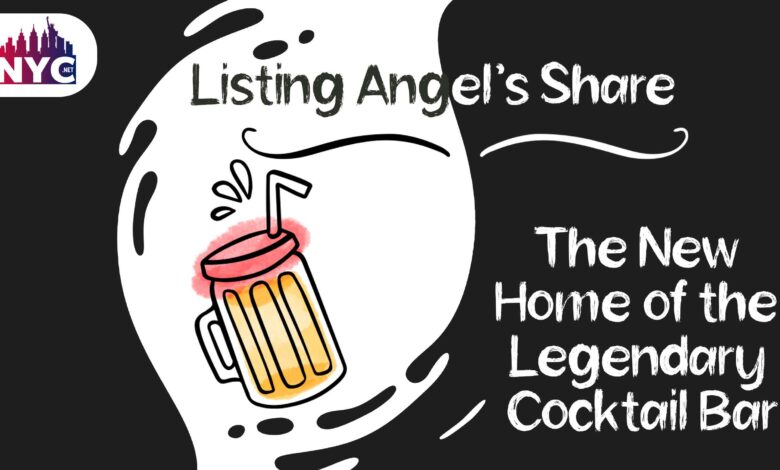 Angel's Share Cocktail Bar
Are you in the mood for a new, sophisticated cocktail bar experience in NYC? Look no further than Angel's Share cocktail bar. This acclaimed establishment has recently opened its doors in a brand-new location. Therefore, It is ready to impress even the most discerning patrons with its expertly crafted drinks and upscale ambience. 
With a menu of unique and flavorful cocktails, Angel's Share promises to be your go-to spot for an unforgettable night out. 
Hence, Join us as we explore what makes this Angel's Share special!
Angel's Share Cocktail Bar
Angel's Share Cocktail Bar is a one-of-a-kind establishment that has been making waves in the cocktail scene for years. With its recent move to a new location, it continues to impress with its sophisticated ambience and expertly crafted drinks.
The bar exudes elegance, featuring:
 plush seating, 

dim lighting, 

and an intimate atmosphere perfect for date night or catching up with friends over cocktails. 
The bartenders are knowledgeable about their craft and always eager to recommend a drink based on your preferences.
Speaking of drinks, Angel's Share offers an extensive menu of unique cocktails that blend classic flavours with modern twists. From the refreshing gin-based "Flower Power" to the savoury whiskey concoction "Pork Belly Manhattan," there's something for every taste bud.
But what sets Angel's Share apart is their attention to detail regarding the presentation. Each drink is served in stunning glassware.  Intricate garnishes like edible flowers or delicate citrus peels adorn it even more.
Angel's Share Cocktail Bar is not just a place for grabbing a quick drink – it's an experience. See why this spot has garnered such acclaim from locals and visitors alike!
The New Home of Angel's Share
Angel's Share Cocktail Bar has found a new home that is nothing short of extraordinary. The bar moved to its new location in the West Village. The bar found its new home on Wednesday, an event long in the making. 
The move to this new home ensures that Angel's Share will continue cementing its reputation as one of NYC's premier cocktail bars for years to come.
New Location of Angel's Share
The bar found its new home in West Village, a neighbourhood in NYC. It is specifically located at 45 Grove Street, near Bleecker Street.
The bar is open for walk-ins only from 5 p.m. to midnight every day except Monday. Moreover, the authorities currently allow up to four people per group. However, it may change shortly.
According to reports, the room contains 65 seats, and the East Village bar's iconic angel mural that gave Angel's Share its design has been reinstated.
The Menu at Angel's Share
Furthermore, The menu at Angel's Share is a carefully curated selection of cocktails showcasing the best mixology. From classic favourites to innovative concoctions, this menu has something for everyone.
Their signature drink, Angel's Share cocktail, is a must-try for anyone visiting the bar. This delightful blend of whiskey, sherry, and bitters perfectly balances and is sure to please even the most discerning palate.
In addition to their signature drinks, they offer an extensive list of spirits and wines worldwide. Their knowledgeable staff can help you choose the perfect beverage for your taste preferences or meal pairing needs.
Hence, Check out their small plates menu if you're feeling peckish during your visit. Furthermore, these dishes are designed to complement their delicious drinks perfectly with options like:
truffle fries
and crispy pork belly bites,
Initially, the bar collaborated with neighbour Village Yokocho to prepare food, but now it has its kitchen and will serve:
 sashimi, 

Crudos, 

Karaage chicken, 

And homemade pickles.

So, Whether you are looking for a classic cocktail or something more unique and daring, Angel's Share has covered you with its impressive menu offerings.
Conclusion
The opening of Angel's Share Cocktail Bar in its new home has been a highly anticipated event for cocktail enthusiasts. Its vibe and flavours are also refreshing for a tired mind. Hence, Whether you're looking for a sophisticated night out or want to try something new, 
Therefore, Angel's Share is worth checking out. 
So why head on down and see what everyone is raving about? It will not disappoint you.