News
Six-year-old boy critical due to reckless moped driving in East Harlem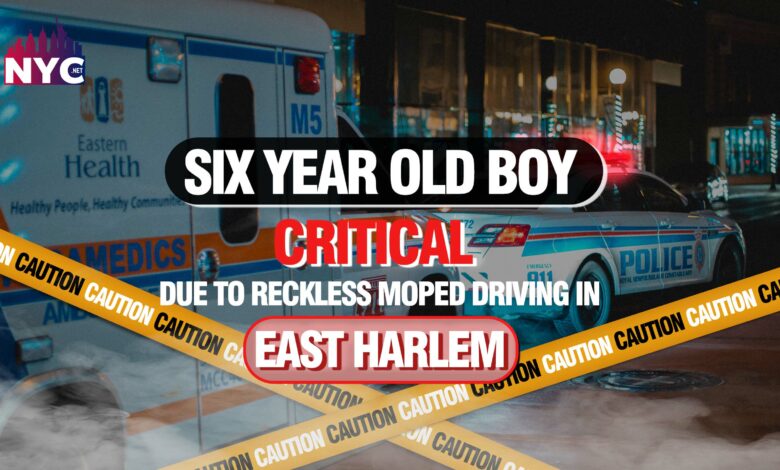 Reckless moped driving in East Harlem
Unfortunately, reckless moped driving in East Harlem became a nightmare for a six-year-old boy and his family. A car hit the young boy near Thomas Jefferson Park on East 111th Street and 1st Avenue just after 6:30 p.m. on Sunday. The driver fled the scene leaving the child in critical condition. 
This tragic incident has sparked outrage and calls for stricter moped laws to prevent similar accidents from happening again. 
Let's delve deeper into what happened and why this highlights an urgent need for change.
What Happened
A tragic incident left the community reeling Sunday evening in East Harlem, NYC. A car hit and critically injured a six-year-old boy riding a Thomas Jefferson Park moped.
Furthermore, Eyewitnesses report that the car's driver fled the scene immediately after the accident, leaving behind chaos and confusion. The police are also investigating this hit-and-run case and searching for information about the driver's identity.
After severe head trauma, the boy remains in critical condition at a Harlem Hospital. This heartbreaking news has prompted calls from residents for stricter laws governing moped use on city streets. While mopeds can be an efficient mode of transportation, they can also pose significant risks to riders and pedestrians if not operated safely.
As we wait for updates on this devastating situation, it is important to prioritize safety while operating any vehicle or being near traffic. We think about the young victim and his family during this difficult time.
Boy in critical condition
A six-year-old boy is in critical condition after being hit by a car on East 111th Street and 1st Avenue in Thomas Jefferson Park, East Harlem. The incident occurred around 6:30 p.m. on Sunday, leaving the young boy with life-threatening head injuries.
The authorities are searching for the reckless driver responsible for this heinous act. According to them, the unknown person operating a two-wheel motorized vehicle struck the boy.
The incident has sparked outrage among residents now calling for stricter moped laws to prevent such incidents from happening again in their community. This tragic event highlights the importance of road safety and how vulnerable our children can be to accidents on busy streets.
As we keep our thoughts and prayers with this innocent victim and his family during these difficult times, let us hope that justice will be served swiftly so those responsible will face the consequences accordingly.
Police Investigation
This tragic news has undoubtedly sparked a new fear and concern in the hearts of New Yorkers. However, the police are trying to investigate the case to its core. 
Up to their information, an unknown person struck the boy operating a two-wheel motorized vehicle. However, up until now, no suspect or arrest has been made. We are still waiting to hear more from the police department and the city's people. 
Call for stricter moped laws.
The incident involving the six-year-old boy in East Harlem reminds us why we need stricter moped laws. Reckless driving poses a significant threat to pedestrians and vulnerable children. This accident could have been prevented if the driver had followed traffic rules and regulations.
We urge lawmakers to act on this matter by implementing stricter measures to deter reckless behavior on our roads. Let us unite and ensure that tragedies like these do not occur again.
Conclusion
This tragic incident of reckless moped driving in East Harlem is an incident to mourn. We wish fast recovery for the boy and a detailed investigation of the case. 
Stay safe, and keep your loved ones safe!