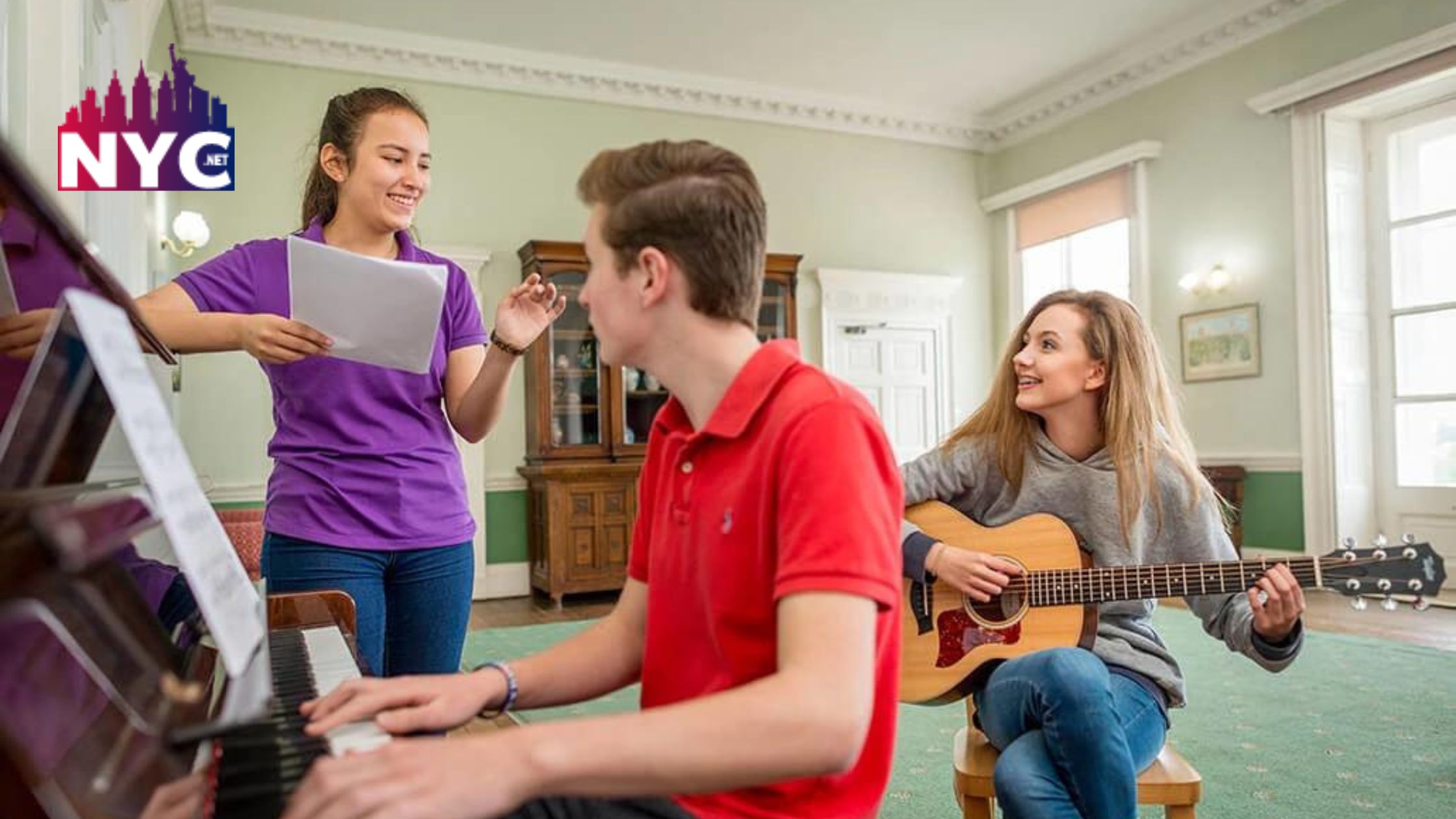 This is where it all begins. Is a musical profession a wise choice? Of course, it is, especially if you want a lucrative profession that allows you to perform music every day and do what you love. It is worthwhile, but you must be willing to put in the effort. Although it is not an easy journey, once you begin to like it, you won't turn back.
If you're interested in music, you presumably already know that New York is home to the best music schools in the world. Additionally, these programs make the most of the local cultural scene by recruiting a few of the finest jazz players, songwriters, and music producers to teach in their programs. Similar to how schools that want the brightest students set up shop in New York, the area's music students are in abundance of riches. 
Music students may become disorientated due to the abundance of possibilities. In addition, this ranking below will provide you with all the information you need to have to pick the ideal school for you in New York City, ranking the institutions according to the faculty, placement of students into the industry, and exclusivity.
Moreover, the most popular music degree that is pursued globally, including in New York City, is the bachelor of music. 
Degrees in music art are virtually solely provided by the music departments of colleges in New York City. Students who seek this degree can anticipate focusing on theories, songwriting, and performance. (1)
The list of music colleges in NYC with the highest rankings includes The Juilliard School, New York University, Manhattan School of Music, Ithaca College School of Music, and The New School, among others. In addition, their admission details are given as well. These top-ranked schools in New York City are listed below. 
The Top music colleges and Schools in New York City
The Schools' details are talked about below. Moreover, it is discussed how effectively each music school educates their kid, and how well their students can perform in their music careers. Several of the renowned, emerging, and established schools in New York City are thoroughly discussed below, with admission procedure information and contact details of each school.
1- The Juilliard School
In the Greater New York City Area, in Manhattan, New York, is the prestigious private university known as Juilliard. The college was founded in 1905 in NYC. Moreover, it is a modest university with 492 undergraduate students enrolled. Given that only 8% of applicants are accepted by Juilliard, admissions are incredibly competitive. Popular majors include acting, dance, and musical instruments. Additionally, Juilliard graduates go on to earn a starting income of $23,500, with 94% of them graduating. The students are so motivated and the staff is of the highest caliber, it is encouraging. Juilliard is both a challenging and incredibly rewarding place to learn.
Moreover, Juilliard has a five- to eight-percent acceptance rate generally, making admission extremely difficult. Additionally, the goal of the institution is to give talented musicians, dancers, and actors from throughout the world the best possible creative education so they can develop their artistic abilities to the maximum. Moreover, There is no minimum or maximum age restriction specified by the school. (1)
Additional information about the school: 
Address: 60 LINCOLN CENTER PLAZA NEW YORK, NY 10023
Contact number: +1 212-799-5000
2- The New York University
Music majors at New York University can master every facet of the industry, from music creation to performing.
Students at New York University gain knowledge of music production and the music industry. The curriculum equips students with all the knowledge and abilities necessary to excel in the workplace, advance their intellectual and artistic capacities, and hone their commercial acumen.
Moreover, faculty members that have expertise in all facets of the industry—from research scientists to game designers, from musicians to engineers—teach classes to students.
On the other hand, NYU places a strong emphasis on conventional performance as well as music creation and technical skills.
The new James Dolan Music Recording Studio within the institution serves as the program's focal point. Additionally, the studio has a 40-channel SSL console, a control room with a vast class area, and the first Dangerous Music 10.2 surround installation in New York City. (2)
Following is the relevant information about New York University:
School contact number: 212.229.5600
School address: The New School 66 West 12th Street New York, NY 10011
3- Manhattan School of Music 
Manhattan School of Music is a top-notch private university situated in Manhattan, New York, in the metropolitan area of New York City. Manhattan School of Music is a modest university with 495 students enrolled as undergraduates. Additionally, due to the Manhattan School of Music enrollment of 42%, admissions are moderately competitive. Popular degrees include singing and operas, musical performances, and musical instruments. Moreover, MSM alumni go on to earn a starting income of $16,800, with 74% of students graduating.
Furthermore, since 1917, MSM, which is close to the Columbia University campus, has been educating musicians of all ages. Along with jazz performance and composition, classical performance and composition, and musical theatre degrees, MSM collaborates with Barnard College at Columbia to offer cross-registration courses.
The Manhattan School of Music Symphony, Philharmonic Orchestra, and Chamber Sinfonia are just a few of the performing groups that MSM students have access to. Student ensembles play everything from chamber music to all different kinds of jazz. Additionally, one of Manhattan School of Music's many performance venues, such as the recently rebuilt Neidorff-Karpati Hall, is available for use by these ensembles. In the Ades Performance Space, operas and contemporary chamber music are performed, and in the Carla Bossi-Comelli Studio, numerous performances and recordings are made. (3)
Following is the relevant information about the Manhattan School of Music:
Contact number: +1 212-749-2802
Address: 130 CLAREMONT AVENUE NEW YORK, NY 10027
4- The Ithaca College School of Music
The Ithaca College School of Music, which was established in 1892, has developed to become one of the most well-known music education initiatives in the country. Additionally, the college's world-class staff, which comprises musicians recognized for their teaching and performance skills, is responsible for its fame.
The opportunity to work alongside those professors in groups like the Ithaca College Contemporary Ensemble allows students to enhance their abilities. In addition, the Ensemble gives two concerts a year that emphasizes music by contemporary composers. Additionally, kids can access part in ensembles for any instrument, from vocal jazz to classical chamber music.
Students get plenty of opportunities to play, irrespective of the band they choose to participate in. moreover, Ithaca regularly sends its groups on tours to instruct pupils on how to play in front of a live crowd and while traveling. Ithaca students have sung at venues like Lincoln Center, Kennedy Center, Strathmore, and ACDA in the past five years alone. (4)
Additional information about the Ithaca College School of Music:
School address: 953 Danby Rd, Ithaca, NY 14850, United States
Contact number: +1 607-274-3011
5- The New School for Jazz and Contemporary Music
The New School is one of the most prestigious and cutting-edge liberal arts colleges in the country, as evidenced by the fact that it ranks twice on this list for its jazz program, and its classical program. This fact is further demonstrated by the numerous giants who teach there, such as NEA Jazz Master Reggie Workman and MacArthur fellow Mary Halvorson.
The New School's belief that artists should serve as tutors explains why it has amassed such an extraordinary faculty of performers. Additionally, the school's main program includes composing, musicology, performance, research, and liberal arts. To learn their skills, students can attend private sessions with one or more teachers. In addition, The New School's good location is one advantage of attending. Students have easy access to events, nightclubs, and many of Manhattan's top artistic institutions thanks to their location in the downtown district of New York City. (5)
Additional information about the New School:
School address: School of Jazz, 55 W 13th St, New York, NY 10011, United States 
Contact number: +1 212-229-5150
End Note: Stay Tuned to reach out to the best music colleges in New York for your child's passionate career
In concluding remarks, parents are always in quest for the best for their children. They are likely to seek out a setting where their kids can pick up enough valuable skills to get off to a good beginning in life. With this, parents prefer for their kids to pursue their interests. Moreover, they look up to a place where the kids lay the groundwork for future learning on their passions and they grow enthusiastic about learning new things about what they are passionate about.
Moreover, a good school is characterized so an account of its great faculty body, cooperating staff, rigorous curriculum, a consistent parent-teacher association. In addition to this, a supply of healthy environment for the child to grasp knowledge and grow is needed too. Additionally, there are well-known, top-tier established, and emerging educational institutions for music, music composition, and dance in New York City which are discussed in this article in detail. Lastly, their contact details are given as well.  
References
1- (The Juilliard School) from NICHE 
Link: https://www.niche.com/colleges/the-juilliard-school/#about
2- (New York University) From NICHE 
Link:https://www.niche.com/colleges/new-york-university/
3- (Manhattan School of Music) From niche
Link:https://www.niche.com/colleges/manhattan-school-of-music/#about
4- (2023 Best Colleges for Music in New York) From NICHE
Link:https://www.niche.com/colleges/search/best-colleges-for-music/s/new-york/ 
5- (Contact Us) From the new school
Link:https://www.newschool.edu/about/contact/