News
New York City Sports Travel Guide for Beginners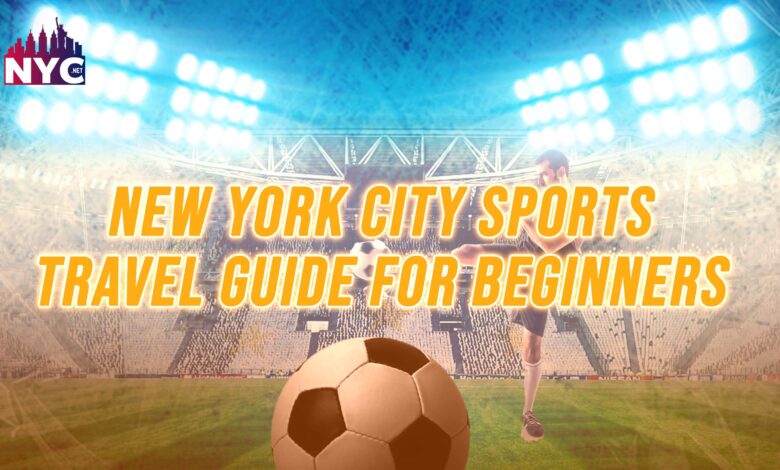 New York City Sports
New York City sports rules the world with its outstanding dynamics and team spirit. You need to learn more about it. Still, worry not. We got you!
New York City is a hub for arts, culture, and finance and a vibrant sports destination. With a rich sporting heritage and many professional teams across various sports, the city offers an exciting experience for sports enthusiasts. 
Hence, Whether you're a seasoned fan or a beginner, this comprehensive travel guide will help you navigate the world of New York City sports. Moreover, we will also help you navigate your way around New York and choose the best sports location. 
Therefore, let's begin the ride with us:
Guide for Navigating New York City Sports:
New York City Sports is an exceptional city diamond shining ever so bright. However, navigating this massive world might take a lot of work. People are usually stuck between conflicting choices, especially if they aren't die-hard fans. 
However, we have compiled this guide to ensure it doesn't happen to you. It will help you better navigate New York City sports without getting lost in the hustle. 
Let's find out some more: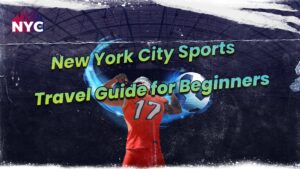 Choosing Your Sport
Undoubtedly, the world of New York City sports is vast. Therefore, it might not be easy to choose the sports of your choice. 
New York City boasts teams in major professional leagues, including:
basketball, 

baseball, 

football, 

hockey, 

and soccer. 
Hence, decide which sport interests you the most before planning your trip. It would help if you asked yourself the following questions:
Do you want to catch a thrilling basketball game at Madison Square Garden, 

Or witness a classic baseball match at Yankee Stadium, 

How about you experience the passion of the football fans at MetLife Stadium? 
Once you've chosen your sport, you can plan the rest of your trip accordingly.
Getting Tickets
Once you have narrowed down your favorite sports, it is time to get your hands on those tickets. 
Securing tickets for New York City sporting events can be competitive, especially for high-demand games. Therefore, Purchasing tickets well in advance is advisable to ensure availability. You can reach out to some of the great sources for buying tickets like:
Official team websites, 

ticket marketplaces, 

and reputable resellers.
Still, remember that prices may vary based on the teams' popularity and the game's significance.
Transportation
Undoubtedly, navigating New York City can be overwhelming. However, for your ease, the city offers a comprehensive transportation system to make your journey to the sports venues convenient. 
For starters, the subway is the most popular mode of transportation, providing easy access to stadiums and arenas. Alternatively, you can opt for ride-sharing services or taxis if you prefer a more direct route. 
Hence, Plan your route, considering traffic and potential delays.
Venues and Atmosphere
Next to our list would be to track down some venues. Considering it's New York City, it can be a hard job, but one must always try. 
New York City has iconic sports venues filled with history and an electrifying atmosphere. Therefore, Here are a few noteworthy venues you should consider visiting:
Yankee Stadium:

The home of the New York Yankees, this legendary baseball stadium offers an unforgettable experience. With its rich history and passionate fans, catching a Yankees game is necessary for any sports enthusiast.

Madison Square Garden:

Known as "The World's Most Famous Arena," Madison Square Garden hosts basketball (New York Knicks), hockey (New York Rangers), and other major sporting events. The venue exudes an incredible atmosphere that is hard to replicate elsewhere.

MetLife Stadium:

Located near East Rutherford, New Jersey, this massive stadium hosts the New York Giants and New York Jets football teams. The passionate fan base and the sheer size of the stadium make it a memorable experience for any football fan.

Barclays Center:

Situated in Brooklyn, the Barclays Center is home to the Brooklyn Nets basketball team and the New York Islanders hockey team. It is a modern arena with state-of-the-art facilities and a lively atmosphere.
Sports Bars and Fan Experiences
If you want to immerse yourself in the local sports culture, New York City has a plethora of sports pubs where you can watch the game while eating and drinking wonderful meals. Popular choices include Foley's NY, Standings, and The Ainsworth. Some sports clubs provide fan experiences, such as meeting players, touring stadiums, and participating in pre-game festivities. 
More information about these one-of-a-kind experiences may be found on the official team websites.
Exploring Sports History
New York City has a rich sports history, and several attractions are worth visiting to learn more about. The National Baseball Hall of Fame and Museum in Cooperstown, a few hours' drive from the city, is a must-visit for baseball fans. The New York Yankees Museum in Yankee Stadium showcases the team's storied history. The Madison Square Garden All-Access Tour also offers a behind-the-scenes look at this iconic venue.
Sports Beyond the Pros
While professional sports dominate the scene, leisure sports are also available in New York City. Central Park has plenty of areas for jogging, cycling, and even sports leagues. You can also visit the city's various sports clubs and fitness centers to participate in tennis, golf, soccer, and other activities.
Sports Culture in the Community
Participating in local sports culture is essential for any sports trip experience. Because New York City is known for its passionate and vocal supporters, expect spirited debates and intense rivalries. Engage in local conversations, visit sports-themed businesses, and sample the local foods and beverages connected with each sport. New Yorkers are proud of their teams, and sharing their excitement will make your visit more enjoyable.
Where to Watch New York City Sports?
Primarily, the most common landing sport for most tourists is Manhattan. However, it might be challenging if you are here to watch New York City Sports. 
People usually need help locating and picking one sports venue, especially since they live far away from each other. Surprisingly, just one of the pro sports venues sits in the most famous of the five boroughs. The others are scattered all over the city that never sleeps. 
Hence, here are some of the other Sports venues for you to try:
Barclays Centre:
It is the home of the Nets and is located at 620 Atlantic Ave. near Flatbush Ave. in Brooklyn. It is a multi-purpose indoor arena that has hosted many sports events, including:
Boxing matches

Professional and college basketball games
In addition, it is also a home for many great artists. People worldwide come here to watch their favorite artists' live performances and musical concerts. Hence, It is a place worth visiting. 
Madison Square Garden:
Everyone knows about Madison Square Garden, commonly known as "MSG" or "The Garden." It is the home of the Knicks, Rangers, and WNBA's Liberty and sits at 4 Pennsylvania Plaza in Manhattan, above Penn Station. It has also hosted numerous other sporting events, including 
college basketball games, 

boxing matches, 

and professional wrestling events.
Moreover, Madison Square Garden's seating capacity fluctuates depending on the event. It has roughly 19,812 people for basketball games and approximately 18,006 for hockey games. The arena can accommodate even larger crowds for concerts and other special events.
MetLife Stadium
This grand New York City Sports Venue is loved at 1 MetLife Stadium Drive in East Rutherford, N.J. Furthermore, It is one of the largest stadiums in the NFL (National Football League). It serves as the home stadium for two professional football teams:
 the New York Giants 

and the New York Jets.
As for its capacity, MetLife Stadium has an approximate seating capacity of 82,500 for football games. However, it may increase to over 87,000 for special events and concerts.
Red Bull Arena:
Lastly, Red Bull Arena is a soccer-specific stadium in Harrison, New Jersey, just outside New York City. It is the home stadium of the New York Red Bulls, a professional soccer team that competes in Major League Soccer (MLS).
This grand arena is known to hold approximately 25,000 spectators for soccer matches. 
In addition, Red Bull Arena has also hosted other soccer events, including:
 International friendlies, 

MLS Cup Playoff matches

 and the Lamar Hunt U.S. Open Cup finals. 
Moreover, The stadium has also been used for concerts and other entertainment events.
Gameday Parking:
Last but not least, gameday parking is one of the biggest problems many people face. The venue at the gameday is so massively packed, making it almost impossible to find a parking for your car. 
Of all the venues, Citi Field, MetLife Stadium, and Red Bull Arena have enough parking lots and space in the surrounding areas. 
One thing to always note is that the lower the cost, the farther away you are. Hence, always make sure you go for something suitable for you. Also, prioritize the safety of your vehicle as well. 
Conclusion
In conclusion, New York City sports is a paradise for many. Undeniably, it offers many professional sporting events and a vibrant sports culture. 
Hence, Following this travel guide, you can:
plan your trip to catch a game,

 immerse yourself in the atmosphere, 

and explore the city's rich sports history. 
Therefore, get ready to cheer, chant, and experience the thrill of New York City sports!