Sports
Lights, Popcorn, and Cheers; NYC's Exciting Sports Experiences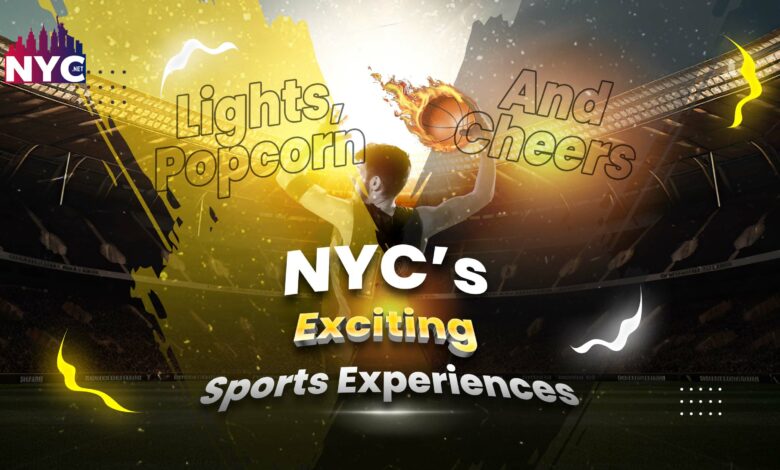 NYC's Exciting Sports Experiences
Want to have the best of NYC's Exciting sports experiences? We got your back!
New York City, known as the Big Apple, is a vibrant, energetic metropolis that never sleeps. It's a city where dreams come true, and sports play a significant role in the lives of its residents. 
From iconic stadiums to passionate fans, NYC offers a diverse range of exciting sports experiences that captivate and unite people from all walks of life. 
So if you're a die-hard sports enthusiast or simply seeking a thrilling outing, we have some of NYC's Sports experiences that never disappoint.
Hence, grab your popcorn, and let's dive into an exciting ride. Are you ready? Cause we sure are. 
NYC's Exciting Sports Experiences
As mentioned above, NYC is home to some of the best sports in the world. Both professional and local, the people here have an immense sports spirit. While there are many other exciting things to do in New York, one must attend the sports experiences.
From grand professional competitions to local matches, it is full of buzzing crowds and compelling energy. One cannot help but get attracted to it. 
Typically, NYC's sports experiences include the following:
Basketball

Football

Hockey

Baseball

Soccer

Golf
However, still, there are many more of NYC's exciting sports experiences you will like, such as: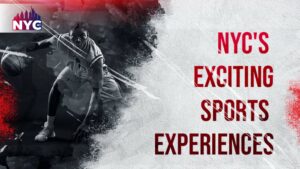 The New York Yankees at Yankee Stadium
For all baseball lovers, a trip to Yankee Stadium is an absolute must while visiting NYC. 
Moreover, there is no better place to experience this magical game than Yankee Stadium. 
Located in the Bronx, this legendary stadium has witnessed countless historic moments. It is home to the New York Yankees, one of the most successful and iconic teams in Major League Baseball (MLB) history. 
The stadium's atmosphere is electrifying, with fervent fans wearing pinstriped shirts and cheering for their favorite team. The sound of the bat, the aroma of hot dogs, and the sight of the famed "Bleacher Creatures" combine to create a unique experience.
Hence, add this to your must-experience list. 
The New York Knicks at Madison Square Garden
In terms of NYC's exciting sports experiences, one cannot leave behind the iconic Madison Square Garden. 
Seeing a game at Madison Square Garden is an unforgettable experience for basketball fans. This historic arena, known as "The Mecca of Basketball," has been the home of the New York Knicks, one of the NBA's most renowned franchises, since 1968. 
The Garden is famous for its intense atmosphere and the emotional support of the Knicks' adoring fans. A game at Madison Square Garden is a basketball fan's dream come true, from the pre-game hoopla to the exhilarating fourth-quarter moments.
The New York Giants or New York Jets at MetLife Stadium
Further ahead, we have the football blast. Don't worry. We are not leaving our football lovers behind. 
Football enthusiasts may get their fix at MetLife Stadium, home to two of the National Football League's (NFL) most popular teams, the New York Giants and the New York Jets. This modern stadium in East Rutherford, New Jersey, just a short drive from Manhattan, provides an immersive game-day experience. 
The clamor of the crowd, tailgate parties in the parking lots, and the sight of the teams slugging it out on the pitch combine to create an amazing scene that exemplifies football fans' enthusiasm and dedication.
Hence, it is an experience that you will never forget!
The US Open Tennis Championship at the USTA Billie Jean King National Tennis Center
The US Open, one of the four Grand Slam competitions, annually draws the tennis world to Flushing Meadows-Corona Park in Queens. The USTA Billie Jean King National Tennis Centre transforms into an exciting activity center, presenting the world's greatest tennis players battling for glory on hard courts. 
The US Open features high-stakes events and a bustling festival-like environment with live music, celebrity sightings, and various delectable food options. Whether you're a casual tennis fan or a die-hard devotee, the US Open delivers fascinating matches and a celebratory atmosphere.
The New York Rangers at Madison Square Garden
Hockey enthusiasts can witness the sport's grace, speed, and intensity by catching a New York Rangers game at Madison Square Garden. The Rangers have a rich history and a passionate fanbase that fills the arena with energy. The fast-paced action on the ice, the thunderous applause after a goal, and the chants of "Let's go Rangers" create an electric atmosphere that is truly unique to hockey.
In addition to these major sporting events, NYC also offers many other sports experiences. From professional soccer matches at Red Bull Arena to horse racing at Belmont Park and the iconic New York City Marathon, the city is a haven for sports enthusiasts. 
Moreover, sports bars and restaurants throughout the city provide a vibrant backdrop for watching games, with like-minded fans gathering to cheer on their favorite teams.
The New York City Marathon
Hold up; we are not done yet. Only when we talk about the infamous New York Marathon Experience. Undoubtedly, it is one of my personal favorite sports experiences. With the usual rush of adrenaline and excitement, one can forget the world for a while!
The New York City Marathon is one of the most recognizable and prestigious. This annual event in November attracts over 50,000 runners from all around the world. The race travels through all five boroughs of New York City, highlighting the city's different neighborhoods and attractions. 
The atmosphere intensifies as spectators line the streets to cheer on the runners. Whether you're a runner or a spectator, the New York City Marathon exemplifies the city's perseverance, solidarity, and love of sports.
Hence, it is an experience you must have at least once. Trust us; you will not regret it.
Major League Soccer (MLS) Matches
Have you ever experienced or heard about the infamous New York Soccer? Well, we can cover for you. 
For starters, New York City is home to two MLS teams: 
New York City FC 

and the New York Red Bulls. 
Undeniably, both teams have passionate fan bases and play their home matches in state-of-the-art stadiums. However, Yankee Stadium serves as the home ground for New York City FC, providing a unique setting as soccer fans gather in a baseball stadium. 
On the other hand, the New York Red Bulls play their matches at Red Bull Arena in Harrison, New Jersey, just across the Hudson River.
Hence, Attending an MLS match is an opportunity to witness the growing popularity of soccer in the United States. Moreover, you will be thrilled to experience the energy and excitement of the beautiful game.
Therefore, grab your popcorn to have these NYC's exciting sports experiences.
Boxing Matches at Madison Square Garden
There is another exciting sports experience you can have; boxing. It can conflict since only some people want to spend their evening watching people box. However, if you are a fan, you must experience boxing matches at Madison Square Garden. 
Madison Square Garden has a long and storied history in boxing. Throughout the years, many legendary fighters have graced the arena's ring, such as:
 Muhammad Ali, 

Joe Frazier, 

and Mike Tyson. 
Today, the Garden hosts high-profile boxing matches that attract fans worldwide. The combination of the historical significance of the venue and the intensity of the fights creates an electrifying atmosphere that boxing enthusiasts can't afford to miss.
Hence, never let it slip through your fingers if you can!
College Sports
New York City is not just about professional sports but also home to several major college sports teams. Many universities in NYC have dedicated fan bases that support their basketball, baseball, and soccer teams. A few examples would be such:
Universities like Columbia, 

New York University (NYU), 

and St. John's University 
Hence, Attending a college sports game offers a chance to witness young athletes' raw talent and competitive spirit as they compete at a high level. However, of course, the atmosphere may differ slightly from professional sports, but the passion and excitement are just as palpable.
A sports lover will enjoy the passion just anywhere. 
Streetball Tournaments
Lastly, one of NYC's most exciting sports experiences is Streetball tournaments. 
Streetball holds a particular place in the hearts of basketball fans in the concrete playgrounds of New York City. Parks such as Harlem's Rucker Park and Greenwich Village's West 4th Street Courts have become legendary for organizing streetball competitions that display exceptional talent and provide a platform for budding players to shine. 
These competitions draw locals, basketball fans, and even NBA stars, who occasionally participate in friendly matches. Participating in a streetball tournament is a true NYC sports experience that embodies the heart of the city's street culture and basketball legacy.
Conclusion
In hindsight, from iconic stadiums to grassroots tournaments, NYC's exciting sports experiences are countless. Hence, whether you prefer the crowd's roar in a packed arena or the intimacy of a streetball game, NYC has something for every sports enthusiast. 
So, grab your tickets, soak in the vibrant atmosphere, and immerse yourself in the lights, popcorn, and cheers that make the sports scene in NYC truly unforgettable.