Weather
Pack your perfect suitcase to survive in NYC's Weather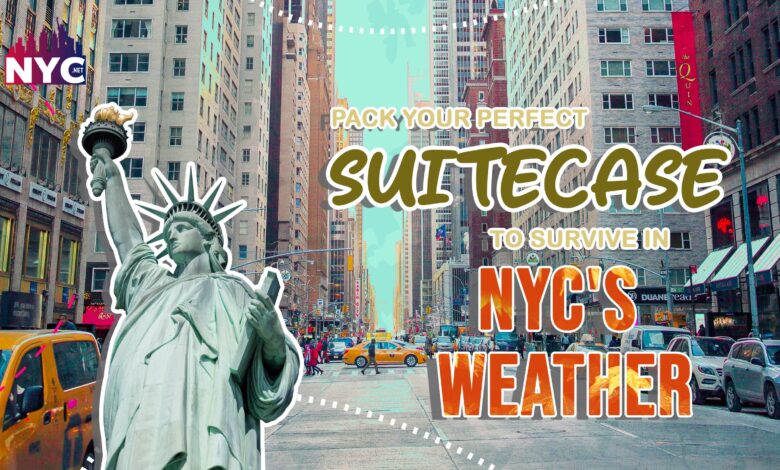 NYC's Weather
Wondering how to survive in NYC's Weather? It all depends on the suitcase you pack. 
NYC's Weather is super unpredictable. However, it has four defined seasons; Summer, Winter, Autumn, and Spring. Still, you never know what greets you. 
New York City is a dream for many people. From magnificent skyscrapers to awestruck aesthetics, it is a city full of fantasies. However, it is notorious for one thing; unpredictable Weather. 
Many people struggle to survive in NYC's Weather due to its unpredictability. Its Weather is everchanging, from a warm sunny morning to rain showers and snow storms. One can never predict what mother nature has in store for us. 
However, with the perfectly packed suitcase, you can fight off anything. Therefore, today this blog will help you walk through some essentials to carry along. We will guide you on how to pack your perfect suitcase to survive in NYC's Weather. 
Hence, stick tight and walk with us till the end: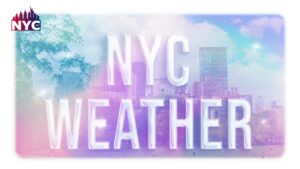 Essential Packing Tips for Starters:
While packing hacks to survive in NYC's Weather is exclusive, certain basic tips go with all. These essential packing tips will help you fill your perfect suitcase easily. 
Hence, here are some of the basic packing tips for starters:
The Bigger the Suitcase, the better:
Though many people believe that the bigger the suitcase, the more things you will put in it. It is quite true. However, carrying extras and being vigilant when taking a trip is always better. Therefore, having a bigger suitcase with you is always better. 
Consequently, you can easily put all your belongings in one suitcase and keep them in your room. Moreover, you wouldn't have to worry too much if the Weather suddenly overturned. With a big bag, you can easily carry your caution clothes. 
Carry an Extra Backpack along:
Another basic packing tip for surviving in NYC's Weather is always to carry an extra backpack. An additional pack will come in handy when you are exploring NYC. You cannot have a giant suitcase everywhere now, can you?
Therefore, it would be good to sneak in an extra backpack in your main suitcase. You can carry whatever you need for the day in your bag and leave the leftover in your room.
It's all about smart work!
Do the Clothing Countdown:
While you are packing, make sure you do the clothing countdown. It will help you decide how many clothes and what clothes to carry for each day. Once you finish the total number of clothes, sneak a few extras. 
No, I am not kidding. It is important to carry some extra pairs of clothes in an emergency. Especially given the unpredictability of the Weather, it is always good to keep a few different teams. 
There is nothing wrong with being a little hyper-vigilant. 
Keep Liquids Separate and Within Reach:
Furthermore, always make sure to keep the liquids separate and within reach. Your liquid list may include the following:
Shampoo

Handwash and Body Wash

Sanitizers

Moisturizers

Sunscreen

Foundations

Gell

BB Creams

Toothpaste

Contact lens
The benefit of it is that one can need these essentials anytime. Moreover, It is also good to prevent leakage if you put them in a separate plastic box. 
Hence, whenever you need them, you can easily open the top of your back and access your essentials without digging deep.
Perfect Suitcase to Survice in NYC's Weather:
We will discuss your perfect suitcase to survive in NYC's Weather. Since NYC's Weather is always changing, it is recommended to check the weather forecast. Doing so will give you a better idea of what to pack and what Weather to expect. 
However, for every season, there are distinct requirements, such as:
Perfect Suitcase for Summers:
When packing for summers in NYC, it's important to prioritize lightweight and breathable clothing to stay cool and comfortable in the hot and humid Weather. Here's a detailed list of things to pack:
T-Shirts and Tank Tops

: Pack a mix of short-sleeved t-shirts and tank tops in breathable fabrics like cotton or linen. These versatile tops can be paired with shorts, skirts, or jeans for different occasions.

Shorts and Skirts

: Opt for lightweight, comfortable shorts and skirts that allow air circulation. Choose versatile options that can be dressed up or down, depending on your plans.

Dresses:

Pack a few summer dresses in different styles and lengths. Flowy sundresses, maxi dresses, or shirt dresses are great choices. They are fashionable and help you stay cool in the heat.

Lightweight Pants

: While shorts and skirts are summer essentials, having a couple of light pants or capris for cooler evenings or activities requiring more coverage is good. Linen or cotton pants are breathable options.

Breathable Undergarments

: Choose moisture-wicking and breathable undergarments to stay comfortable throughout the day. Hence, opt for cotton underwear with breathable fabrics.

Swimwear:

Moreover, If you plan on visiting the beaches, rooftop pools, or water parks, pack your favourite swimwear. Remember a beach towel or a lightweight sarong for drying off and lounging.

Comfortable Walking Shoes: NYC is all about walking; hence if you want to explore properly, pack your most comfortable shoes. Sneakers, flats, or sandals with cushioned soles are ideal choices. Furthermore, break them in before your trip to avoid discomfort.
Sun Protection:

Protect yourself from the sun's rays by packing a wide-brimmed hat to shield your face and neck. Sunglasses with UV protection are also essential. Pack a broad-spectrum sunscreen with a high SPF and apply it generously to exposed skin.

Light Jacket or Cardigan:

It's smart to bring a lightweight jacket or cardigan for cooler evenings or air-conditioned interior settings, even though New York City summers can be sweltering. Choose a light jumper or a fabric that breathes, like linen.
Accessories:
Bring a tiny crossbody bag or backpack to hold your necessities while visiting the city.

Consider bringing a folding, reusable tote bag for shopping or carrying other stuff.

Bring a refillable water bottle with you to keep hydrated all day.
Perfect suitcase for winter:
Winter (December to February):
 

Warm Coats & Jackets:

Bring a thick, insulated winter coat to keep you warm throughout the chilly Weather. Consider possibilities like a wool coat with a lining or a down-filled parka. For added warmth, make sure your hips are covered. To defend against snow or rain, bring an outer layer that is waterproof or water-resistant.

Sweaters and Layering Tops

: Pack thick sweaters, turtlenecks, and long-sleeved tops for layering. Sweaters made of cashmere or merino wool offer good warmth without being heavy.

Thermal Underwear and Base Layers

: Bring thermal underwear or base layers for further insulation. These light, moisture-wicking clothes keep you warm by trapping heat close to your body. Choose products made of merino wool or synthetic fabrics, for example.

Pants and Jeans:

Pack a few pairs of comfortable trousers or jeans to go with your winter tops and coats. Think about wearing heavier materials like jeans with a liner or wool-blend trousers.

Hats, Scarfs, and Gloves:

Pack a warm hat that covers your ears, a scarf to keep the wind off your neck, and gloves or mittens to keep your hands warm. Look for products made of fleece or wool, for example.

Warm Boots and Socks:

Socks with insulation and a thick weave are recommended. To cross icy or slushy sidewalks, wear them with waterproof boots with high traction.

 Layering Accessories:

Keep long pants, thermals, and camisoles in your luggage since they are perfect for adding layers. To add more warmth, wear these adaptable items below your clothes.
Perfect Suitcase for Autumn and Spring:
Autumn (September to November) and Spring (March to May):
 Light to Midweight Jackets:

Pack various light to midweight jackets for autumn and spring because the Weather can change quickly. Consider wearing a trench coat, a denim jacket, or a lightweight raincoat. During these seasons, layering is essential.

Long-Sleeved Shirts and Blouses

: Pack various long-sleeved shirts and blouses made of breathable materials. Choose garments that, depending on the Weather, can be worn alone or layered.

Sweaters and Cardigans:

Bring a variety of sweaters and cardigans that can be layered over your tops. Choose lightweight or medium-weight clothing that keeps you warm without being cumbersome.

 

Pants, Jeans, and Skirts:

Bring a selection of appropriate skirts, pants, and jeans for the changing Weather. Consider options like ankle-length pants, jeans in various cuts, and dresses that can be paired with tights.

 

Scarves and Hats

: Bring lightweight scarves and hats to add a stylish touch to your outfits and provide warmth on cooler days. Opt for versatile options that can be worn with multiple companies.

 

Comfortable Shoes:

Pack a mix of comfortable shoes suitable for walking in changing weather conditions. Sneakers, ankle boots, or flats with good support are great options for autumn and spring.

 

Umbrella:

During these seasons, NYC occasionally becomes wet, so it's a good idea to bring a small umbrella or a waterproof hooded jacket to stay dry.

Accessorizing with layers:

Bring thin cardigans, wraps, or shawls that you can quickly layer over your clothing to be warm.
Conclusion:
In hindsight, to survive in NYC's Weather, the trick is to check the forecast and pack accordingly. Without the guide above, I hope you can do it so easily. Moreover, always carry extra and seasonal clothes just in case the Weather tries to play tricks on you. 
We wish you a good trip and happy packing!