Weather
A Tale of Two Weathers: Contrasting NYC's Summers and Winters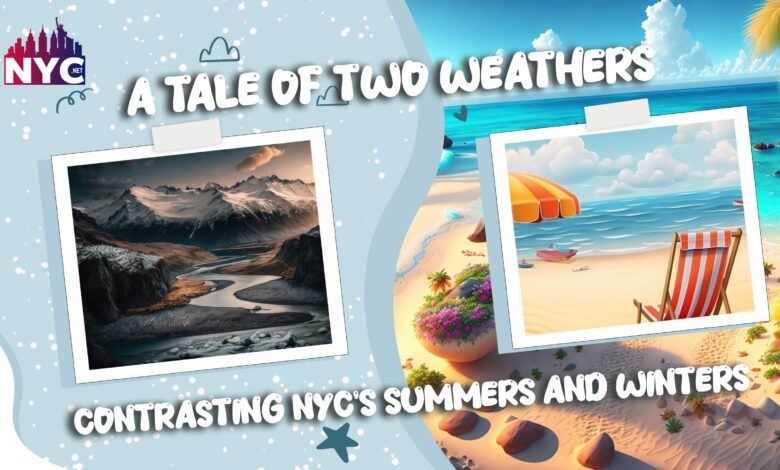 NYC's Summers and Winters
Are you contemplating between NYC's summers and winters? Worry not; we have a detailed analysis for you to choose the best. 
New York City, which never sleeps, experiences contrasting Summers and Winters. The Big Apple showcases two distinct personalities regarding climate. Furthermore, The tale of two kinds of weather creates a fascinating narrative that shapes the lives of its residents and visitors. 
Therefore, we are here to explore this exciting tale of contrasting weather. Moreover, this blog will also cover the following elements:
NYC's Summers and Winters

Eatables and Wardrobe in NYC's Summers and Winters

Challenges of NYC's Summers and Winters

Contrasting NYC's Summers and Winters, what is the best?
Hence, without any delay, let's get into it:

NYC's Summers and Winters:
Firstly, NYC has four fascinating seasons; Summer, Winter, Autumn, and Spring. However, we will talk in-depth about only two. So, take out your paper to write down some notable points of both Summer and Winter. 
Summer in the City:
As the sun rises, New York goes through a remarkable transformation. Under the summer attire, the city basks in warm temperatures from June to August. Moreover, its infectious energy also permeates the streets. Summer in NYC is also a time of:
 abundant sunshine, 

bustling parks, 

and a vibrant social scene.
The temperature in Summer:
Moreover, The average high temperatures during the summer range from the mid-70s to the mid-80s Fahrenheit (24-29°C).  Hence, It provides a comfortable environment for outdoor activities. 
Things to do In Summer:
Central Park immediately turns out to be the favorite part of various locals and tourists during summer. The park comes to life with the following:
 families picnic, 

musical performance, 

and athletes' engagement in multiple sports. 
Moreover, The beaches, such as Coney Island and Rockaway Beach, offer a refreshing escape from the urban heat. People here also love to do the following:
sunbathing, 

swimming, 

and surfing 
Furthermore, one must mention the city's cultural calendar to discuss New York City summers. It also comes to life with the following:
 festivals, 

concerts, 

and outdoor performances. 
Moreover, Plenty of entertainment options exist, from Shakespeare in the Park to free concerts in Bryant Park. In addition, Rooftop bars and restaurants offer breathtaking skyline views as people savor the warm evenings with a drink.
Winter Wonderland:
With time, a cool breeze ushers in the changing seasons, and winter wraps New York City in a magical blanket of snow. From December to February, the city transforms into a winter wonderland. Consequently, such magnificent white attire offers a contrasting experience to its vibrant summers. 
Hence, the city's charm rises to new heights while the temperatures drop.
The temperature in Winters;
Winter in NYC also showcases average temperatures ranging from the upper 30s to the upper 40s Fahrenheit (3-9°C). However, it can dip below freezing, especially during January and February. However, The cityscape becomes adorned with snowfall. Therefore, The snow-covered parks, streets, and buildings look like picturesque scenes from a postcard.
Things to do in Winters:
Contrasting to sunbathers, Central Park is now a snowy playground for:
 sledding, 

ice skating, 

and building snowmen. 
Moreover, The iconic ice rink at Rockefeller Center attracts visitors to offer a quintessential New York City winter experience. The city's parks, such as Bryant Park and Prospect Park, stay caught up. They set up holiday markets, creating a festive atmosphere where visitors can:
 sip hot cocoa, 

browse for unique gifts, 

and revel in the holiday spirit.
Winter also brings an array of indoor attractions that thrive in the colder months. Additionally, New York City offers many cultural experiences that resonate in the wintertime, such as:
 world-class museums like the Metropolitan Museum of Art 

and the Museum of Modern Art 

Broadway shows,

 and cozy jazz clubs. 
Not only this, but the city's culinary scene also comes alive with:
 steaming cups of hot chocolate, 

hearty soups, 

and comfort foods that warm both body and soul.
Eatables and Wardrobes in NYC's Summers and Winters:
Now that we have discussed the basics of NYC's Summers and winters let's look at some of the best eatables and wardrobes. 
Summers in NYC:
What to Eat:
Stay hydrated

: In the hot and humid weather, staying hydrated is essential. Drink plenty of water, fresh juices, and electrolyte-rich beverages.

Light and refreshing foods

: Opt for light meals that include fresh fruits, vegetables, salads, and chilled soups. These provide hydration and nutrients while keeping you cool.

Seafood:

Summers are a great time to enjoy fresh seafood in NYC. Indulge in oysters, clams, lobster rolls, and fish tacos.
What to Wear:
Breathable clothing

: Choose lightweight and breathable fabrics like cotton, linen, or moisture-wicking materials that allow air circulation and keep you cool.

Loose-fitting attire

: Opt for loose-fitting clothes that allow airflow and prevent excessive sweating. Flowy dresses, shorts, skirts, and lightweight tops are ideal choices.

Sun protection:

Wear a wide-brimmed hat, sunglasses, and use sunscreen to protect yourself from the sun's harmful rays.

Comfortable footwear:

Opt for sandals or breathable shoes to keep your feet cool and comfortable while exploring the city.
Winters in NYC:
What to Eat:
Warm and hearty dishes:

Embrace the cold weather with comforting foods like soups, stews, roasted meats, and hot sandwiches. NYC is known for its diverse culinary scene, so you can also explore international cuisines like Italian, Indian, or Middle Eastern for warming dishes.

Hot beverages:

Warm up with hot drinks like coffee, hot chocolate, or tea. Try seasonal specialties like spiced apple cider or mulled wine from local cafes and vendors.

Comforting desserts:

Indulge in warm apple pie, chocolate lava cake, or New York-style cheesecake to satisfy your sweet tooth.
         What to Wear:
Layered clothing:

Layering is key to staying warm during NYC winters. Wear thermals or base layers, followed by sweaters, jackets, and coats. This allows you to adjust your clothing based on indoor and outdoor temperatures.

Insulated outerwear:

Invest in a good-quality winter coat that provides insulation and protects you from cold winds. Down jackets, wool coats, or parkas are popular choices.

Hats, scarves, and gloves:

Remember to wear a warm hat, scarf, and gloves to protect your head, neck, and hands from the cold. Choose materials like wool or fleece for added warmth.

Winter footwear:

Invest in waterproof and insulated boots or shoes to keep your feet dry and warm. Look for options with good traction to navigate snowy or icy streets.
Hence, adaptation to weather food and wearable is important to survive the weather anywhere. 
Challenges of NYC's Summers and Winters
Though both NYC' Summers and Winters come with their joy, there are certain challenges too;
Challenges of Summer in NYC:
Heatwaves

: Summers in NYC is full of heat and humidity, with occasional heatwaves. Consequently, High temperatures and humidity levels can lead to discomfort, heat exhaustion, and heat-related illnesses.

Air Pollution

: Poor air quality during summer is observed due to increased energy usage, vehicular emissions, and industrial activities. It may lead to respiratory problems and cause health issues for vulnerable individuals.

Crowds and Tourism

: NYC is a well-liked summertime vacation spot that draws a lot of travelers. This can lead to overcrowding in popular sites, longer wait times, greater road congestion, and difficulty locating lodging.

Increased Energy Consumption:

The use of air conditioning during the summer causes an increase in electricity demand. This strains the power grid and can sometimes lead to power outages.

Summer Storms:

Thunderstorms and heavy rain are common during the summer in NYC. Localized flooding, power outages, and interruptions to transportation may result from these storms.

 Pests and Insects:

The warmer temperatures may increase pest and insect activity in the summer. The prevalence of mosquitoes, ticks, and other insects has grown, increasing the risk of diseases like Lyme disease and the West Nile virus.
Challenges of Winter in NYC:
Cold Temperatures

: New York City's winters may be extremely chilled, frequently falling below freezing. This puts vulnerable groups like homeless individuals in danger of hypothermia, frostbite, and other cold-related health problems.

Winter storms:

Winters can dump much snow on the city, covering the streets, sidewalks, and public transportation networks. This may result in traffic jams, road closures, and commuter problems.

Icy conditions:

Icy sidewalks and roadways can result from snow and cold temperatures, raising the danger of slips, falls, and accidents. Regular snow removal and ice control procedures are needed to keep things safe.

Increased Heating Costs

: The demand for heating systems increases throughout the winter, which results in higher heating costs.

Seasonal Infections

: Winter often sees an increase in respiratory illnesses such as colds, flu, and pneumonia. Crowded indoor spaces, reduced ventilation, and close contact with others contribute to the spread of infections.

Transportation Disruptions:

Snowstorms and icy conditions can impact the city's transportation system. Flights may be delayed or canceled, and public transportation services like buses and trains may experience delays or interruptions, causing inconvenience for commuters.

Snow Removal:

Snow removal from streets, sidewalks, roofs, and garages can be challenging. The light snowfall combined with the city's densely populated areas makes snow removal a logistical challenge and can sometimes result in delays.
It's worth noting that these challenges are not exhaustive and can vary from year to year. However, NYC has the infrastructure, emergency services, and public awareness campaigns in place to mitigate these challenges and ensure the well-being of its residents and visitors throughout the year.
Contrasting NYC's Summers and Winters, what is the best season to live in?
Primarily, the choice of the best season ultimately depends on your preference. However, it is always better to consider the above factors to determine the suitability. If you are a summer person and prefer outdoor activities, the summer breeze, and beach vibes, you might love it in summer. However, if you are an indoor person and can bear the cold weather, then the winter wonderland in NYC is pure heaven.
Whatever you decide, we hope you have a magical experience.