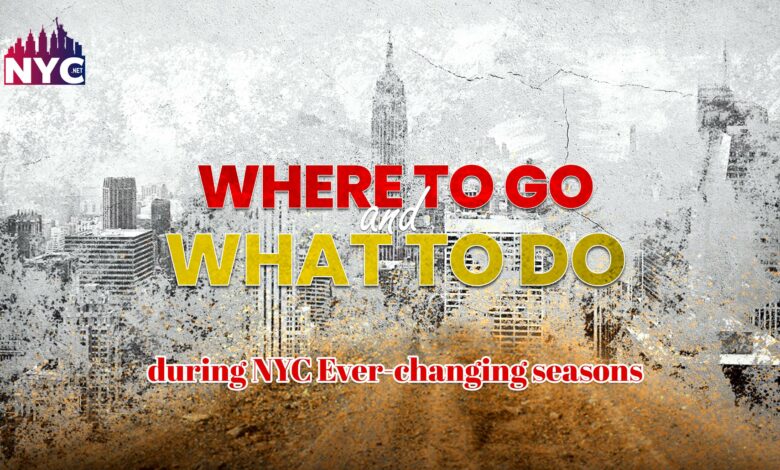 NYC's Ever-changing seasons
No need to linger on what to do during NYC's ever-changing seasons. We got you covered. 
New York City, which never sleeps, offers a unique and exciting experience every season. From the vibrant blooms of spring to the colourful foliage of autumn and the enchanting winter wonderland to the lively summer festivities, NYC's ever-changing seasons provide many opportunities for residents and visitors alike. 
Hence, this article will explore some of the best places and things to do during NYC's ever-changing seasons. Moreover, we will ensure you make the most of your time in this incredible metropolis.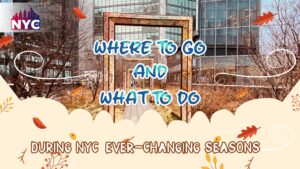 Summers in NYC:
Firstly, Summers in New York are full of fun places and activities. It is when New York City is buzzing with massive energy. 
Hence, here are some fun things to do and places to be in Summers: 
Visit Central Park: 
With lovely green spaces, hiking trails, lakes, and even a zoo, this sizable park is a must-see attraction. You can also go on picnics, hire bicycles, go boating, or unwind and soak in the scenery.
Discover the High Line: 
This elevated park constructed over a former freight rail line offers beautiful city skyline views, lush gardens, art pieces and numerous lounging places. It's a fantastic location for strolls or hanging out with friends.
Ferry Ride: 
Furthermore, Travel to Ellis Island and the Statue of Liberty to take in the historical sites and the beautiful scenery. The history of immigration in the city can be explored, and a beautiful perspective can be had by ascending to the Crown of Lady Liberty.
Attend outdoor concerts and festivals: 
NYC also hosts numerous outdoor concerts and festivals during summer. From the SummerStage series in Central Park to the Governors Ball Music Festival, there are plenty of opportunities to catch live music performances.
Relax on the beaches: 
Moreover, New York City is renowned for its urban setting and stunning beaches. Hence, popular locations for tanning, swimming, and amusement park attractions are:
Coney Island in Brooklyn 

and Rockaway Beach in Queens.
Investigate art galleries and museums: 
Explore the city's cultural scene to cool off. World-class exhibits and air-conditioned areas can be found at museums like the 
Metropolitan Museum of Art, 

the American Museum of Natural History, 

and the Museum of Modern Art (MoMA).
Stroll through the neighbourhood: 
Furthermore, you must stroll through the neighbourhood. Each also has a special charm like:
Wander through Manhattan's busy streets, 

discover Williamsburg's hip stores and restaurants, 

or visit Queens' diverse areas like Flushing or Astoria.
Enjoy outdoor dining: 
NYC is also famous for its diverse culinary scene, and during the summer, many restaurants extend their seating to outdoor spaces. Hence, You can savour delicious meals from rooftop bars to sidewalk cafes while enjoying the vibrant atmosphere.
Watch outdoor movies: 
Moreover, several parks and public areas show films beneath the stars throughout the summer. The Rooftop Cinema Club, Bryant Park, and Brooklyn Bridge Park are just a few locations where you may also see a movie outside.
Take a bike ride: 
Lastly, Riding a bike or renting a kayak will allow you to see the city differently. While kayaking on the Hudson River or the East River offers a distinctive way to view the city, the Hudson River Greenway and the Brooklyn Bridge all offer scenic riding routes.
Winters in NYC:
Moving ahead, NYC's Ever-changing seasons come in the face of winter. Winter in New York City also offers unique charm and a range of activities to enjoy despite the colder temperatures. 
Hence, here are some popular things to do and places to visit during the winter season:
Ice Skating: 
Firstly, Experience the classic winter pastime in well-known places like Bryant Park's Winter Village, Central Park's Wollman Rink, or Rockefeller Center's Rink.
Hence, these outdoor rinks offer a fantastic backdrop for some chilly pleasure.
Holiday Markets: 
Moreover, ensure to tour the joyous holiday markets dotted around the city. The holiday markets at Union Square, Bryant Park, and Columbus Circle all include regional arts and crafts, artisanal goods, delectable delicacies, and one-of-a-kind presents.
Times Square and Broadway: 
Enjoy Times Square's energetic environment and be amazed by the eye-catching billboards and lights. Therefore, catch a Broadway production to experience top-notch entertainment and escape the chilly winter weather.
Museums: 
Winter is an ideal time to visit the many renowned museums in NYC. The Metropolitan Museum of Art, the Museum of Modern Art (MoMA), and the Solomon R. Guggenheim Museum are just a few examples of institutions that offer exceptional art and cultural exhibits.
Visit the Observation Decks: 
From observation decks like the:
86th and 102nd floors of the Empire State Building
or the Top of the Rock at Rockefeller Centre.
In addition, they take in the mesmerising panoramic vistas of the city. Your tourism experience might have a distinctive backdrop thanks to the winter sky.
Yearly Parades and Winter events:
Also, Attend yearly winter events and parades, such as the Winter Jam in Central Park, which features winter sports and activities. Moreover, Chinatown's Lunar New Year Parade combines festive celebrations and traditional performances.
Warm up with a cup of coffee: 
Moreover, Find snug cafes and bakeries to indulge in decadent hot chocolate, toasty pastries, and seasonal goodies as you warm up. The City Bakery, Serendipity 3, and Maison Kayser are known for their delicious winter offerings.
Explore Indoor Gardens and Conservatories:
Escape the winter cold by visiting indoor gardens and conservatories. The New York Botanical Garden in the Bronx and the Brooklyn Botanic Garden are delightful places to immerse yourself in lush greenery and beautiful floral displays.
Winter Sports: 
In addition, you must enjoy winter sports like skiing and snowboarding at nearby Hunter Mountain or Mountain Creek Resorts.  Moreover, you can also go sledging in Central Park or Prospect Park for outdoor winter adventures.
New Year's Eve Celebrations:
Moving ahead, join the excitement of New Year's Eve in Times Square, where you can witness the iconic ball drop and partake in lively celebrations. Alternatively, in style, enjoy a special dinner cruise on the Hudson River to welcome the new year.
Hence, New Years's Eve is one of the best in NYC's ever-changing seasons. 
Furthermore, Spring and autumn are two more of NYC'S ever-changing seasons. They bring mild temperatures and vibrant landscapes, making them ideal seasons to explore the city's outdoor spaces and cultural offerings. 
Hence, Here are some things to do and places to visit during spring and autumn in NYC:
Spring (March to May):
Cherry Blossoms in Brooklyn Botanic Garden: 
See the Brooklyn Botanic Garden's stunning cherry blossom trees in bloom. The Sakura Matsuri Festival showcases traditional cuisine, live music, and art exhibitions to commemorate Japanese culture.
Learn more about Central Park: 
As springtime approaches, the park comes to life with burgeoning flowers and lush vegetation. A stroll, a rowboat rental on the lake, a trip to the Conservatory Garden, or a picnic beneath the cherry blossoms are all enjoyable options.
Brooklyn Botanic Garden: 
The Brooklyn Botanic Garden features a range of spring blooms, including tulips, daffodils, and azaleas, in addition to cherry blossoms. Participate in horticulture events and explore the various themed gardens.
Smorgasburg: 
This well-known outdoor food market is held in several locales, such as Williamsburg and Prospect Park, and it provides a huge selection of mouthwatering street food, snacks, and sweet sweets.
Rooftop Bars: 
Enjoy the city's skyline views from one of NYC's many rooftop bars as the weather warms up. Sip on refreshing cocktails and take in the panoramic vistas at 230 Fifth, The Press Lounge, or Westlight.
Autumn (September to November):
Lastly, to out NYC's ever-changing seasons  is the extremely beautiful Autumn
Central Park Fall Foliage: 
With the arrival of autumn, Central Park changes into an incredible display of colour. Rent a bike and discover the park's beautiful scenery by walking around The Mall or the Jacqueline Kennedy Onassis Reservoir.
Visit The Cloisters: 
The Cloisters, a division of the Metropolitan Museum of Art specialising in mediaeval European art, is situated in Fort Tryon Park. Explore the museum's serene grounds and take in the autumn foliage.
Halloween Fun: 
Halloween festivities are perfect for exploring NYC's eerie side. Participate in the Greenwich Village Village Halloween Parade for a spooky evening or visit haunted places like Blood Manor or Nightmare Haunted House.
New York Film Festival: 
Held at Lincoln Center, the New York Film Festival showcases the best in world cinema, including:
 premieres, 

screenings, 

and talks with acclaimed directors and actors.
Harvest Festivals and Fairs: 
Enjoy autumn-themed festivals and fairs across the city, such as the Queens County Fair or the Halloween Harvest Festival at Luna Park in Coney Island. These events feature:
 live music,

 pumpkin picking, 

hayrides, 

and seasonal treats.
New York Comic Con: 
Attend New York Comic Con at the Javits Centre if you enjoy comic books, anime, or popular culture. This event includes panels, displays, cosplay, and opportunities to interact with your favourite creators and celebrities.
Marcy's Thanksgiving Day Parade: 
Join the renowned Macy's Thanksgiving Day Parade through Manhattan's streets, with enormous floats, marching bands, and cartoon character balloons larger than life.
Discover DUMBO: 
Lastly, Brooklyn's DUMBO area, "Down Under the Manhattan Bridge Overpass," offers breathtaking views of the Manhattan skyline. Visit art galleries, stroll along the waterfront, and dine at chic restaurants for mouthwatering cuisine.
Conclusion:
Undoubtedly, NYC's ever-changing seasons are full of fun activities. Each season bestows a new place with unique attractions. Hence, whether it is snowing hard or summer rain, NYC always has something to offer. 
So, plan your visit to the Big Apple accordingly and immerse yourself in the diverse and captivating experiences that await you in this remarkable city throughout the year.