Events
Share a laugh with a doped-up comedy club this June.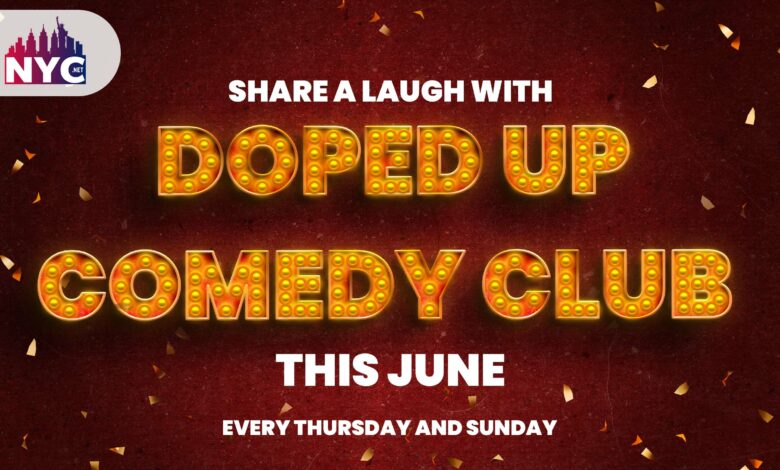 Doped up comedy club
Are you ready to laugh until your sides hurt? Look no further than the Doped Up Comedy Club, the must-see comedy club of June 2023! Featuring a lineup of hilarious comedians and a welcoming atmosphere, this club is perfect for anyone looking to let loose and have some fun. Whether you're going with friends or flying solo, get ready for a night full of laughter that will leave you feeling uplifted and energized. 
So mark your calendars and get ready to share a laugh at the Doped Up Comedy Club in NYC.
What is a doped-up comedy club?
The Doped Up Comedy Club is a popular comedy venue behind 66 Greenpoint Bar. It's known for its witty comedians who know how to keep an audience entertained with their hilarious jokes and comedic timing.
One of the unique things about this comedy club is that it caters to everyone, regardless of age or background. The atmosphere is relaxed and welcoming, making it easy for guests to feel at home. Whether you're a seasoned comedy lover or new to the scene, you'll find something here that will make you laugh out loud.
Another thing that sets Doped Up Comedy Club apart from other venues is its commitment to showcasing up-and-coming talent. You never know when you might see the next big thing in comedy take the stage!
If you're looking for a night full of laughs and good vibes, look no further than Doped Up Comedy Club! With great comics and an unbeatable atmosphere, this club has everything you need for a fun-filled evening out on the town.
Hosts and Comedians
Doped Up aims to be a comedy for the new generation. The show features up-and-coming comedians and veteran comedians passionate about creativity and culture. You won't find a comedy lineup like this anywhere else. 
These comedians are current and rising stars! Come for a night of laughs! This is a diverse lineup of comedians.
Furthermore, Doped Up hosts the Black Ass Comedy Show with Derek Gaines & Dave Temple, dubbed by fans as one of the wildest shows you can see on a Sunday.
Moreover, Godfrey, Big Jay Oakerson, Maddy Smith, Corinne Fisher, and Derek Gaines have all performed at Doped Up!
When is it open?
Dropped Up Comedy Club is open every Thursday and Sunday weekly for a series of hilarious comedy shows that will leave you laughing out loud. If you're wondering when to catch these shows, here's what you need to know.
The club opens its doors at 8:30 pm every Thursday and Sunday weekly. The comedy show, however, starts at 9:00 pm. With multiple showtimes each night, there are plenty of opportunities to catch your favorite comedians on stage.
Whether you're looking for a fun date night or an entertaining outing with friends, Dropped Up Comedy Club covers you. 
With such flexible timing options, there's no excuse not to come and enjoy some laughter-filled entertainment this summer. Remember to mark your calendars to take advantage of all the chances to see some amazing live comedy performances!
Further Details
Location: 
66 Greenpoint Ave
Brooklyn NYC
11222
Age requirement:
21+ event
Contact:
Instagram @dopedupcomedy for all updates!
Timings:
Seating starts at 8:30 pm; comedy starts at 9 pm.
Days:
It shows every Thursday and Sunday WEEKLY!
Conclusion
To wrap it up, Doped Up Comedy Club is the perfect destination to share a good laugh with your friends and family. With a lineup of talented comedians set to perform this June 2023, you won't want to miss out on this hilarious experience.
Be sure to mark your calendars for the upcoming shows, and remember to get your tickets early before they sell out. Whether you're looking for a fun night out or need laughter therapy, Doped Up Comedy Club is worth checking out.
So what are you waiting for? Join us at Doped Up Comedy Club this June, and let's have some laughs together!