Events
Join us on A Magic Carpet ride with Aladdin Broadway Show.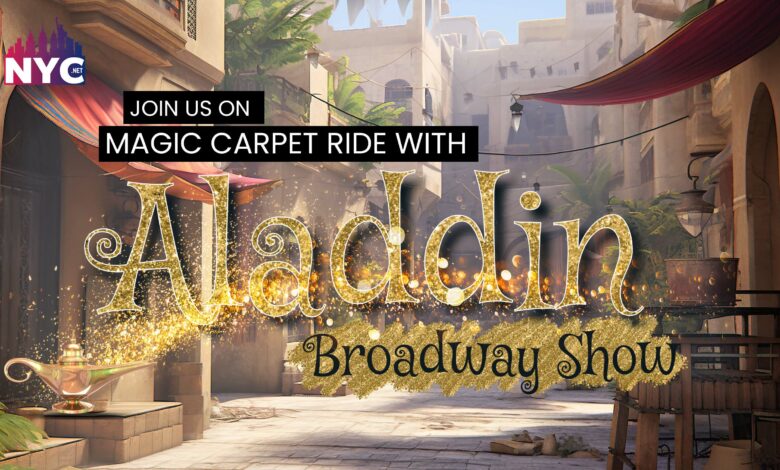 Aladdin Broadway Show.
Are you ready for a magical adventure? Look no further than the Aladdin Broadway Show 2023 in NYC! This dazzling production brings to life the beloved story of a street-smart young man and his journey to win the heart of a princess, all while battling an evil sorcerer. With stunning sets, breathtaking costumes, and impressive musical numbers, this show will surely transport you on a magic carpet ride like never before. 
Take your chance to be swept away by this enchanting tale. Hence, please read all the details on joining us at the Aladdin Broadway Show 2023 in NYC.
What is Aladdin Broadway Show?
The Aladdin Broadway Show is a dazzling theatrical production that brings the classic story of Aladdin to life through music, dance, and stunning stagecraft. In addition to the 1992 original soundtrack, Alan Menken contributes new songs, and Chad Beguelin provides a new book. The highlights are James Monroe Iglehart's bouncy Genie and flying carpet effects.
Furthermore, This latest toon-tuner, Aladdin, falls between these two poles: a tourist-family-friendly theme-park attraction with an orientalist Arabian fantasy décor. Moreover, it's closer in style (though lower in stakes) to Disney's first effort, Beauty and the Beast. However, In the opening song, the genial Genie (a game, charismatic Iglehart) sings, "It's barbaric, but hey, it's home." That's the overall tone of Aladdin: kid-friendly.
More About the Show
The musical showcase of "Friend Like Me" is at its peak, featuring a fourth-wall-breaking spirit that shows off the extent of his capability with an abundance of showmanship. Furthermore, The spectacle is on par with the elaborate decorations found in the New Amsterdam Theatre. To free him from his lamp, the Genie grants Aladdin three wishes, the first of which sees him transform into Prince Ali, worthy of impressing Jasmine (Reed). 
Afterward, they take to the skies in a 'flying Craftmatic adjustable bed': a sight to behold!
When is it Happening
As for the show's timings, it happens almost every day at different times. It is approximately 2 hours and 30 minutes long with one intermission in between. However, Latecomers are seated at the discretion of management.
Here are the Dates and times:
Wed, Jun 21, 2023

7:00 PM New Amsterdam Theatre$69.50–$127.50
Thu, Jun 22, 20237:00 PM New Amsterdam Theatre$69.50–$127.50
Fri, Jun 23, 20238:00 PM New Amsterdam Theatre$69.50–$127.50
Sat, Jun 24, 20232:00 PM New Amsterdam Theatre$69.50–$127.50
Sat, Jun 24, 2023

8:00 PM New Amsterdam Theatre$69.50–$127.50
Sun, Jun 25, 20233:00 PM New Amsterdam Theatre$69.50–$127.50
Theatre Rules
Furthermore, as for the theatre, there are certain rules and requirements for the Aladdin Broadway shows, such as;
The age requirement is recommended to be for ages 6 and up

Furthermore, all members must possess a ticket to enjoy the Aladdin Broadway show.

In addition, assistive listening devices, handheld captions, and prerecorded audio devices are available free of charge on all levels of the theatre. However, a photo ID is required to access them. 

For your convenience, the theatre comes with an elevator.

Wheelchair seating is available on Orchestra and Mezzanine levels.

Lastly, the Designated wheelchair and companion seating are located in the rear orchestra section and house right of the mezzanine.
Further details
Here are further essential details to know more about Aladdin Broadway Show
Event website:
broadway.timeout.com/aladdin-broadway/12323/calendar/
Address:
214 W 42nd St
New York
Cross street:
Between Seventh and Eighth Aves
Contact:
866-870-2717
Transport:
Subway: A, C, E to 42nd St–Port Authority; N, Q, R, 42nd St S, 1, 2, 3, 7 to 42nd St–Times Sq
Price:
$69.50–$127.50
Conclusion
Hence, The Aladdin Broadway Show 2023 in NYC promises to be an unforgettable experience for all theatre lovers. The show perfectly blends music, dance, and drama that will leave you spellbound. Therefore, Whether it's your first time watching a Broadway show, Aladdin is worth seeing.
Also, take the opportunity to join us on this magical carpet ride through Agrabah with Aladdin and his friends! So, Book your tickets early to secure your spot at one of the most highly anticipated shows in 2023.
Aladdin's timeless story and memorable soundtrack have captured hearts worldwide for generations. Now it's time for New York City to experience the magic firsthand.