Events
Celebrating the Juneteenth Block party at Ostudio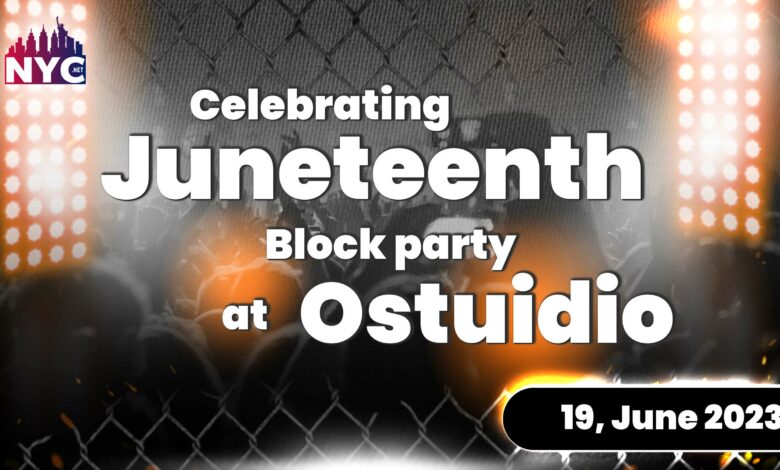 Juneteenth Block party 
Get ready to celebrate Juneteenth like never before with an electrifying block party at Ostudio in NYC! On June 19, 2023, join us for a night of music, food, and community as we commemorate the end of slavery in the United States. This year's celebration will be bigger and better than ever, featuring four talented black chefs serving their signature dishes alongside sweets from Pelah Kitchen.
With Ostudio's vibrant atmosphere and lively crowd, this is one event you won't want to miss. So mark your calendars and get ready to dance the night away at the Juneteenth Block Party at Ostudio 2023!
With Ostudio's vibrant atmosphere and lively crowd, this is one event you won't forget. 
What is Juneteenth?
Juneteenth is a holiday celebrating the end of slavery in the United States. It commemorates June 19, 1865. It is when Union General Gordon Granger arrived in Galveston, Texas, and announced that all enslaved people had been freed. This announcement came more than two years after President Abraham Lincoln issued the Emancipation Proclamation.
The delay in announcing emancipation to enslaved people in Texas was due to several factors, including distance from Washington D.
C., lack of military presence in some areas and resistance from enslavers who refused to release their workers without compensation.
Despite these challenges, Juneteenth became an important day for African Americans as they celebrated their newfound freedom with parades, cookouts, and other festivities. Over time, it grew into a national observance that honors not only those who suffered under slavery but also those who fought for equal rights throughout history.
Today, Juneteenth serves as a reminder of the ongoing struggle for racial equality and justice while celebrating African American culture and heritage.
Venue
The venue of this intriguing Juneteenth block party is none other than the STUDIO at night. It is an infamous restaurant and wine bar in NYC. As soon as you step inside, you'll be transported to a world of glamour and sophistication, thanks to its sleek and modern decor that features:
minimalist furniture,
soft lighting,
and eye-catching artwork.
But what sets OSTUDIO apart from other restaurants in NYC is its commitment to providing an exceptional culinary experience like no other. Whether you're looking for classic dishes or innovative cuisine with a twist, they have something for everyone on their menu.
Their team of highly skilled chefs uses only the freshest ingredients sourced from local farms and markets to create mouth-watering dishes that will tantalize your taste buds. Every dish at STUDIO is crafted carefully, like:
delectable appetizers like bruschetta topped with fresh tomatoes and basil 
and hearty entrees like grilled steak or seared salmon.
Chefs and Menu
One of the most exceptional features of this Juneteenth block party is that four black female chefs will be cooking for it. Some of those chefs are;
 Nana Wilmot, an alum of La Mercerie and Le Coucou, 

and Sweets by Pelah Kitchen
Using only the freshest ingredients and cooking techniques passed down from generation. These chefs will be birthing delicious dishes rich in history and culture. This block party was a feast for the senses and the soul, from savory soul food to delectable desserts.
Not only this but the delicious menu and all items are also for sale under $20. These items include the following specialties:
Dishes like tomato tarts, 

Jollof rice, 

Haitian beef patty, 

and brown butter pound cake with strawberry hibiscus compote
Hence, it is a night of delicious food and an unmatchable vibe of a DJ that will play throughout. 
Date and Location
This exceptionally pleasing event will be held on 19 June 2023. People will flood the place at 6 pm to enjoy the iconic vibe and delicious food. 
OSTUDIO at Night restaurant and wine bar is chosen at 366 Stockton Street, Broadway, Bed-Stuy.
Conclusion
As we wrap up our discussion on the Juneteenth Block Party at Ostudio, it's important to acknowledge the significance of this event and what it represents. Juneteenth celebrates freedom and marks the end of slavery in America.
Hosting such an event at Ostudio not only brings awareness to the historical importance of Juneteenth but also showcases the talents of four black chefs – Nana Wilmot, an alum of La Mercerie and Le Coucou, and sweets by Pelah Kitchen.
We hope you will have fun!