News
Two Days Two Stabbing; a man was stabbed in a dispute on the J train in Brooklyn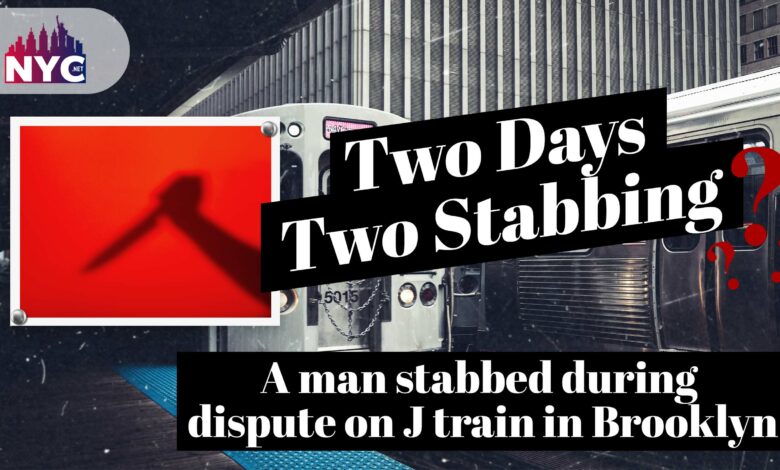 J train in Brooklyn
It was another ordinary day on the J train in Brooklyn until a dispute between two passengers turned violent and left one man stabbed. The incident occurred on Sunday, 18 June 2023, shocking commuters doing their daily business. 
What's shocking about the tragedy is that it is the second stabbing that occurred in two days. Hence, it is safe to say that the people of NYC are shocked and terrified.
As police investigate what happened, staying informed and aware of how to stay safe while riding the subway is important. 
In this blog post, we'll delve into:
what we know so far about the victim and attacker 

and the investigation of the case. 
So grab a seat, and let's dive in!
What Happened
According to reports, the incident occurred on Sunday, 18 June 2023, during a dispute between two passengers. The argument quickly escalated, leading to one man stabbing another in the torso. As other commuters looked on in horror, the attacker fled the scene, leaving behind a bloody, chaotic train car.
However, authorities are still working to determine the nature of the dispute that occurred.
They rushed the victim, a 31-year-old man, to a Kings County hospital for treatment, and he currently remains in recovery. Meanwhile, police are investigating the incident and looking for any leads to help identify and apprehend the perpetrator.
This isn't the first time such an incident has occurred on public transportation in New York City. Someone fatally stabbed a man on Saturday while riding the subway near Union Square. Moreover, there have been several high-profile cases of violence on subways and buses throughout the city:
On Tuesday, a fellow subway rider stabbed a man at the J train in Williamsburg.
While these incidents are rare, they highlight the importance of staying vigilant while traveling from place to place.
As we await more information about this particular case, it's important to remember that safety should always be our top priority when riding public transportation. 
Whether taking a short trip or commuting daily across town, ensure you're always aware of your surroundings and take steps to protect yourself from harm.
Police are investigating the incident.
Following the stabbing incident on the J train in Brooklyn, police have launched an investigation to identify and apprehend the attacker. The NYPD said the stabbing happened around 2 a.m. on Sunday during a dispute at the northbound J train. 
The investigation is ongoing, but authorities are still unclear about the reason behind the dispute. Still, they closed off the area and the train as they investigated early on Sunday. However, given recent incidents of violence on New York City's subways, this event raises concerns about safety for commuters.
It is important to note that while these types of violent incidents can be frightening, they are relatively rare occurrences in public transportation systems. Nonetheless, riders should take precautionary measures to stay safe while riding on trains or buses in urban areas.
Police urge anyone with information about this crime to come forward immediately so they can bring justice to both victim and perpetrator. We hope that those responsible for this senseless act of violence will face swift action.
Conclusion
The recent stabbing incident on the J train in Brooklyn is a reminder of how important it is to stay vigilant while riding public transportation. While this particular incident may have been isolated, it's always better to be safe than sorry.
Let's hope that incidents become less frequent and that we can all ride the subway without fear for our safety.