Events
Experience the Magical Harry Potter Exhibition in NYC on June 21, 2023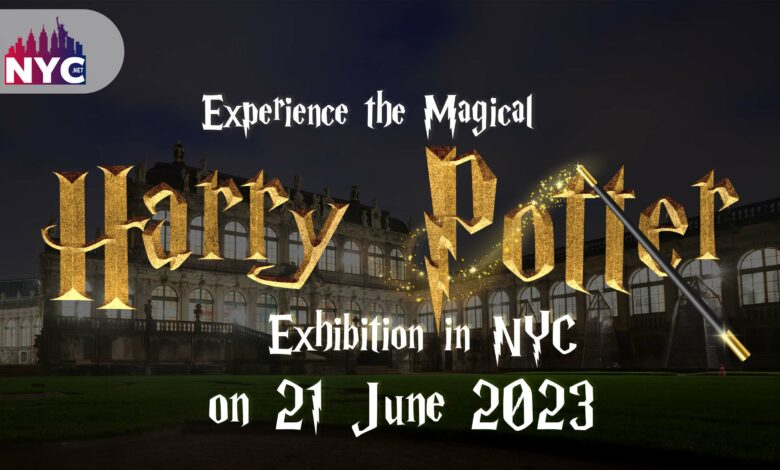 Harry Potter Exhibition in NYC 
Are you a fan of Harry Potter? Do you dream of stepping into the magical world of Hogwarts and experiencing the wonders that lie within? Well, now's your chance! The Harry Potter Exhibition in NYC on June 21, 2023, is coming to your doors. Trust us; you want to attend it. This exhibit will transport you directly into the pages of J K. Rowling's beloved books and give you an unforgettable experience.
 Read on to discover everything there is to know about this fascinating Exhibition and how you can secure your spot!
What is the Harry Potter Exhibition?
The Harry Potter Exhibition is a magical experience that takes fans of the popular book and movie series on an immersive journey into the wizarding world. It's a chance for visitors to step into the shoes of their favorite characters and explore iconic locations like:
 Hogwarts Castle 

and Diagon Alley, 
Moreover, you can get close to authentic props and costumes used in the films.
Created by Warner Bros. Studio Tour London, this traveling exhibition has delighted fans worldwide since 2009. The exhibits are curated to showcase the most memorable moments from each film in stunning detail.
From Hagrid's Hut to Dumbledore's Office, every aspect of this Exhibition transports visitors to relive their favorite movie scenes. And it's not just for die-hard Potterheads – anyone who loves fantasy or adventure will be captivated by this extraordinary display.
So whether you're a Gryffindor or Slytherin at heart, take advantage of your chance to experience all things Harry Potter at this incredible Exhibition coming soon to NYC.
When and Where is the Exhibition?
Attention, all Potterheads! Are you eager to experience the magical world of Harry Potter in real life? Then mark your calendars for June 21, 2023. That's when the highly anticipated Harry Potter Exhibition is coming to New York City.
The Exhibition will be held at Herald Square at the corner of 34th and Broadway 50 W 34th St., New York, NY 10001. This location has a history of hosting several successful and popular exhibits over the years, making it an ideal venue for this one-of-a-kind showcase.
Not only this, but the fun news to Potterheads is the fact that it opens 7 days a week. However, the hours may vary from day to day. 
How to Get There?
With its central location and easy access via public transportation, fans from across the globe can get there easily. Getting there should be a breeze, Whether by car or public transportation such as buses or subways.
Here is good news for all the Potterheads eager to get there:
Subway: 34th St – Herald Square subway station is a quick 1 min walk from the venue.
Moreover, bus stop for lines M5, M7 and M55 at Ave of the Americas/W 34th St is also 1 min walk from the venue
So start planning your trip now and prepare to immerse yourself in an unforgettable journey through the magic of Harry Potter. With so much excitement on offer, take advantage of this rare opportunity to witness some of the iconic props and costumes used in the movies up close and personal.
What will be at the Exhibition?
The Harry Potter Exhibition in NYC on June 21, 2023, promises to be a magical experience for fans of the beloved series. At the Exhibition, visitors can see authentic props and costumes from the movies up close.
One of the Exhibition's highlights will be seeing Hogwarts Castle in miniature form. Visitors can marvel at all its intricate details and imagine what it would be like to attend school there.
Another exciting feature of the Exhibition is that visitors can explore some of their favorite locations from both Hogwarts and beyond. Walk through Dumbledore's office or visit Hagrid's hut – these are just a few examples of where you could find yourself as you journey through this immersive world.
Of course, the Harry Potter experience is only complete with meeting some familiar faces along the way. Visitors can expect to see life-sized figures of characters such as:
 Harry, 

Ron, 

Hermione, and many more throughout their exploration.
Whether you're a hardcore Potterhead or simply curious about what makes this franchise so special, there's something for everyone at The Harry Potter Exhibition in NYC on June 21, 2023!
How to get Tickets?
If you're a die-hard Harry Potter fan, you will want to take advantage of the opportunity to attend the magical Harry Potter Exhibition in NYC on June 21, 2023. But before you can experience the wonder of Hogwarts up close and personal, you need to get your hands on some tickets.
The first thing to know is that this Exhibition's tickets will likely sell out fast. As soon as they become available for purchase, act quickly to secure them at face value.
One way to ensure you get all the benefits is by signing up for email notifications from event organizers or ticketing websites. This will inform you when tickets go on sale and give you a head start in purchasing them.
Another option is checking with your credit card company or membership program. Many offer exclusive pre-sale opportunities, providing early access before general public sales begin.
Consider looking into package deals that include both accommodation and admission. This could save money while guaranteeing entry into what promises to be one of the most exciting events of next year!
Ticket Prices
As for the ticket prices, it usually starts at $29 for adults and does not include tax and fees. However, there are discounts for children under 13. 
Furthermore, a group of 10-20 can receive a weekday discount by online booking through the website. Group of 20+ are advised to contact the team to book their visit. 
Conclusion
The Harry Potter Exhibition in NYC on June 21, 2023, is a magical event every series fan should experience. Its unique displays and interactive exhibits offer an immersive experience in the wizarding world like no other.
Whether you're a die-hard fan or just looking for something fun to do with friends or family, this Exhibition has something for everyone. So mark your calendars and prepare to be transported to Hogwarts School of Witchcraft and Wizardry!
Please book your tickets early, as they will likely sell out fast. We hope you enjoy this once-in-a-lifetime opportunity to immerse yourself in the magic of Harry Potter!