Sports
The Rise of Women's Sports in New York: Breaking Down Barriers and Stereotypes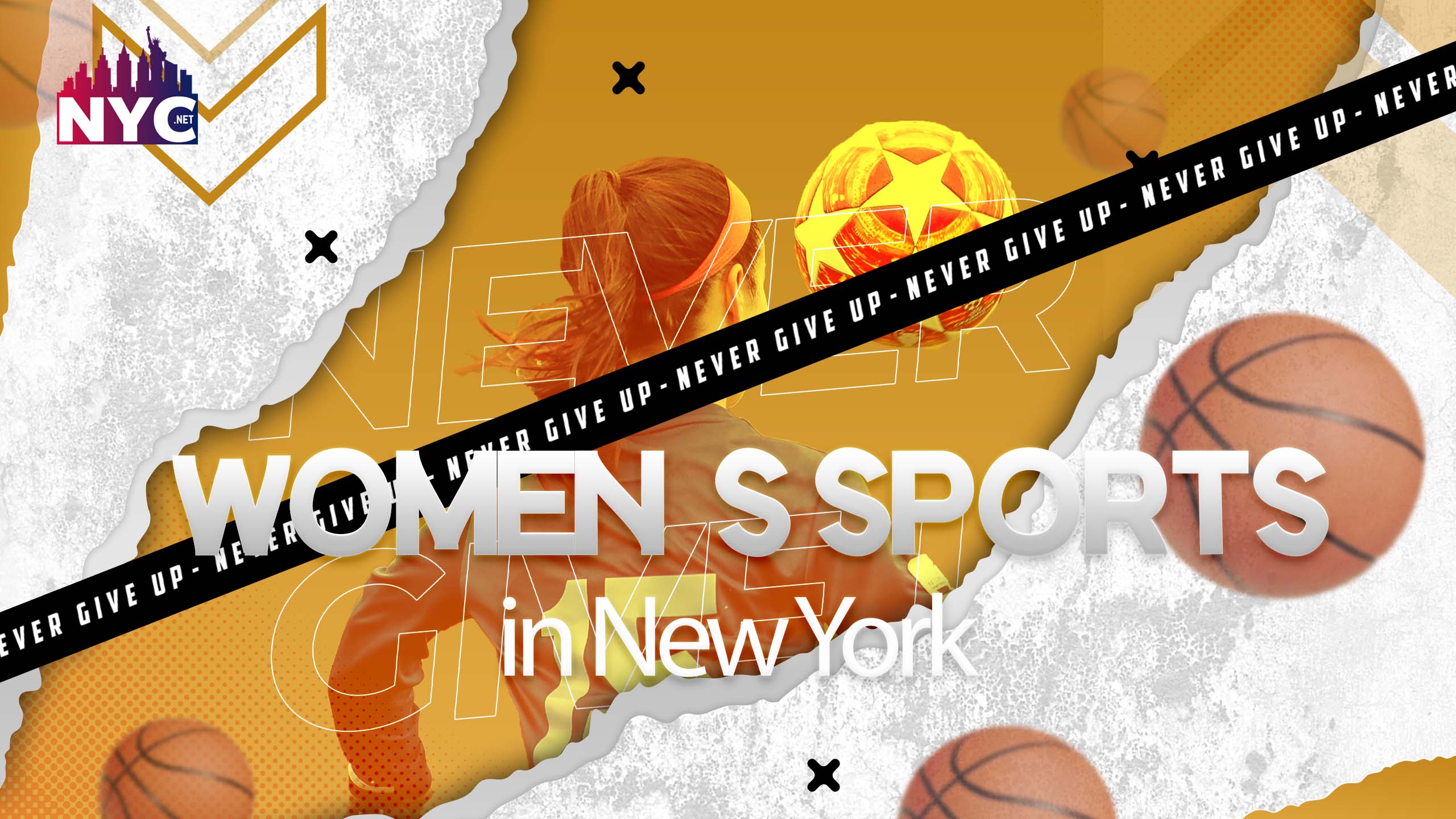 Women's Sports in New York
Women's sports in New York have come a long way over the past few decades. Sports in New York have gone from being largely ignored and disrespected to becoming a force to be reckoned with, breaking down barriers and shattering stereotypes.
This article will explore the following aspects:
 History of Women's Sports in New York

Rise of women's sports in New York, 

 Some of the key moments and individuals who helped make it happen. 

 Challenges and stereotypes women's sports still face 

And things to continue their growth and success
So Gear up for the exciting ride:
The History of Women's Sports in New York
For many years, women's sports were given extra attention and support than men's in New York. It was in the 1970s that women's sports began to gain real recognition in the city. Title IX, a federal legislation that barred sex discrimination in education and athletics, was largely responsible for this.
Title IX mandated that New York schools and universities give female athletics equal opportunity. This resulted in new sports programs for women and additional funding for existing programs. As a result, women's sports began to gain popularity and increased media and public attention.
Significant Moments in The History:
One of the most significant moments in the history of women's sports in New York came in 1999 when the United States Women's Soccer team won the World Cup. This victory helped to raise the profile of women's soccer and inspired a new generation of female athletes in New York and beyond.

Another watershed moment occurred in 2015 when the US Women's National Soccer Team won their third World Cup. This result was noteworthy. Carli Lloyd, the team's captain, symbolized the fight when she scored three goals in the final and led her side to victory.
Women's sports in New York are thriving today. Female athletes are making their mark and breaking down barriers in sports ranging from professional teams like:
 the New York Liberty (WNBA) 

and Sky Blue FC (NWSL) 

to college programs like the Columbia University Women's Soccer team.
Stereotypes Faced By Women In Sports:
Women in sports have faced numerous stereotypes and biases throughout history. These stereotypes have affected their opportunities to participate in sports, how others perceive and treat them, and their ability to succeed in their chosen sports. 
Hence, some of the most common stereotypes faced by women's sports in New York include:
Women are not as physically powerful as males: 
This stereotype holds that women are fundamentally weaker than men and are, therefore, unsuitable for sports that require strength and power. People have used it to justify barring women from participating in particular sports or restricting their participation in others
Women are not as talented as males
: 
This stereotype claims that women are less talented or proficient in sports than men. It has been used to defend women's lower salaries and fewer possibilities in sports.
Women are emotionally and not mentally tough
: 
The assumption is that women are more emotional and less mentally tough than men. Therefore, they cannot handle the pressure of competition. It has been used to discourage women from participating in sports and justify women athletes' unequal treatment.
Women are not as committed as men
: 
 This stereotype holds that women are less committed to sports than men. Hence they have a lower chance of success. It has been used to explain lower expectations for female athletes and discourage them from following their dreams.
Men's sports are more exciting than women's sports:
According to this stereotype, women's sports are less fascinating and thrilling than men's. It has been used to justify reducing expenditure and media coverage for women's sports.
These stereotypes have had a significant impact on the participation and success of women in sports like:
 They have created barriers to entry for women,

 Limited their opportunities to excel, 

And reinforced gender-based discrimination in sports. 
However, women athletes and advocates have made efforts to break down these stereotypes and promote gender equity in sports, resulting in significant progress
Other Challenges Faced By Women in Sports:
Despite the progress, women in sports still face many challenges related to these stereotypes. 
For instance, the pay gap between men and women in sports remains significant, with women earning less than men in most sports. 
Moreover, women's sports receive less media coverage and funding than men's. It affects their visibility and opportunities for sponsorship and endorsements.
Additionally, perpetrators often subject women athletes to gender-based harassment and abuse, both on and off the field. 
Lastly, they are also objectified and sexualized. Therefore, people often attribute women's achievements to their appearance rather than their skill and hard work.
This treatment affects their confidence and well-being and reinforces the gender stereotypes women in sports have been fighting for decades.
How to Break Stereotypes for Women in Sports:
Change the Narrative: 
The first step to breaking stereotypes is to shift the narrative. The media greatly influences public opinion. Society frequently stereotypes women as weaker, less talented, and less competitive than their male counterparts. This must change. Women's sports must be given equal publicity and respect as men's sports. 
It includes emphasizing the following:
 women's sporting events, 

highlighting women's accomplishments, 

and presenting good role models.
Encourage Girls to Participate: 
Parents, schools, and communities should encourage girls to participate in sports from an early age to boost the number of women in sports. They should provide equal opportunities for girls to participate in sports. Girls who begin participating in sports at a young age are likelier to continue. Dispelling the perception that women are uninterested in or incapable of participating in sports can also be assisted.
Equal Opportunity: 
Women athletes should be given the same opportunity as men. They should receive the same training, mentoring, and resources as their male counterparts. 
This includes the following:
 Having access to high-quality training facilities, equipment, and coaching personnel. 

Women athletes should receive the same pay, prize money, and sponsorship opportunities as men.
Challenge Stereotypes: 
Stereotypes about women in sports can be challenged by confronting them head-on. Women athletes should speak out against stereotypes and educate others about the reality of women's sports. Moreover, their teammates, coaches, and fans should also support them in their efforts to challenge stereotypes.
Promote Diversity: 
Women athletes come from different backgrounds and have different abilities. Promoting diversity in sports means providing opportunities for women of all;
 races, 

ethnicities, 

and skills to participate in sports. 
This will help break the stereotype that women in sports are all the same and have the same abilities.
Celebrate Women's Achievements:
Women athletes should be recognized for their accomplishments. This entails giving them the credit they deserve for their efforts and dedication. Simultaneously, the media should promote women athletes and allow them to share their experiences with others. Celebrating women's accomplishments helps dispel the notion that women are less successful in athletics than males.
Provide Role Models:
 Positive role models for female athletes should be supplied. These can be other successful female athletes, coaches, or other significant figures in the sports sector. Role models can assist female athletes in overcoming challenges and achieving their goals.
The Rise of Women's Sports in New York:
Many famous women athletes in New York have broken stereotypes and paved the way for future generations of female athletes. 
Here are a few notable examples:
Billie Jean King: 
Billie Jean King is a former professional tennis player born in California. However, she has spent most of her life living and training in New York. Furthermore, King also advocated gender equality in athletics and achieved victory over Bobby Riggs in the 1973 "Battle of the Sexes
In addition, she established the Women's Tennis Association and the Women's Sports Foundation.
Babe Didrikson Zaharias: 
Babe Didrikson Zaharias was a track and field athlete who played basketball, baseball, and golf. She became one of the best golfers ever after winning two gold medals and a silver medal in track and field at the 1932 Olympics. 
She was the first woman to compete on the PGA Tour and won ten LPGA titles.
Jackie Joyner-Kersee: 
Jackie Joyner-Kersee is a former track and field athlete who won six Olympic medals, including:
Three gold medals in the heptathlon and long jump events. 
Moreover, She advocates for education and health issues in underserved communities.
Wilma Rudolph: 
Wilma Rudolph was a track and field athlete who overcame polio as a child to become a three-time Olympic gold medalist in sprinting events. 
She was the first American woman to win three gold medals in a single Olympic Games and was an inspiration to many as a black athlete in the era of segregation.
Althea Gibson: 
Lastly, Althea Gibson was a professional tennis player who became the first black player to compete in the US National Championships (now known as the US Open) in 1950. She went on to win the competition in 1957 and 1958 and was a successful golfer.
Conclusion:
In hindsight, Feminism is not only just a concept. Women today are recognizing their position everywhere in the world. Similarly, we see the rise of women's sports in New York. 
However, it is just the beginning. We are excited to see how women claim their place in the future.