Weather
Fun Summer Activities to Do in NYC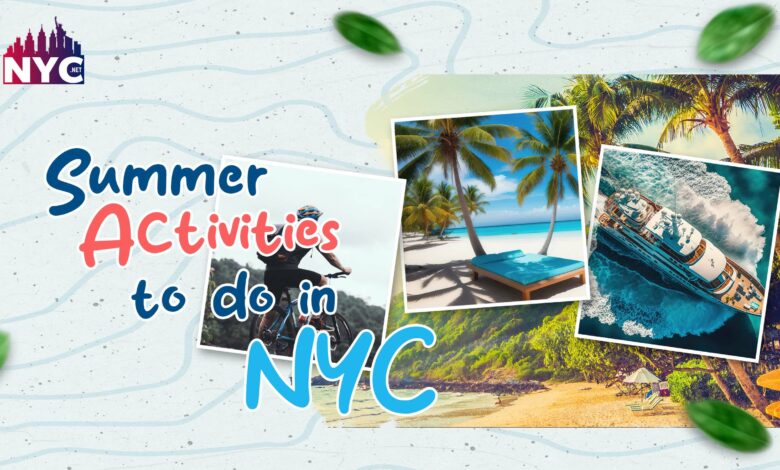 Summer Activities to do in NYC
Believe us when we say there are plenty of fun summer activities to do in NYC. 
Summer in New York City is vibrant and exciting, offering various activities and events for locals and tourists. From outdoor festivals and concerts to recreational activities and cultural experiences, the city that never sleeps comes alive with endless possibilities. 
In this article, we will explore some of the most enjoyable and entertaining summer activities to do in NYC.
Summers in New York:
Summers in New York City (NYC) are known for their warmth, energy, and abundance of activities. 
Here is some detailed information about summers in NYC:
Weather: 
In general, New York City summers are warm and muggy. The average temperature is as such:
 in June is between 70°F (21°C) and 80°F (27°C), 

whereas temperatures in July and August can reach as high as 90°F (32°C) or more. 
However, The city can feel hotter than it is due to high humidity levels. During the summer, thunderstorms and sporadic heat waves are prevalent.
Festivals and Events: 
Throughout the summer, NYC comes alive with various festivals and events. Some of the most well-liked events are as such:
The Macy'sMacy's Fourth of July Fireworks, 

the Pride Parade, 

Shakespeare in the Park, 

SummerStage performances in Central Park, 

Summer Restaurant Week, 

and the Governors Ball Music Festival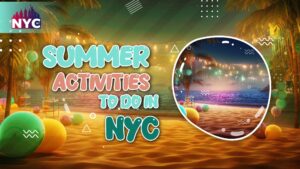 Outdoor Activities:
 Moving forward, NYC is always a fun place with a wide range of outdoor activities during the summer. Central Park is a popular destination for many like:
 picnics, 

biking, 

walking, 

and outdoor concerts. 
Similarly, Other parks like Prospect Park in Brooklyn and the High Line offer relaxing green spaces. Moreover, fascinating Waterfront areas like the Hudson River Park and Brooklyn Bridge Park provide opportunities for:
 boating, 

kayaking, 

and enjoying scenic views. 
Lastly, great rooftop bars and restaurants allow visitors to enjoy panoramic city skyline views.
Beaches: 
Everyone loves a great Beach Place. Fortunately, NYC is home to several beautiful beaches easily accessible by public transportation. For instance, Coney Island in Brooklyn is popular with its:
 iconic boardwalk, 

amusement park rides, 

and the famous Nathan'sNathan's Hot Dog Eating Contest. 
Moreover, Rockaway Beach in Queens is another well-known beach with a lively atmosphere and great waves for surfing.
Outdoor Dining: 
NYC's bustling dining scene is also present in its outdoor settings during the summer. Outdoor dining, rooftop bars, and pavement cafés became well-liked places to eat and people-watch. There are street fairs and culinary festivals in several neighborhoods where you can try different cuisines.
See, there are many fun summer activities to do in NYC
Cultural Attractions: 
Two of NYC's most recognized museums host summer exhibitions and events. These include: 
The Metropolitan Museum of Art (the Met) 

and the Museum of Modern Art (MoMA) 
Moreover, several entertainment alternatives are available, including:
Broadway productions 

and off-Broadway plays.
Sports: 
Furthermore, sports are always fun to watch and play in the summer. A baseball game at Yankee Stadium or Citi Field is best seen during the summer. NYC also offers a variety of sports bars where you can gather with fellow sports enthusiasts to watch games.
Street Life:
Summertime brings a flurry of activity to the streets of NYC. Locals and visitors throng Times Square, Fifth Avenue, and other main thoroughfares to enjoy the lively atmosphere, shopping, and street performers.
Green Markets:
 Fresh food is available at NYC's farmer's markets during the summer. Visitors can enjoy fruits, vegetables, and artisanal food products cultivated locally at Union Square Greenmarket and adjacent neighborhood markets.
Summer Getaways: 
There are several locations within a few hour's drive or train ride of New York City if you want to get away from the city for a day or a weekend. Beach vacations, hiking, and town exploration are popular in the Hudson Valley, the Catskills, Fire Island, and the Hamptons.
Remember to stay hydrated, wear sunscreen, and dress appropriately for the hot and humid weather when visiting NYC in summer.
Fun Summer Activities to Do in NYC
Now that we have talked about basic summers detail let's have a look at some of the fun summer activities to do in NYC:
Stroll through Central Park:
Central Park is the first on our list of fun summer activities to do in NYC. It is the iconic oasis in the heart of Manhattan and is a must-visit destination during the summer. There are also a lot of things you can do here, like:
Take a leisurely walk 

 and rent a bike to explore the park's sprawling greenery, picturesque bridges, and serene lakes. Pack a picnic, 

join a yoga class,

 or bask in the sun while people-watching. 
Hence, central Park provides a tranquil escape from the bustling city streets.
Experience Coney Island:
Furthermore, Every summer in NYC is complete with a trip to Coney Island. This storied amusement park, which is situated in Brooklyn, also provides a variety of exhilarating rides, including the fabled Cyclone roller coaster. Moreover, you can also Enjoy Nathan's Famous hot dogs and sweet delicacies like cotton candy and ice cream while strolling down the boardwalk. 
Hence, Take advantage of the opportunity to unwind on the beach and dip your toes in the Atlantic Ocean.
Attend Outdoor Concerts and Festivals:
Summer is also synonymous with outdoor concerts and festivals in NYC. From the SummerStage series in Central Park to the Celebrate Brooklyn Festival at the Prospect Park Bandshell, there is no shortage of live music performances to suit various tastes.
 In addition, these events often feature renowned artists and emerging talents. Moreover, they also provide a delightful atmosphere to enjoy music under the open sky.
Explore the High Line:
Moving forward, The High Route, a distinctive elevated park constructed above a former freight rail route, provides an engaging summertime experience. Take panoramic city views as you stroll down the beautifully landscaped walk lined with colorful flowers and native plants. Also,  Spend time unwinding on the wooden benches or get something from one of the many food stands. Moreover, Cultural events and art installations enhance the High Line'sLine's appeal.
Visit Outdoor Markets: 
Foodies and shopaholics alike will find nirvana at NYC's summer markets. The Smorgasburg in Williamsburg and Prospect Park gathers a variety of food merchants selling delicious foods from around the world.  Therefore, Look at the Brooklyn Flea Market for distinctive crafts, attire, and vintage stuff.
Furthermore, Farmers'Farmers' markets and street fairs also appear all over.
Enjoy Waterfront Activities:
Moreover, Escape the heat and enjoy various water activities along NYC's waterfront. Here are also some fun activities to do in NYC:
Take a boat tour around Manhattan, offering breathtaking skyline views and landmarks like the Statue of Liberty.

 Rent a kayak or paddleboard to explore the Hudson River or East River, 

or relax by the Brooklyn Bridge Park or Battery Park City waterfront.
Take a Cruise:
Take a picturesque boat down the Hudson or East Rivers to see the city'scity's skyline and famous monuments in all their glory. Choose from various choices, such as sunset cruises, brunch cruises, or even themed cruises with live entertainment and fine dining. Cruises offer a unique city view and a cool escape from the summer heat.
Participate in Outdoor Film Screenings:
In NYC, watching films outside is a popular summer activity. During the warmer months, many parks and public areas become outdoor theatres. Bryant Park hosts its "Summer Movie Nights" series, featuring classic films on a big screen under the stars. Like the Rooftop Films series, Rooftop theatres provide a unique and unforgettable movie-going experience and stunning city views.
Explore Neighborhood Street Festivals:
Furthermore, Summer in NYC brings forth an abundance of neighborhood street festivals, celebrating the city'scity's diverse cultures, such as:
vibrant Puerto Rican Day Parade in Manhattan 

 Brazilian Day Festival in Little Brazil, 
These lively events showcase music, dance, food, and art from different communities. Hence, Immerse yourself in the festive atmosphere, try traditional cuisines, and enjoy performances by talented artists.
Cool off at Water Parks and Pools:
Visit a water park or public pool in NYC to escape the summer heat. Long Island's Splish Splash Water Park features:
 thrilling slides, 

wave pools,

 and lazy rivers for an exciting journey. 
To cool off and unwind, head to one of the city'scity's public swimming pools, such as 
the McCarren Park Pool in Brooklyn 

or the Tony Dapolito Recreation Centre Pool in Manhattan.
Challenge Yourself at Outdoor Exercise Classes: 
Lastly, Join outdoor exercise classes and activities to stay energized this summer. Numerous parks and health clubs provide:
 outdoor yoga, 

pilates, 

Zumba, 

and boot camp classes 
What's better is that it is all at no cost or a low cost. Hence, it is always fun to challenge your body during summer. 
Exercise in the fresh air, surrounded by nature, or with stunning city views as your backdrop. It'sIt's a fantastic way to stay fit while enjoying the summer vibes.
Conclusion:
In conclusion, there are numerous fun summer activities to do in NYC than one can imagine; Summer in NYC an extraordinary time to experience the city's vibrant energy and cultural offerings. 
Whatever it is, from lush green trees to musical concerts or diving deep into the sea, it has something for everyone.
Hence, Embrace the season and make the most of your summer by partaking in these exciting activities and creating lasting memories in one of the most dynamic cities in the world.
We hope you have as much fun as we did writing it all!