Listing
The New Scarr's Pizza Is Open at 35 orchard street in NYC.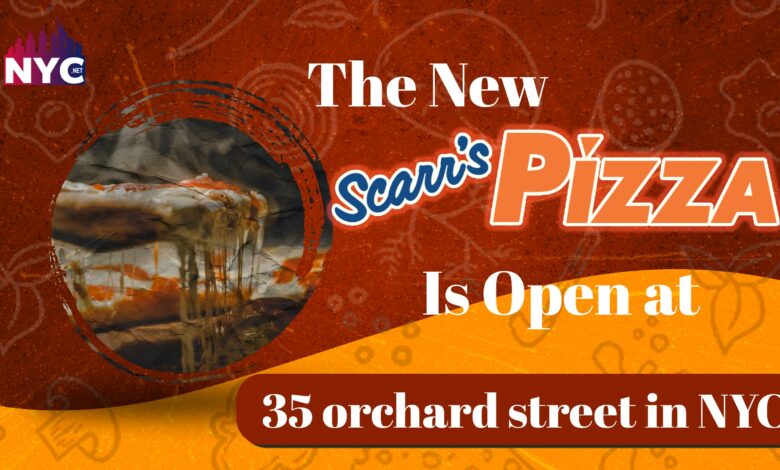 Scarr's Pizza in NYC.
New York City is known for its incredible pizza scene, and a new player in town is causing quite the buzz. Scarr's Pizza in NYC finally opened at 35 Orchard Street on Thursday. So, Locals are already raving about it.  However, From classic toppings to unique flavor combinations, this pizzeria is quickly becoming a go-to spot for hungry New Yorkers looking for their next slice fix. 
Hence, In this blog post, we'll dive into the following:
 Scarr's Pizza in NYC 
Their Services

Their Location and details

And their popular Items
Hence, get ready to know more about it
What is Scarr's Pizza?
Scarr's Pizza is a new pizza joint in the Lower East Side of Manhattan that has been making waves in New York's food scene. Moreover, The pizzeria prides itself on using fresh, high-quality ingredients to create delicious pies with unique flavor combinations. It has also recently made its way to 35 orchard street, New York.
Furthermore, The owner, Scarr Pimentel, started his journey as a chef by cooking for himself and eventually turning it into a business. He wanted to offer pizza lovers an authentic taste of what he grew up eating – simple and traditional pies made from scratch with only the finest ingredients.
Moreover, What sets Scarr's Pizza in NYC apart from other pizzerias is its commitment to quality over quantity. Hence, They:
make their dough from scratch daily,

use locally sourced produce whenever possible,

and even smoke their mozzarella cheese in-house.
In addition to classic toppings such as pepperoni and mushrooms, they offer more adventurous options like vegan mushroom walnut pesto or spicy pickled pineapple. Scarr's Pizza in NYC has covered you whether you're looking for something familiar or want to try something new!
Services
Scarr's Pizza, opened at 35 orchard street in NYC, provides the following services:
Dine in

Take out

Delivery
Furthermore, the hours of operation for Scarr's Pizza are as such:
Friday and Saturday, noon to midnight; Sundays and Thursdays, 12 to 11 p.m.
Further Details
Service options: Dine-in · Takeout · Delivery
Address: 35 Orchard St, New York, NY 10002
Hours: Opens noon.
Menu: scarrspizza.square.site
Phone: (212) 334-3481
Reservations: resy.com
Popular Items
Moreover, the popular items of Scarr's Pizza include
Original Plain cheese pie

Vegan Ceasar Salad

Hotboi Original Pie

Original Beef Pepperoni Pie

Sicilian Pie

Side of Meatball Parm

Original Margherita Parm

Grandma Pie

Vegan Original Pie
Therefore, We hope you enjoy the new Scarr's Pizza's delicious meal and pleasant atmosphere.