Education
International applicants' criteria for fully funded scholarships in New york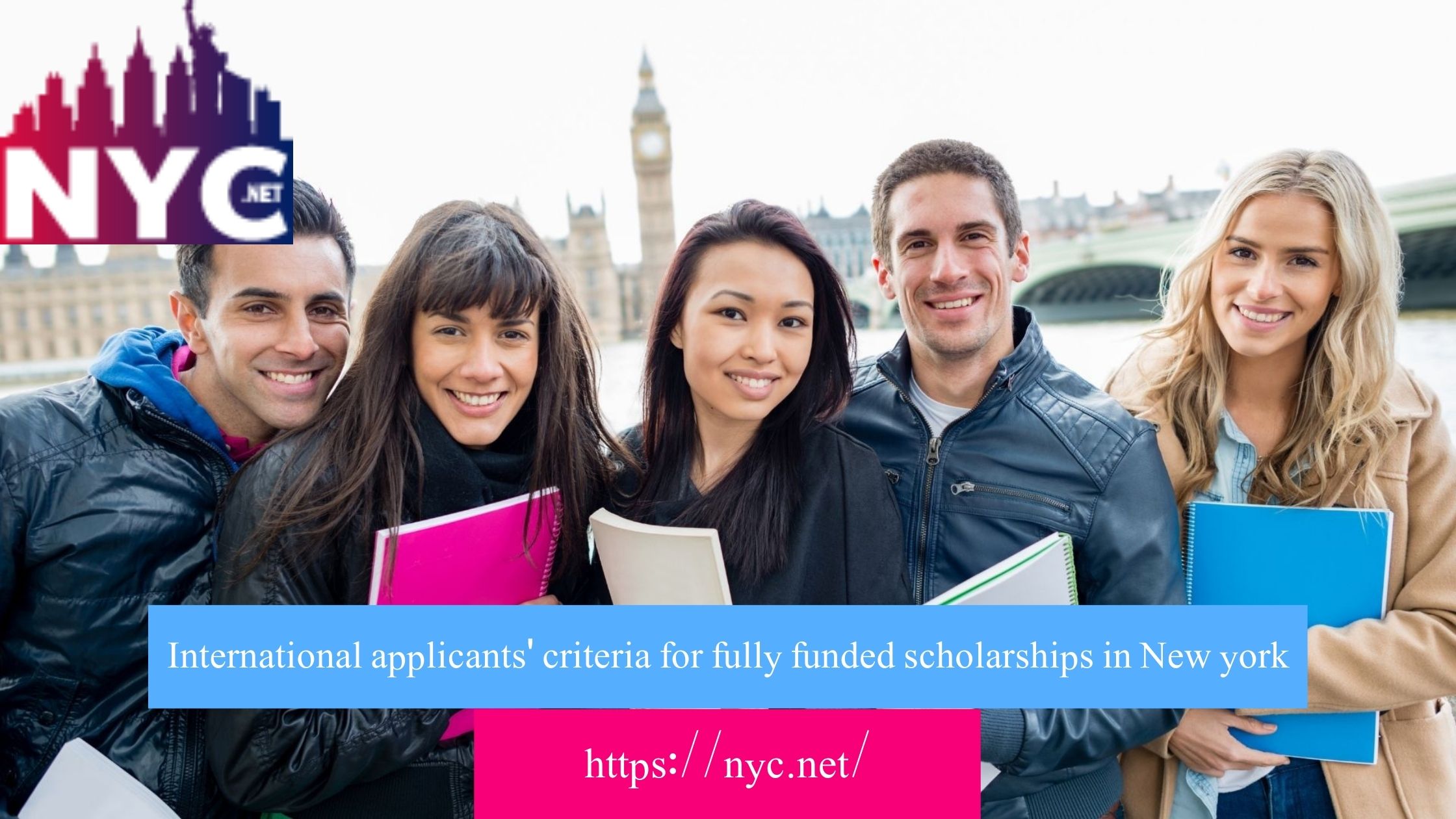 In 2019, international students enrolled in American universities reached a record high. However, during the pandemic, this number fell. Nevertheless, this number will probably increase, according to Open Doors International Scholars Trends. There are more international students at specific colleges than others.
International students who opt to study in the U.S. may need help with financial challenges. According to U.S. Citizenship and Immigration Services, overseas students are not allowed to work or are only permitted to work for a restricted number of hours on campus or in a field connected to their studies because of work limitations on student visas. Their financial resources could be more constrained.
According to experts, international students with strong leadership qualities may be more competitive candidates for scholarships. "Roles like head boy or leader of your school, editor of the student newspaper, or even creator of your entrepreneurial club show that you are capable of taking the reins. In the end, institutions are looking for kids who will become future world leaders, and they want to see evidence of that starting at a young age "In an email, Karan Gupta, the CEO of Karan Gupta Consulting in India, wrote. [1]
7 Different types of scholarships
Students have access to various tools for searching for scholarships, and many services charge them for either access to their database of scholarships or for searching for scholarships on their behalf. Most scholarship searches may be discovered online for free if you have the time and resources.
Choosing to study at a university is a fantastic opportunity to further your education at a lesser cost. University educational programs aim to support the smartest and brightest foreign applicants as they begin their undergraduate studies there. You can search for the fundamental scholarships listed below.
Merit scholarships
Some colleges provide merit-based scholarships to students from other countries who have excelled academically. These awards can cover the entire cost of tuition or up to $2,000. The quantity and amount of merit scholarships given will be determined by the financing options available and the size, calibre, and characteristics of the entire application pool. Please be aware that full-tuition scholarships are highly sought after.
Students applying to that university are immediately evaluated for merit scholarships; no additional application is necessary. By the application deadlines, turn in your admissions application and any supporting documentation.
Your Home Country's Scholarship
Organizations in your nation are one of the top sources of financial help for studying abroad in the U.S. Information on regional sources of assistance could be available at the closest educational advising center.
There could be financial help available from your government. To receive this help, you must go back home after finishing school. Private groups in your native country could offer financial aid for studying abroad in the U.S. You can get funds from companies, charities, and religious organizations.
Assistance from U.S. Academic Institutions
Direct exchange programs between some U.S. schools and their international equivalents exist. Often, these exchange programs offer financial help to overseas students. Consult your local university to learn more about these initiatives.
Your family support
More than two-thirds of international students in the U.S. pay for their education using a combination of their own and family funds. U.S. institutions provide less than 20% of the funding. As a result, you will probably need to rely on your resources, your parent's money, and donations from family members.
Government of the U.S. assistance
Please be aware that overseas students are not eligible for any of the U.S. government's student aid initiatives, including the Pell Grant, Stafford and loans, and work-study programs. However, the U.S. government could offer financial assistance to students from particular nations. Contacting your embassy, the U.S. Department of State, and the U.S. Information Agency is your best choice for learning if the U.S. offers financial help to students from your nation.
Research and teaching assistantships
Graduate students can apply for teaching and research assistantships at some universities, where they help an instructor with specified responsibilities in return for financial aid. Such assistantships are often awarded based on academic ability, prior experience, education, and training rather than economic necessity. Assistantships will only cover some of your expenditures. Therefore you may need to have supplementary funding.
Internet scholarship sources
There are several internet tools available for finding private scholarships. You should exercise caution while conducting any internet search to avoid such scams. Consider keeping an eye out for these "red flags":
There is a price for the online service. Scholarships are designed to assist students, so you should forego them if you pay for the service.
An essay is not necessary for a company. It may indicate that this company is seeking to sell your information if you are asked for only personal information and nothing else.
An online service or organization requests sensitive information. Only divulge critical information if you are sure that the scholarship is coming from a reliable source.
How can you apply for fully funded scholarships?
Scholarships can be a substantial financial aid for overseas students who want to study in the U.S. There is financial aid available for all students, whether incoming first-years, those continuing to graduate school, or those merely returning to college for another year.
The process for applying for scholarships is still being determined, much like eligibility. While some only want you to fill out an application form, others may want you to submit a piece of writing that has been specially tailored for them or to be enrolled in specific courses. 
If you come across a scholarship for which you believe you may qualify, get in touch with the award administrator. All the scholarships that were located using the InternationalStudent.com Scholarship search include the award administrator's contact information.
Check your eligibility criteria.
There is no overarching formula to determine if you qualify for a financial reward; eligibility for a scholarship depends on the scholarship. Some scholarships stipulate that applicants be from a particular nation, have a specific TOEFL score, or have a typical grade point average.
You must complete your research to see if you are eligible for a scholarship. It might be challenging, but remember that financial aid specialists and college admissions personnel are there to help you locate as much money as you are eligible for.
How can you finance your education in New York?
Scholarships are available from several New York-based colleges for first-year applicants who are neither citizens nor permanent residents of the United States. Based on their CSS profile data, students are eligible for need-based aid. To qualify for scholarships, you must successfully submit the CSS Profile before the cutoff date.
No applicant for a second bachelor's degree or transfer admission is eligible for institutional financial help at NYU. Review the university website's Financial Aid Basics section for further details, including deadlines.
You will need to provide a certification of funds proving you can pay for your four years of study if you are admitted and want to accept the offer. Here are some things to prepare for, depending on your situation:
Following your acceptance to the institution and payment of your enrollment deposit, complete the online Application for Certificate of Eligibility. Include any supporting documentation. Before receiving an exchange guest visa (Form I-20) or student visa, this must be completed.
You must submit official letters or similar documents as evidence of the help you anticipate using to pay for your education, including if you plan to utilize savings, parental assistance, outside private or government scholarships, or any mix of these. Put your name and birthdate on every paper.
You must send a copy of your I-94 card if you are already present in the country when you apply for admission.
Students with F-1 or J-1 student visas must enroll in a full-time course load each semester and are often not permitted to work in the country to support their studies.
Conclusion
You can find New York scholarships or any other potential scholarship possibilities. You can find more than 2.7 million scholarships and awards by completing a free college search on scholarship websites.
They will assist you in discovering, among other things, scholarships mainly designed for students residing in or attending school in your state by utilizing your state of residence and probable state of college attendance as part of the search parameters. The country's most populous city, New York, is home to many such scholarship possibilities.
FAQs
Q.1: Are International students eligible for a full scholarship?
The same scholarship opportunities are available to American and international students. The critical distinction is that overseas students might have to provide additional paperwork throughout the application process.
Q.2: What grade must you achieve to qualify for an American scholarship?
Most organizations will award grants if a student has a GPA of 60–70% in their undergraduate program and a strong GRE score.
Q.3: What GPA is needed to qualify for scholarships?
Some scholarship selection committees only consider candidates whose GPA is over a particular cutoff. For prestigious academic scholarships, the minimum criteria range from about 2.0 on the low end to 3.75 or above.
References
[A Guide to Scholarships for International Students] From US news Link: https://www.usnews.com/education/best-colleges/paying-for-college/articles/a-guide-to-scholarships-for-international-students