Events
Get tickets to watch You Hurt My Feelings on a big screen this June.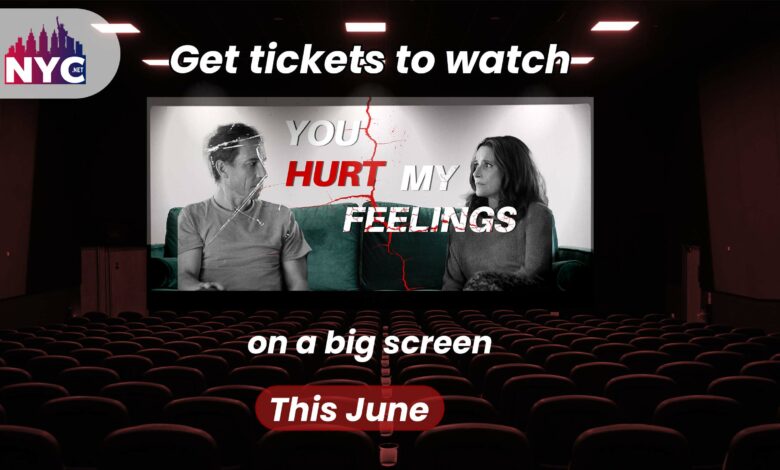 You Hurt My Feelings 
Are you ready for a movie that will make you laugh, cry, and leave you feeling all the emotions? Look no further than You Hurt My Feelings. This upcoming film is also heartwarming about love and loss, featuring some of Hollywood's biggest names. And the best part? You can catch it on the big screen starting this! 
Therefore, Take the chance to experience this cinematic masterpiece in all its glory. 
So, Keep reading to learn more about how you can get tickets to see You Hurt My Feelings in theaters this summer.
About the Film
Firstly, let's begin with a review of what the movie You hurt my feelings is about. 
To begin with, It is a rom-com directed by the famous filmmaker Nicole Holofcener. Hence, It takes us to a real comedy journey of a novelist whose long-committed marriage is suddenly upended. It so happens that she overhears her husband giving his honest opinion about her latest book.
I mean, never say something bad to a novelist no (no pun intended). 
Hence, it's a tale full of trust, lies, and everything we say to the people we love the most. It's a good way to spend some happy hours smiling through the movie. 
Cast
You hurt my feelings is recently released in 2023 under the direction of very talented filmmaker Nicole Holofcener. Moreover, it features the following exceptional cast to make the movie a better and more exciting experience for people;
 Julia Louis-Dreyfus, 

Tobias Menzies, 

Michaela Watkins,

 Arian Moayed, 

Owen Teague, 

Jeannie Berlin
Where to watch it?
Now that we have a review of You hurt my feelings, the question is where to watch it. Well, good news for NYC residents; you can easily watch it at BAM theatre.
Moreover, if you are a BAM member, you can also enjoy some of the perks like:
advanced access,

 waived handling fees, 

and special pricing, when applicable.
About BAM
In Brooklyn, New York, the Brooklyn Academy of Music (BAM) has brought adventurous artists, audiences, and ideas for more than 150 years, engaging local and global communities. BAM showcases the work of emerging artists and innovative modern masters with world-renowned programming in theater, dance, music, opera, film, and much more.
Show Schedule
Here is the show schedule for You hurt my feelings in BAM Theater NYC:
| | |
| --- | --- |
| Thursday, 22 June 2023 | 4:50 PM, 7:10 PM, 9:30 PM |
| Friday, June 23, 2023 | 2:30 PM, 4:50 PM |
| Saturday, June 24, 2023 | 2:30 PM, 4:50 PM |
| Sunday, June 25, 2023 | 2:30 PM, 4:50 PM |
| Monday, June 26, 2023 | 4:50 PM |
| Tuesday, June 27, 2023 | 4:50 PM |
| Wednesday, June 28, 2023 | 4:50 PM |
| Thursday, June 29, 2023 | 4:50 PM |
Further Details:
LOCATION:
Peter Jay Sharp Building
BAM Rose Cinemas
RUN TIME: 93min
FORMAT: DCP
GENERAL ADMISSION: $16
MEMBERS: $8 (free for Level 4 and above)
Some screenings feature Open Captioning
Furthermore, you can also Buy tickets online through the website!
Conclusion
Hence, If you're looking for a movie that will tug at your heartstrings and leave you feeling emotional, You Hurt My Feelings is the perfect choice. Moreover, With an incredible cast of talented actors and a powerful storyline, this film will surely leave a lasting impact on audiences.
So why not make it a night out with friends or family and experience You Hurt My Feelings on the big screen? So, Get your tickets to see this unforgettable film in theaters starting this June. 
Hence, Don't miss out on this opportunity to be moved by one of the most poignant movies of the year!
Therefore, Trust us. You will not regret this chance1