Events
Magic of Live Music: Accomplished Violinist Judy Kang Plays for Commuters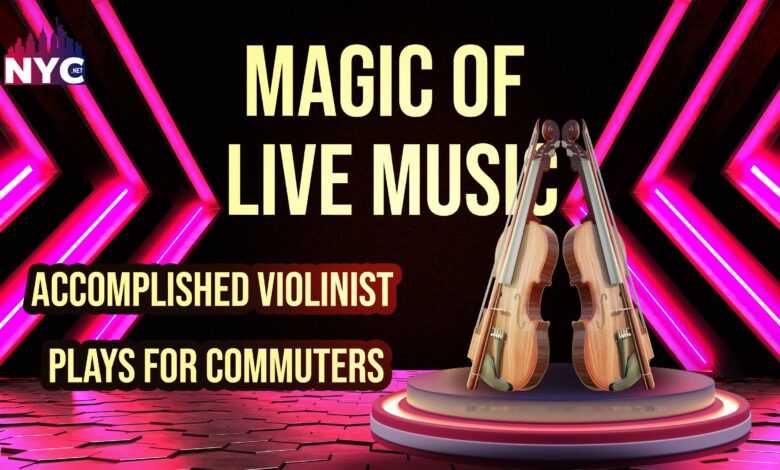 Judy Kang
Imagine you're rushing to catch your bus, but suddenly, a beautiful violin fills the air. You turn around and see Judy Kang playing her heart out at Port Authority Bus Terminal. The commuters stop in their tracks, mesmerised by her talent. Hence, Judy Kang graced the terminal with her music on a busy morning.
 Let's dive into this story of how an accomplished violinist brought joy to thousands of commuters at one of New York City's busiest transportation hubs!
Judy Kang, Violinist
Judy Kang is a talented violinist who has played the instrument for over 20 years. She has gained recognition in the music industry by performing at various venues worldwide, showcasing her unique blend of classical and pop covers that she arranges herself.
Kang's passion for music started early when she studied under renowned violinists such as 
Pinchas Zukerman

 And Itzhak Perlman. 
Kang is known for her collaborations with other artists. Undoubtedly, her selection as Lady Gaga's solo violinist on the "MonsterBall" world tour in 2010-11 further highlights her musical prowess. Hence, indeed It was a huge success for both.
Despite her success, Judy Kang remains humble and focused on sharing her love for music with others. This is evident in her impromptu performances for commuters at the Port Authority Bus Terminal.
Judy Kang plays for commuters at Port Authority Bus Terminal.
Judy Kang is a talented violinist with over two decades of experience. She has performed at some of the most prestigious venues worldwide. However, she shared her music with unsuspecting commuters at Port Authority Bus Terminal in New York City on this day.
So, It was her and her sparkly electric pink violin dancing to the self-created melody. 
Moreover, Judy played with passion and grace despite all the hustle and bustle surrounding her. Hence, As more people stopped to listen to her enchanting melodies, it became evident that something special was happening.
Many commuters also paused momentarily or sat nearby to enjoy Judy's performance. A few even took out their phones to record videos or take photos as if they were attending a concert.
Therefore, It's incredible how one person can impact so many lives without even trying! And although it may have been just another ordinary day for most people passing through Port Authority Bus Terminal, for those who listened closely to Judy Kang's beautiful music – it will be one they'll never forget!
Moreover, she is on her tour of festivals around New York City and New Jersey. She will play what she likes!
Music Style
Judy Kang's Port Authority Bus Terminal performance was a beautiful and unexpected treat for commuters. Her impeccable talent on the violin created an atmosphere of tranquillity amid the hustle and bustle of New York City.
Kang has been playing for over 20 years, perfecting her skills. She was a child around 8 years old when she started playing her nationally televised concert. Her music is a mix of classical and pop covers that she arranges, adding her unique touch to each piece.
It's inspiring to see such accomplished musicians bringing art outside traditional venues and into public spaces where everyone can enjoy it. Judy Kang's performance is a reminder that beauty exists all around us if we take a moment to stop and listen.
If you're lucky enough to catch Judy Kang performing live, take advantage of this rare opportunity. You won't regret taking time out of your busy day to enjoy the magic she creates with her violin.
Conclusion
As we wrap up this article about Judy Kang's performance at Port Authority Bus Terminal, it's clear that her talent as a violinist has captivated commuters and visitors alike. Her unique mix of classical and pop covers showcases her versatility as a musician with over 20 years of experience.
Judy Kang's performance at Port Authority Bus Terminal serves as a reminder that art can be found anywhere if you're willing to look for it. Her music brings joy and beauty to those around her, even if only for a few moments during their commute. We hope you enjoyed learning more about this accomplished violinist and are inspired by her impact on others through her gift of music.