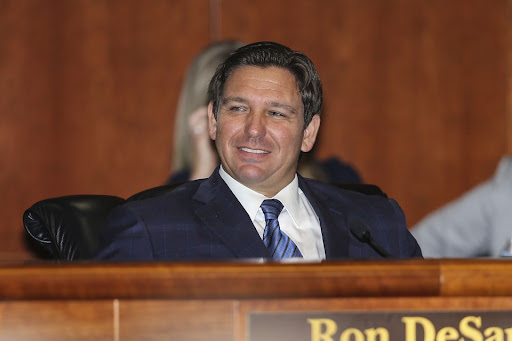 How the Republican party moves ahead beyond the Trump administration's first five years is a hotly discussed issue. The main political narrative in America is still the party's direction.
Ron DeSantis, governor of Florida, has learned one lesson over the past five years that no other national Republican has: if you want to advance in the Republican Party, you need to imitate Donald Trump in every manner.
Who is Republican Party's Future?
According to a New Hampshire survey, Ron DeSantis will defeat former president Donald Trump in the 2024 primary. There are two perspectives on this survey. One is that it strengthens the case that, in contrast to certain rumors, Trump is not a lock to secure the nomination the following time.
Who else? More than 18 months before any elections, there is only one poll in one state. We learn very, very little from it. It reveals that DeSantis is already a well-known figure. Every prominent contender will be widely recognized by the time voters show up.
DeSantis Is the New Republican Party
In Florida, DeSantis is running for reelection as well. Immigration also energizes the Republican base more than anything else. Trump elevated himself to the top of the GOP presidential field in 2015 by using vitriol against immigrants.
Although it may not be the most contentious contest in the country, the Florida governor's race might be the most important for the Republican Party. The former Republican governor, who now represents Florida's 13th Congressional District as a Democrat, is vying to become the party's nominee for governor. The campaign directly aligns the incumbent Republican governor, Ron DeSantis, against him in a show of retaliation against his old party.
Meanwhile, Republican Florida Governor Ron DeSantis' hopes of becoming president in 2024 may be dashed if he doesn't easily defeat Democrat Charlie Crist in the general election in November.
If former President Donald Trump decides not to run for a third term, DeSantis will seek a solid showing to maintain his position as the GOP voters' favored standard-bearer in 2024. DeSantis may also utilize the contest to fend off more potential opponents.
"A crisis has arisen. It is currently gaining a little more attention," During a stop on tour run by the right-wing organization Turning Point Action, DeSantis made a statement in Kansas. 
According to a recent USA TODAY Suffolk Poll, which reveals that DeSantis currently leads Trump 48%-40% in a fictitious presidential primary contest, Florida Gov. Ron DeSantis is starting to emerge as a viable option to Trump among GOP voters in the Sunshine State for 2024. 
DeSantis' Reelections probabilities
The political community is not as persuaded. While DeSantis is the center of attention, his reelection this year has been almost assumed. Crist, a two-time failure in the general election and a former Republican governor, has been forgotten. Most political experts from both parties believe that DeSantis will dominate the country and that the election is only a speed bump.
DeSantis' game occurred a few days before his travels in Wisconsin and Kansas, where he campaigned for Republicans, is scarcely a chance. He has emerged as a conservative favorite and a potential MAGA brand successor. He is a more restrained version of former President Donald Trump, who indicates that he may run for office again in 2024.
Ron DeSantis' game to own the libs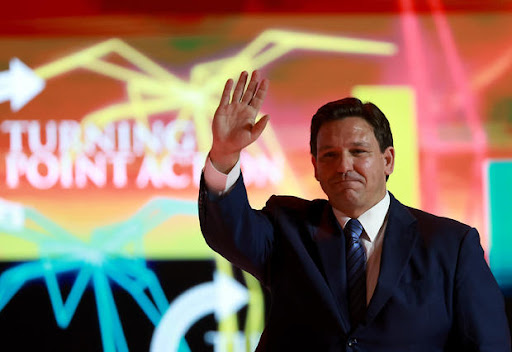 By placing around 50 undocumented Venezuelan migrants on charter aircraft, Florida Governor Ron DeSantis, who has been yearning to unseat Donald Trump as the GOP's standard-bearer, made Trump's border wall farce look like child's play.
He left them on Martha's Vineyard, the vacation retreat of the liberal aristocracy. The plane's planners informed the migrants that Boston was their destination. They reportedly received a promise that they would get employment documents.
It's a crazy charade, a "House of Cards" episode made for Fox News. The Vineyard is Sodom and Gomorrah with lobster rolls and soft serve. According to right-wingers, DeSantis had a fundraiser there last month. Additionally, many Republicans own second, third, and fourth houses on that island.
The DeSantis maneuver is a smash, a blockbuster, and pure conservative gold in terms of right-wing political theater. Florida willingly paid the bill to transport the migrants to the Vineyard since Massachusetts is a sanctuary state, as his spokesperson inform state media, i.e., Fox News.
During his two trips over the weekend, DeSantis made hints that this was his intention. He claimed that the matter is receiving greater attention and is "on the ballot."
His move appeared to be successful based on the news attention it received. However, there is a danger of perhaps alienating voters who view the action as unserious for failing to address the fundamental problem.
Publicity stunt or Victory
Migrants are being used as political pawns. On their journey, migrants reported feeling "lied to," "deceived," and "used for a political purpose."
Although DeSantis' action is terrible and immoral, it is now the Republican Party's key to victory. The natural response from Democrats and their liberal friends to these pranks is to carry out the tasks the GOP has abandoned, show that they are capable of leading, and take ownership of the scams by tidying up the wreckage their crying trolls leave behind.
Given that many migrants said they were deceive, the action was denounced by the left as a ruse comparable to human trafficking. However, the media attention has only helped DeSantis' standing with the Republican base.
Failed strategies of DeSantis in Pandemic
Initially, DeSantis had impose a statewide lockdown as the virus started to spread throughout Florida. He had a change of heart three weeks later. "We will never do any of these lockdowns again," he said. He completely removed the last remaining limitation and stop enforcing the mask regulations.
The editorial board of the Miami Herald wrote. "We can't put our lives in the governor's hands." DeSantis takes excellent pleasure in opposing what he perceives as a corrupt and arrogant liberal establishment. His close people claim his disrespect for the general public, and the media sets him apart from other elected leaders.
Young and arrogantly self-assured, DeSantis shared the same conviction that he could defeat the infection more effectively. A governing strategy evolve from DeSantis' response to the pandemic. He routinely condemn some injustice, always committed by the left, and claim to be the only one courageous enough to end it.
His press conferences and speeches were frequently filled with fury. As he walked, he protruded his chest like a soldier on parade. He became a regular on Fox News and is now the second most admired person behind Donald Trump.
He became a conservative folk hero because of his adamant advocacy of little government intervention and his denunciations of anyone who disagreed with him.
On the other side, DeSantis won over conservatives with his management of the outbreak, during which he kept Florida's economy shut down for a lot less time than other states.
Republicans have now called him "America's Governor." he has conducted several out-of-state fundraisers as wealthy contributors gauge his support. And he is in great demand as contenders want to capitalize on the enthusiasm DeSantis has generate among the GOP base.
Former Representative Charlie Crist looks genuinely shocked as he states. The stuff he keeps doing to remind Floridians how bad he is, it's—I can't believe it.
As you may recall, DeSantis is seeking reelection this year. Crist is the Democratic candidate running against him. Regarding DeSantis' apparent overreach, Crist appears unbothered.
DeSantis' Rallies for GOP candidates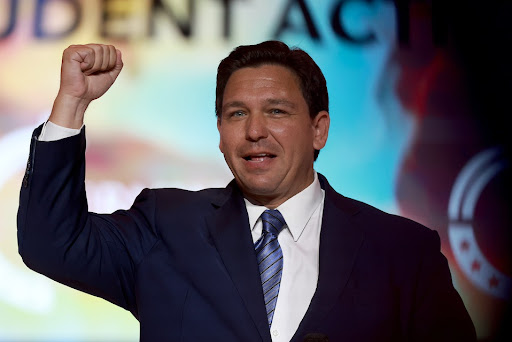 During his 46-minute presentation at a gathering for Arizona Senate candidate Blake Masters and gubernatorial candidate Kari Lake. Florida Governor Ron DeSantis remarked, "I genuinely expect that the state of Florida will be the one to get the election wave off the ground."
Although the survey was conducted before the FBI search, DeSantis, up for reelection in 2022. They Placed in second place, 45 points behind Trump, in a recent CPAC straw poll for the 2024 presidential race. However, DeSantis took the lead once Trump was eliminated from the poll.
DeSantis seems to expand his political circle.
As his general election campaign nears, DeSantis aims to broaden his national network in preparation for what many see as a 2024 bid for the White House. Headlining a string of out-of-state events shows his campaign team's confidence in their position.
As the general election campaign gets underway, several Republicans are considering putting distance between themselves and Trump. 
Republican donors around the nation are starting to get weary, and some Republican Party officials are beginning to think DeSantis is a means to generate Trump-like enthusiasm and policy outcomes in a less polarizing way for Republicans.
DeSantis' travels to Arizona and New Mexico on Sunday to serve as the keynote speaker at "Unite and Win" events for statewide. GOP candidates were coordinated by Turning Point Action, a conservative group aim toward young Republicans. 
DeSantis criticized the FBI's search and said it's another instance of agencies being. Weaponize to be use against individuals that the government doesn't like. Even though he did not mention Trump by name during his speech.
Prediction on DeSantis's way to the White House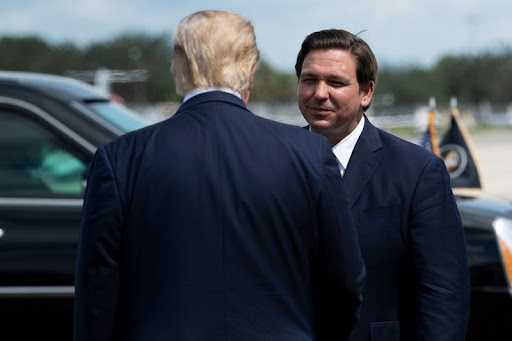 Trump may end up being the only Republican candidate left in Florida for the White House in 2024 if DeSantis somehow loses or even wins reelection by a modest margin. 
In his first election, DeSantis narrowly prevailed by 0.4 percentage points. That occurred in 2018, the Democrats' wave election year.
Most surveys place DeSantis in the lead with approximately 8 points and around 50% of the vote, often a safety margin for incumbents. DeSantis is governing much more like Trump than Maryland Governor Larry Hogan in a state he barely won last time. 
Even when implement by Disney World, he opposes woke capitalism and takes positions on social issues like abortion and LGBT rights.
He also topped poll results, which showed Democrat Andrew Gillum to lead by 3.6 points according to the Real Clear Politics polling average. DeSantis only had a lead in the prestigious Trafalgar poll out of the past five surveys combined.
The above survey does not mean that DeSantis shouldn't be given the advantage in what appears to be a far. Favorable environment for Republicans than in 2018, even with previous Democratic victories.
Although DeSantis lacks charm while speaking, he is persistent and precise, and his rhetoric enrages the audience. DeSantis made an appearance at the Conservative Political Action Conference in February. 
Trump, who was supposed to be the cpac's star, was due to speak later, but DeSantis did not mention him.
DeSantis also gave the impression that he was thinking about the whole of America while using Florida as a reference point. 
There is no alternative for courage in situations like these, he declared. "We need citizens of the entire nation to be prepared to do the complete armor of God." We have barely begun to fight, and he said as the audience cheered.
Conclusion
DeSantis is running for reelection as governor in a crucial red state that has been progressively leaning Republican in close contests. He is the favor candidate in the Republican Party and the second-likeliest candidate for the GOP presidential nomination in 2024. Behind only former President Donald Trump.
"It's like going to the races and watching a race, but you don't have to put your bet until your horses are approaching the turn," according to John Morgan, a prominent Democratic fundraiser from Florida. He has admired DeSantis's mastery and joined him at an event early in his time.
The potential state of press relations in a Trump-DeSantis primary would likely be the point of greatest division. Trump sometimes interacts with journalists from the major media outlets, frequently reiterating his fabrications about the election.
Even while DeSantis's limiting strategy could be risky in a national race. Many Republicans appear to be envious of his unwillingness to interact with media on their terms and his ability to get away with it.
Privately, DeSantis has claimed that Trump's defeat in 2020 result from strategic errors rather than a scheme to steal the election. However, expressing this argument in public would indicate endorsing the credibility of that election.
FAQs
Q.1: How long is a Florida governor's term?
A governor must be chosen every four years, according to the 1838 Florida Constitution.
Q.2: Was Ron DeSantis a Navy SEAL?
DeSantis enlisted with SEAL Team One in 2007 and reported to the Naval Special Warfare Command Group in Coronado, California. He then traveled to Iraq.
Q.3: Who is the wife of DeSantis?
Florida's first lady, Jill Casey DeSantis, is a former news anchor from the United States. 
---
References
[7 weeks from Election Day (n.d)] from NPR Link: https://www.npr.org/2022/09/20/1123928430/desantis-marthas-vineyard-migrants
[OnPolitics: Is Trump fading?] from USA Today Link: https://www.usatoday.com/story/news/politics/2022/09/21/ron-desantis-polling-over-trump-florida-voters/8074036001/
Molly Ball (22 September 2022) [How Democrats Gave Ron DeSantis a Pass] from Time Link: https://time.com/6216096/ron-desantis-florida-governor-race-charlie-crist/
AARON NAVARRO (16 August 2022) [Ron DeSantis begins rally tour of battleground states, with FBI raid and 2024 as the backdrop] from CBC news Link: